Exclusive: Local Governments Lurk Behind Chery Automobile's Two Bidders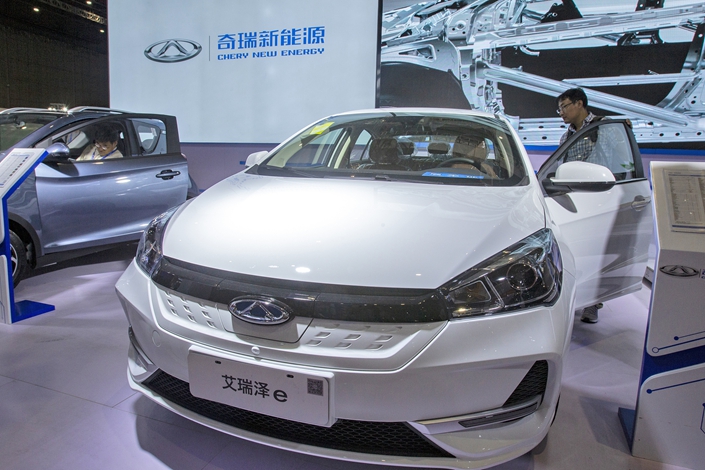 Chery Automobile showcases its new-energy vehicle models on Sept. 17 at an auto show in Shanghai. Photo: VCG
Two privately offered fund management firms have each put down 5 billion yuan ($707.19 million) to bid for a controlling stake in Chery Automobile Co. Ltd. after the cash-strapped state-owned automaker put itself back on the auction block this month, sources told Caixin.
The two bidders are both backed by local governments where they are registered, Caixin has learned.
One, Tengxing Yangtze River Delta (Haining) Equity Investment Partners Corp. Ltd., was only established two months ago in Haining, a city in East China's Zhejiang province. Sources told Caixin that Haining's government had invested in the firms, though it is being run by Shanghai businessman Zheng Libing. Business registration filings showed that two state-owned enterprises (SOE) owned by the local government are Tengxing's partners.
The Haining government provided 3 billion yuan of Tengxing's down payment, while the remaining 2 billion yuan was raised by Zheng, according to sources familiar with the matter. Moreover, if Tengxing takes control of Chery Automobile, the Haining government will invest another 1.9 billion yuan by the end of this year.
The Haining government is investing because it hopes the carmaker will boost local economic growth by setting up factories in the city for new-energy vehicles (NEV), a hot industry that has been enthusiastically promoted by the central government.
The Haining finance bureau refused to comment on the matter.
The other bidder is dedicated to NEV developments in Qingdao, East China's Shandong province. Business registration filings show that this company, Qingdao Wudaokou New Energy Vehicle Enterprise Fund Corp. Ltd., was set up last month, with its operations mainly run out of the city's Jimo district.
Sources told Caixin that Qingdao Wudaokou's entire 5 billion yuan down payment was made by the Jimo government. The district government is also hoping Chery Automobile will be active in its local business environment.
In response to Caixin's questions, staff members from both the city and the district's finance bureaus said they didn't know about a deal or about how Qingdao Wudaokou operates. Another person close to the district government, however, told Caixin that there has been word of an auto industry committee in Qingdao talking with Chery Automobile.
Chery Automobile, based in East China's Anhui province, and its parent Chery Holding had announced plans to bring in new investors a year ago. Chery Holding planned to issue new shares worth 8.3 billion yuan (link in Chinese), while Chery Automobile planned to issue new shares (link in Chinese), equivalent to 18.5% of the total for 7.9 billion yuan, according to filings posted on the Changjiang Equity Exchange in September 2018.
However, they suspended their plans in December. Industry insiders told Caixin that investors were hesitant to take the risk of investing in a debt-ridden carmaker as China's sluggish auto market continued to suffer falling sales after July 2018. The company resurrected its sales plan this month, though it lowered its fundraising target to 14.35 billion yuan, 11.7% lower than the original.
According to the company's latest filing (link in Chinese), Chery Automobile took a net loss of 530 million yuan last year on 25.23 billion yuan in revenue. Its loss widened to 1.37 billion yuan in the first half of 2019. As of this June, its liability-to-asset ratio was 74%, much higher than the 40% to 60% that analysts say is reasonable for most automakers.
Chery Automobile intends to use the raised funds to repay its debt and relieve its financial pressure, people familiar with the company told Caixin, in addition to serving as a mixed-ownership reform, a policy pushed by the central government to invigorate the country's bloated SOEs.
Yet even though the Anhui government will no longer be Chery Automobile's largest shareholder, it will retain veto power to ensure the company does not move its operations out of the province, Caixin reported earlier.
Chery Automobile did not respond to Caixin's questions about the sale by the time of publication.
Founded by the government in 1997 to help develop made-in-China vehicles, Chery was once a pioneer, claiming in 2007 to be the first Chinese carmaker to produce 1 million vehicles annually.
Its joint venture Qoros Auto Co. Ltd., of which Chery sold a 25% stake for 1.6 billion yuan to Shenzhen Baoneng Investment Group Co. Ltd. in December 2017, was once considered a testament to its aspirations to become first domestic carmaker to export overseas. However, its first model didn't hit the market until 2013, and the company has been bleeding cash.
Chery Automobile's car sales on its home turf have been gradually declining since 2010 due to intense competition and the poor positioning of its offerings, industry observers said.
Contact reporter Isabelle Li (liyi@caixin.com)
You've accessed an article available only to subscribers
VIEW OPTIONS
Share this article
Open WeChat and scan the QR code