Cadillac Rides Growth Bandwagon for Luxury Cars in China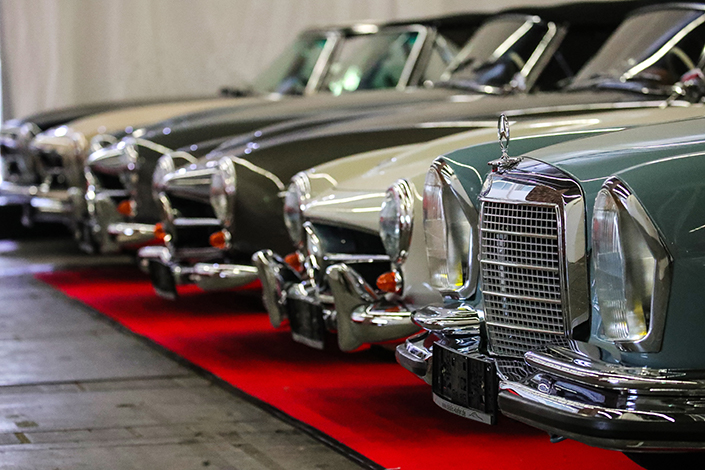 Vintage Mercedes-Benz models. Photo: IC Photo
General Motors Co.'s Cadillac luxury brand expects to maintain strong sales growth in China through the end of the year, its local sales chief said, in line with a broader trend that has seen luxury cars continue to sell well even as mainstream models struggle in the world's largest market.
After years of breakneck growth, China's auto market went into reverse last year as the nation's economy slowed. It has been contracting ever since, including a 5.2% decline in September. But luxury cars have defied the trend and are actually up 11% in the first nine months of this year, even as overall car sales fell nearly 12%, according to the China Association of Automobile Manufacturers (CAAM).
Cadillac, a relatively late arrival to the market, expects its sales to grow about 10% in this year's fourth quarter, similar to the rest of the year, the brand's China sales chief Feng Dan told a media briefing on Monday. He added that luxury brands currently account for about 10% of China's overall car sales compared with 15% to 20% for developed markets, meaning China's ratio might still have room to grow.
Demographics may help to partly explain why luxury cars have outperformed the broader market, according to analysts.
Until recently, China's smaller third- and fourth-tier cities had been driving the broader car market's expansion as income levels rose and people in those traditionally less-affluent areas could afford such big-ticket purchases. But high real estate prices and other factors have led to a downturn in demand from those cities.
By comparison, demand has remained relatively strong in the largest first- and second-tier cities, such as Beijing and Shanghai, which are typically the strongest markets for more expensive luxury cars. That part of the market is dominated by three German brands, Mercedes-Benz, BMW and Audi, which account for 70% of China's luxury market and have weathered the current downturn better than most. Those three have maintained growth for most of this year, including a 14.4% rise for BMW in the first nine months of 2019.
By comparison, most lower-end domestic brands that are often favored in smaller cities have seen their sales continuously drop this year. In the first nine months of 2019, passenger car sales for such brands tumbled 18.5% to 5.9 million, according to the CAAM.
In a nod to the shifting demographics, Cadillac is currently making adjustments to its China sales network, Feng said. It had previously paid closer attention to third- and fourth-tier cities, but will now focus more on the larger first- and second-tier cities going forward, he said.
Contact reporter Yang Ge (geyang@caixin.com; twitter: @youngchinabiz)
You've accessed an article available only to subscribers
VIEW OPTIONS
Share this article
Open WeChat and scan the QR code