South China Province to Charge Highway Tolls by Axle, Not Weight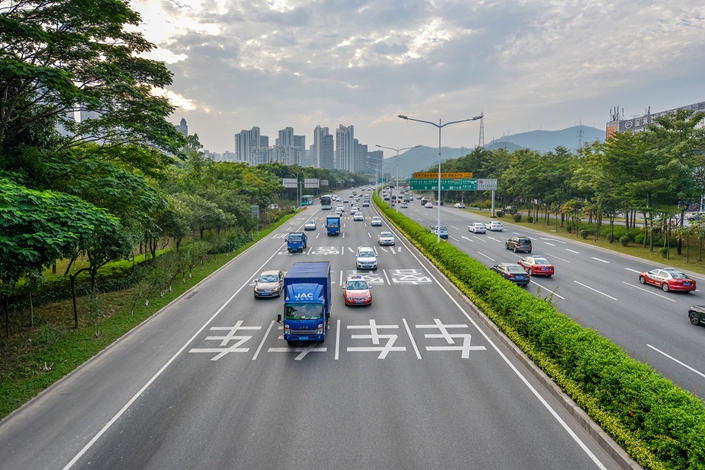 Starting from Jan. 1, trucks on toll roads will be charged according to their number of axles. Previously, trucks has been charged by weight. Photo: VCG
China's southern Guangdong province will do away with manual weighing of trucks and will charge tolls based on how many axles they have as part of a new highway toll system.
The change follows a late May central government directive to eliminate toll booths at provincial borders by the end of 2019 and roll out a national electronic toll collection (ETC) system.
Planners hope it will help ease China's chronic traffic jams.
Starting from Jan. 1, trucks on toll roads will be charged according to their number of axles, according to a draft regulation (link in Chinese) released Thursday by the Guangdong Provincial Development and Reform Commission. Previously, trucks were charged by weight at manned toll stations, a time-consuming process which often left roads congested.
Under the new scheme, drivers of empty trucks may choose not to drive on toll roads given the increased cost, said Han Biao, a professor at Shenzhen University's College of Economics, helping maximize use of public transportation resources and reduce congestion. Han also noted the transport ministry must unify inconsistent provincial fee schedules in the transition from manned tollbooths to ETC.
China's cabinet, the State Council, announced a major interministry initiative in May to "increase the efficiency of road transport." (link in Chinese) Most localities, including the provinces of Sichuan, Shandong and Shanxi, have followed up with draft policies to implement the plan.
The ETC initiative has been a boon for one company in particular — Shenzhen Genvict Technologies Co. Ltd. — one of China's biggest suppliers of automatic toll collection equipment, which last month said it expected its third-quarter profit to rise more than 200 times from that of the same period the previous year.
In May, the transportation ministry announced it aimed to equip 80% of the country's 240 million cars with electronic toll collection devices by the end of this year. Around 160 million vehicles have had the transponders installed as of Nov. 6, according to the ministry.
Contact reporter Tang Ziyi (ziyitang@caixin.com)
You've accessed an article available only to subscribers
VIEW OPTIONS
Share this article
Open WeChat and scan the QR code