Jan 13, 2020 06:25 AM
WORLD
In Depth: The Aftermath of the Killing of Qasem Soleimani
A portrait of Qasem Soleimani on a screen on a street in Tehran Jan. 4.
The beginning of 2020 has been dominated by saber rattling, sending fears of war around the world.
Less than two weeks into the new year, the fallout from rising tensions between the United States and Iran has only widened following the death of Qasem Soleimani, a top Iranian military commander who was killed Jan. 3 in a U.S. drone strike.
The incident put the greatest strain on relations between Washington and Tehran in decades while setting off a chain reaction that may have lasting implications for the geopolitics in the war-torn Middle East. Tensions between the U.S. and Iran have mounted since 2018, when Trump withdrew the U.S. from Iran's nuclear deal with world powers that was struck under Barack Obama.
As the world's largest oil importer and the biggest consumer of petroleum from the Middle East, China has as much of a stake in the situation as any nation. China has been expanding its ties with the region as its global economic influence grows. A regional conflagration in the Middle East would certainly send shockwaves through the world economy with a significant impact on China.
Shortly after Soleimani's death, Iran said it would abandon its commitments from the 2015 nuclear deal, terminating the remaining limits on its nuclear program. Defying U.S. President Donald Trump's warning against further attacks on Iranian territory, Iran fired more than a dozen ballistic missiles Jan. 8 against at least two Iraqi military bases that host U.S. troops. No casualties were reported.
But civilian bloodshed has ensued. Hours after the Jan. 8 attacks, a passenger flight of Ukraine International Airlines crashed minutes after taking off from Tehran airport, killing all 176 on board. Iran admitted early Saturday that it shot down the plane "unintentionally," after earlier denials.
The death of Soleimani also shifted the attention of many Iranians from rage against its leaders to renewed patriotism. People flooded the streets in cities and towns across Iran protesting against the U.S.
Meanwhile in Iraq, where Soleimani was killed, pro-Iran factions seized on the incident to demand the expulsion of U.S. military personnel in the country — whose presence dates back to the U.S. invasion of Iraq in 2003. The Iraqi parliament voted Jan. 5 to obligate its government "to work towards ending the presence of all foreign troops on Iraqi soil." Iraq's Prime Minister Adel Abdul-Mahdi made the request Thursday to U.S. Secretary of State Mike Pompeo, who pushed back, according to media reports.
The developments have fueled concerns that tensions between the U.S. and Iraq will flare up, undermining America's years-long efforts to build up its influence in the country.
"Iraq has maintained friendly relationship with the U.S. but culturally and emotionally appreciates Iran," said Ma Xiaoling, an international relations expert at Zhejiang International Studies University. "It has strived to seek a balance between the U.S. and Iran to maximum its own interests."
Although both Iranian and U.S. leaders have since signaled backing away from further military action, the series of incidents has brought changes to the regional balance in the Middle East. Analysts said the situation could still spiral out of control, and fallout continues spreading as Iran's proxies in the region, including Hassan Nasrallah, secretary-general of Hezbollah in Lebanon, vowed retaliation against the U.S.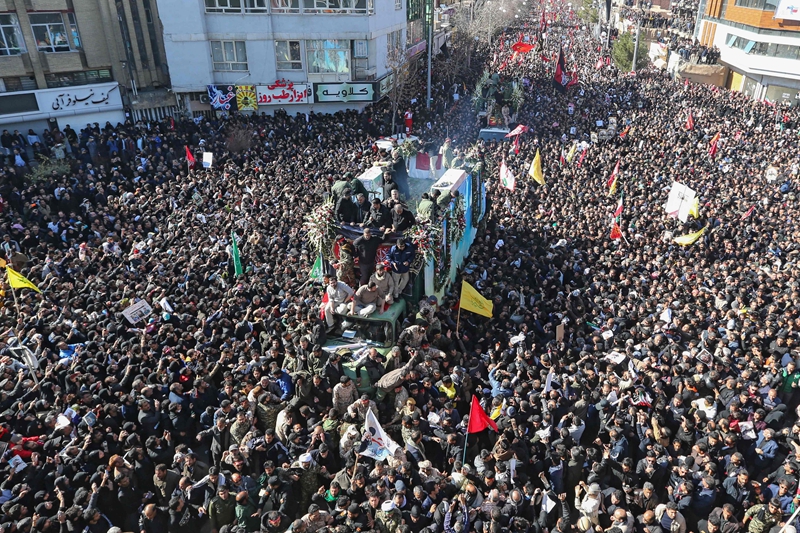 Mourners carry the coffin of Soleimani during a funeral procession in his hometown of Kerman, Iran, Jan. 7.
The assassination
Soleimani, the top commander of the Iranian Revolutionary Guard's elite Quds Force, which is responsible for Iran's campaigns abroad, was killed near Baghdad International Airport while traveling in a convoy with officials from the Iran-backed Shia militia in Iraq.
The U.S. Defense Department said it killed Soleimani because he "was actively developing plans to attack American diplomats and service members in Iraq and throughout the region." It also accused Soleimani of approving recent attacks on the U.S. embassy in Baghdad.
For many in Iran, 62-year-old Soleimani is a hero who represents the country's resilience through decades of U.S. sanctions. Born in a poor family, he became known for leading battles during the Iraq-Iran war in the 1980s and rose to prominence advising forces fighting the Islamic State group in Iraq and Syria.
While careful to avoid getting involved in politics, Soleimani is a widely recognized figure in Iran who stayed apart from political factions, said Lu Jin, an Iranian studies expert at the Chinese Academy of Social Sciences (CASS).
But for the U.S. and its allies in Middle East, Soleimani was the shadowy commander behind Iran's proxy attacks abroad. While Iran's conventional military has suffered under sanctions, it has built up a vast proxy network across the Middle East, like Lebanon's Hezbollah and Yemen's Houthi rebels. The U.S. has long blamed Iran for car bombings and kidnappings and listed Soleimani as terrorist.
The order to kill Soleimani, however, was received differently in the U.S. Critics accused Trump and administration officials of failing to prove that an attack was imminent and of dismissing the role Congress should play in decisions on military actions. The House of Representatives approved a measure Thursday aimed at restricting Trump's ability to go to war with Iran.
The growing tensions between the U.S. and Iran may also deepen Washington's rift with the European Union in managing nuclear issues with Iran. Although Trump withdrew the U.S. from the Iran nuclear pact in 2018, the Europeans ― mainly France, the United Kingdom and Germany ― have stuck to the accord, arguing it was the best approach for preventing nuclear proliferation.
Despite Trump's calls to abandon the pact, EU chief diplomat Josep Borrell said Friday after an emergency session of foreign ministers that the bloc would try to uphold the agreement with Tehran so long as Iran returns to its obligations.
"It is clear that we are in a completely different position from the United States," Borrell said.
The wreckage the passenger flight operated by Ukraine International Airlines which Iran acknowledged "unintentionally" shooting down shortly after taking off from Tehran airport
The fallout
The Jan. 8 strikes by Tehran marked the first time in recent years that the U.S. and Iran have attacked each other directly rather than through regional proxies.
Although Iranian media reported shortly after the attacks that more than 80 "America terrorists" were killed, Trump said no one was hurt, and damage to facilities was "minimal."
The president in a Wednesday speech said the U.S. will impose more economic sanctions on Iran without mentioning further military action. The speech was seen as a de-escalation of tensions. Earlier, Iranian Foreign Minister Mohammad Javad Zarif wrote on Twitter that Iran took "proportionate measures" to defend itself and "is not seeking escalation or war."
Analysts said Iran's high-profile retaliation was carefully deliberated, as both countries have no intention of waging a war. Moving forward, Iran is likely to resort to its proxy network to strike the U.S. and its allies in the region, they said.
Ali Alfoneh, a senior fellow at the Arab Gulf States Institute in Washington, told Caixin that Tehran is likely to continue engaging with the U.S. to seek relief of sanctions while at the same time using proxies to pressure the U.S. and its allies.
Iran's economy is in trouble under the intensified sanctions imposed since 2018. The International Monetary Fund said in October that Iran's GDP could shrink 9.5% in 2019 because of a slump in oil exports amid the sanctions. The country's inflation would reach 35.7%, the fund said.
According to Iran's President Hassan Rouhani, the country's crude exports plunged to less than 400,000 barrels a day from a previous average of 2.5 million barrels.
The country's economic plight triggered social unrest with waves of street protests. Without economic improvements, Iran may very soon see another round of massive anti-government protests, Alfoneh said. Meanwhile, power struggles among political factions will also escalate before the next parliamentary election in February, he said.
Iran faces the challenge of healing a society that is sharply divided, said Lu at CASS. But with a massive population, rich resources and sound industrial foundation, it will overcome the crisis if the government can forge a consensus among parties to work on the same direction, Lu said.
Tehran has started to fine-tune its policies to better adapt to external risks, Zhejiang International Studies University's Ma said. It has pledged continued cooperation with the International Atomic Energy Agency in a move to maintain relations with China, Russia and Europe, Ma said.
Iran will continue maneuvering its influence in regional politics to bargain with the U.S. while patiently waiting and observing the direction of the presidential election in the U.S., Ma said.
Contact reporter Han Wei (weihan@caixin.com)
You've accessed an article available only to subscribers
VIEW OPTIONS
Share this article
Open WeChat and scan the QR code