After 1 Billion Yuan Livestream, Gree Says It Won't Give Up on Real Life Retail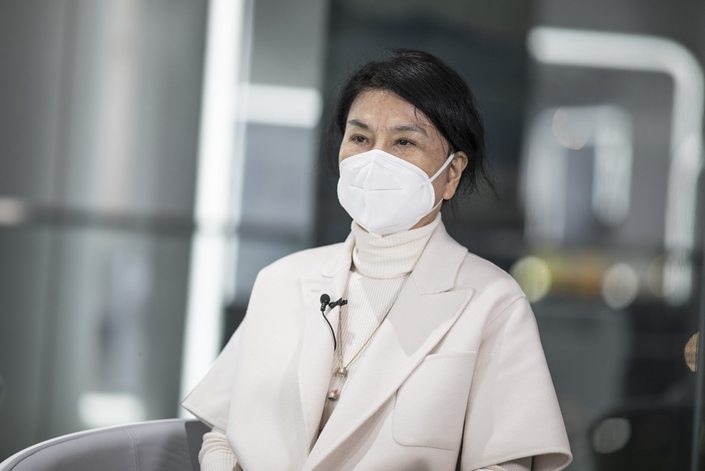 Gree Chairwoman Dong Mingzhu.
After hosting another record-breaking livestream sale on Monday, the chairwoman of leading Chinese air-conditioner maker Gree Electric Appliances Inc. reassured her 30,000 brick-and-mortar dealers that her company would not abandon them.
Dong Mingzhu, a well-known Chinese businesswoman who heads the manufacturer based in Zhuhai, South China's Guangdong province, made the remarks at an annual shareholder meeting Monday afternoon. That morning, Dong sold more than 1 billion yuan worth of Gree products on a livestream broadcast on platforms including Kuaishou, JD.com and Suning.
Livestreaming e-commerce took off during the coronavirus pandemic when physical stores were shut and consumers were stuck at home, but it remains a major trend in China even after the virus has been largely brought under control. Business leaders, movie stars and even some local government cadres have joined streaming platforms to promote and sell goods online, with over 4 million e-commerce livestreams broadcast in the first quarter of this year, according to the Ministry of Commerce.
Dong was only able to make 230,000 yuan of sales in her livestreaming debut on Douyin in late April, which she attributed to "inexperience" and "lack of preparation" at the shareholders' meeting.
But despite her lackluster first attempt, Dong's next livestreams on Kuaishou and JD.com in May netted around 310 million and 703 million yuan in sales, respectively.
Dong's experiments with unconventional promotions come amid a downturn in China's air conditioner market. In 2019, Gree's air conditioning revenues dropped over 10% to some 139 billion yuan, pulling the company's total revenue growth down to just 0.02%, according to the company's annual earnings report.
Like manufacturers in other industries, Gree's business took another hit from Covid-19 in the first quarter, with net profits slumping more than 70% year-on-year to around 1.6 billion yuan, and revenue in the first three months shrinking 49% year-on-year to 20.9 billion yuan, according to its latest quarterly financial report.
Given Gree's remarkable online sales results and poor offline sales, brick-and-mortar dealers worried for their future, but Dong said at the company meeting that online and offline channels need not conflict. "Integrating them is the real 'New Retail,'" she said, adding that the company would not abandon the millions of employees running its offline stores.
She did, however, say that the stores must be transformed in light of the "unstoppable" new retail trend, and some physical stores ran their own livestream promotions alongside Dong's on Monday, providing the same discounts.
Dong also disclosed at the meeting that the Zhuhai municipal government had provided the company with tremendous support, including subsidies worth tens of millions of yuan.
Gree's Shenzhen-listed shares closed up 0.21% at 58.09 yuan on Tuesday.
Contact reporter Isabelle Li (liyi@caixin.com) and editor Gavin Cross (gavincross@caixin.com)
You've accessed an article available only to subscribers
VIEW OPTIONS
Share this article
Open WeChat and scan the QR code