Luckin Stock Plunges After Second Delisting Notice From Nasdaq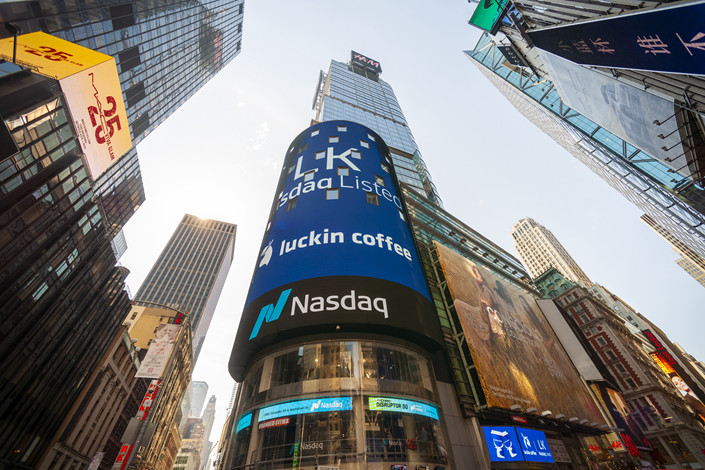 The giant video screen on the Nasdaq stock exchange in Times Square in New York is decorated for the debut of the Luckin Coffee initial public offering
Nasdaq-traded Luckin Coffee Inc. plunged as much as 19% Tuesday morning after the China-based coffee chain said it received a delisting notice from the stock exchange operator citing its failure to file the annual report.
Luckin traded around $2.70 a share Tuesday, compared with its $17 initial public offering price. The stock topped out Jan. 17 at $50.02.
It was Nasdaq's second delisting notice to scandal-plagued Luckin since May, following the company's revelation in April of a $310 million financial reporting fraud.
Luckin said Tuesday that it failed to file the 2019 annual report due to disruptions from the Covid-19 pandemic as it awaits the results of an internal probe of the financial reporting scandal.
U.S. securities rules require listed companies to submit annual reports within four months after the completion of a fiscal year. A 45-day extension was granted to companies this year because of the pandemic. Luckin, which before the extension was supposed to submit its annual report by April 30, exceeded the grace period.
Read more
In Depth: Investors Sip the Bitter Taste of the Luckin Coffee Scandal
Luckin, which positioned itself as a Starbucks challenger in China, debuted on Nasdaq in May 2019 and raised $651 million in its initial public offering, only 1½ years after its founding. The company attracted investors' attention with its high-tech business plan based on minimalist coffee shops that accept orders only by smartphone app and with the speed of its expansion.
The company has been in headlines nearly nonstop since early April when it admitted to inflating sales by around 2.2 billion yuan ($310.7 million) through fabricated transactions for the final three quarters of last year.
On May 15, Nasdaq's listing qualification department sent a written notice to Luckin saying the exchange was planning to delist the once high-flying upstart due to "public interest concerns" raised by the fraud in addition to Luckin's "past failure to publicly disclose material information." Luckin said at that time it plans to request a hearing before a Nasdaq panel.
According to Nasdaq rules, it usually takes 30 to 45 days for hearings to be held after they are requested, meaning a hearing for Luckin would be held no later than early July.
Analysts said a hearing for Luckin's delisting will focus on proving whether the company has met all delisting criteria and deciding whether the company can make enough internal changes to prevent future violations. It would be quite difficult for Luckin to change the course of delisting, analysts said.
Luckin still has the right to appeal the hearing's decision, according to Nasdaq rules. It usually takes as long as a year for a company to be delisted once a notice is issued, said Zhang Jiannan, a lawyer at U.S.-based law firm YK Law LLP.
Luckin has undergone extensive management overhauls since the scandal broke. Last month, the company sacked CEO Qian Zhiya, who also goes by Jenny Qian, as well as COO Liu Jian, for their involvement.
Luckin Chairman Lu Zhengyao, who also goes by Charles Lu, left the company's nominating and corporate governance committee. Lu may face criminal charges in China after authorities discovered emails in which he instructed colleagues to commit fraud, Caixin learned. Lu asserted he had no knowledge of the fraud.
Last week, Luckin proposed to remove half of its eight-member board, including its embattled chairman, to regain investor confidence and avoid the delisting. But sources close to the matter said the changes, proposed by Lu, would also effectively hobble a special board committee that has been internally investigating Luckin's massive fraud. An extraordinary meeting on the matter was scheduled for July 5.
Contact reporter Han Wei (weihan@caixin.com) and editor Bob Simison (bobsimison@caixin.com)
You've accessed an article available only to subscribers
VIEW OPTIONS
Share this article
Open WeChat and scan the QR code