Galanz, Alibaba Bury the Hatchet With 'Pick Sides' Lawsuit Settlement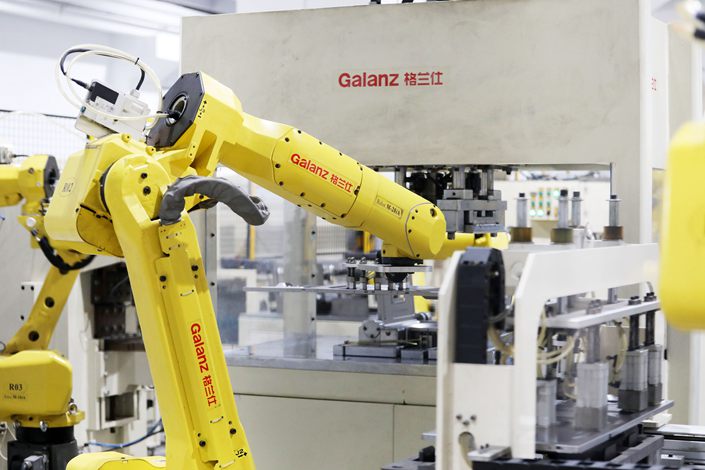 Appliances are made at a Galanz factory in Foshan, South China's Guangdong province, on April 28. Photo: IC Photo
Top microwave-oven maker Galanz has settled a lawsuit accusing e-commerce giant Alibaba of abusing its market dominance by forcing merchants to "pick sides" when deciding where to sell their wares online, closing the books on a case that made headlines last fall.
Galanz applied to withdraw its lawsuit against Alibaba, and the court hearing the case in the Southern city of Guangzhou approved the request, the company confirmed to Caixin on Monday. On the same day, Galanz and Alibaba announced they would work together on new product development, including for the internet of things (IoT) technology expected to underlie a future generation of smart devices like home appliances. No other terms of the settlement were given.
A company spokesperson confirmed the pair had worked well together during the recent June 18 shopping festival, an annual event that sees e-commerce companies throughout China hold a wide array of online promotions. The situation was far more contentious during last year's festival, when Galanz's feud with Alibaba first burst into the spotlight.
"Our work with Tmall on June 18 has already normalized," the Galanz spokesperson told Caixin, referring to Alibaba's popular business-to-consumer platform.
Last year's high-profile feud had its origins in events last May when Galanz signed a long-term strategic cooperation deal with Alibaba rival Pinduoduo that included joint development and promotion of custom-designed products. Afterwards, Galanz said it discovered its products were harder to find on Alibaba's Tmall site and were often relegated to the bottom of search lists.
"A person from the Tmall business department made a verbal request that we should 'pick sides,' that is, we should choose between Alibaba and Pinduoduo," Galanz sales department representative Wu Yi told Caixin at the time. After the shift in positioning, Galanz later reported that sales for its flagship store on Tmall fell 40% during the June 18 shopping festival last year, even as the figure rose 30% for its sales on JD.com, China's third major e-commerce player.
The conflict escalated in the run-up to last year's "Double 11" shopping festival, China's biggest online buying day that has eclipsed "Black Friday" in the U.S. as the world's biggest shopping day. Frustrated over similar tactics, Galanz sued Alibaba for abuse of its dominant market position at the end of last October, and said the case was accepted just a week before the shopping fest.
The "pick sides" phenomenon can have a number of meanings, including limiting your sales presence to one platform or choosing a single platform for promotions during big shopping holidays.
Such conditions work against relative newcomers like Pinduoduo, since most of the hottest merchants on its platform are third-party sellers, making it less attractive for brand owners to set up flagship stores. A person close to Pinduoduo told Caixin that due to the "pick sides" phenomenon, some brands had asked to have their brand-owner status deliberately obscured on Pinduoduo's site and therefore couldn't open properly labeled flagship stores.
Before the Galanz incident, JD.com had also complained how Alibaba often put similar pressure on merchants to choose between the two rivals. It filed a similar lawsuit against Alibaba in 2017, but there has yet to be a verdict.
Contact reporter Yang Ge (geyang@caixin.com) and editor Joshua Dummer (joshuadummer@caixin.com)
You've accessed an article available only to subscribers
VIEW OPTIONS
Share this article
Open WeChat and scan the QR code

China Stories: Illuminating the Silver Screen for the Visually Impaired