Four Things to Know About How Pinduoduo Is Challenging Alibaba and JD.com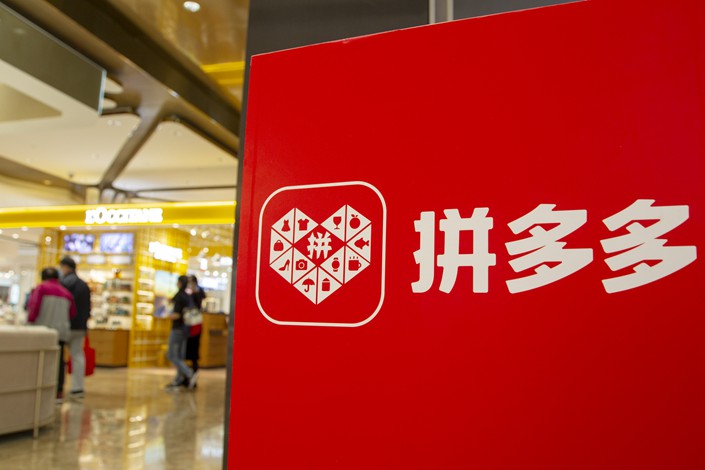 Discount e-commerce specialist Pinduoduo is doing what others like Amazon couldn't, and posing the first serious threat in years to heavyweights Alibaba and JD.com in China's e-commerce market. The company made headlines on Wednesday when its no-nonsense founder Colin Huang Zheng announced he would step down as CEO and give away $14 billion he holds in company shares, while still remaining as chairman.
The company, which recently passed the much-older JD.com to become China's second most valuable e-commerce player, has achieved its remarkable success by combining social elements like group buying and game-playing with its targeting of less affluent, underserved markets. The following are four things to know to better understand Pinduoduo's business model and its position in the China e-commerce market. To learn more, click here for the full version of a research report on Pinduoduo, and a profile of Huang Zheng, compiled by Caixin Global Intelligence.
Who is Pinduoduo's main market?
Pinduoduo's cheap prices and wide product range appeal to China's so-called "sinking market consumers," a term often used by domestic market analysts and media to refer to lower-tier cities, small towns and rural areas in China. While Alibaba and JD.com put their emphasis on capturing city dwellers willing to pay more for better quality products, Pinduoduo began on the other end of the spectrum, selling cheap unbranded goods, agricultural products and groceries.
What are some of Pinduoduo's key innovations?
Pinduoduo uses a "group buying" model that offers products at a significantly reduced price once a minimum number of buyers sign up for the deal. As Pinduoduo users share the deal with more people, they can "price chop" and incrementally bring the price down near to zero if enough people join. Pinduoduo users share the deal with their friends via the ubiquitous messaging app WeChat, plugging Pinduoduo directly into a powerful advertising network.
The company also employs a range of techniques designed to increase user stickiness and encourage users to share links to the app. These "growth hacks" range from daily check-in rewards to mini-games like "Duo Duo Orchard" which allows users to water a virtual tree each day until it "grows" large enough that they can receive a box of real fruit.
What are Pinduoduo's main revenue sources?
About 80% of Pinduoduo's revenue comes from advertisements. Unlike Alibaba, which has expanded its "search ads" business by acquiring Yahoo, Pinduoduo employs "targeted ads" that are closely tailored for each consumer. This Facebook-like advertising strategy has reduced marketing costs for Pinduoduo sellers, most of whom are relatively small and can't spare much on advertising.
It also allows Pinduoduo to provide a highly personalized shopping experience, built on the back of data gathered via group buying and other social integrations — Pinduoduo can recommend users items their friends have purchased, which "helps solve the 'trust deficit' of retail in China's developing cities, where more than 80% of retail is unorganized and consumers rely heavily on social recommendations to initiate transactions."
How are Alibaba and JD.com responding to the Pinduoduo challenge?
Pinduoduo's high performance has pushed Alibaba and JD.com to shift their attention to the sinking market as well, which is poised to be the next battlefield. Alibaba launched the discount version of its popular Taobao B2C platform, and has injected some 10 billion yuan ($1.4 billion) in subsidies into its group-buy service. JD.com launched its social commerce app Jingxi. Using Pinduoduo-style techniques, both of the two giants are determined to tap into the same lower-tier market Pinduduo built its success upon.
Contact reporter Yang Ge (geyang@caixin.com)
Read the full CGI report on Pinduoduo, and the profile of Colin Huang Zheng
You've accessed an article available only to subscribers
VIEW OPTIONS
Share this article
Open WeChat and scan the QR code

Caixin China Biz Roundup: Jack Ma Resurfaces on the Mainland