Investigators Reveal How Kangde Xin Carried Out 11.5 Billion Yuan Fraud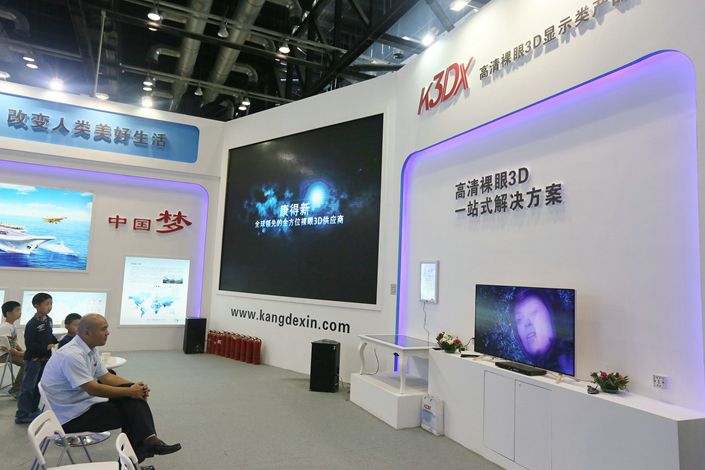 Inspectors from the Jiangsu branch of the securities watchdig told the hearing that the laminating film manufacturer had made fictitious export sales amounting to 4.6 billion yuan.
Investigators from China's securities watchdog on Monday revealed a complex web of accounts and transactions with illegal underground lenders that employees at Kangde Xin Composite Material Group Co. Ltd. used to carry out a four-year fraud that has brought the company to its knees.
The scheme was disclosed during a three-day hearing held by the China Securities Regulatory Commission (CSRC) in Beijing to determine what administrative punishment should be imposed on the Zhangjiagang, Jiangsu province-based company, which is struggling to survive after a bond default in January 2019 triggered a CSRC probe that uncovered one of the most high-profile corporate frauds in Chinese stock market history.
Investigators found that about 15 billion yuan ($2.1 billion) of cash and bank deposits shown on the Shenzhen-listed company's financial statements turned out to be an illusion. Sales and other documents had been systematically falsified over a four-year period and inflated profits by a total of 11.9 billion yuan, a figure subsequently adjusted to 11.5 billion yuan.
The CSRC pledged to punish those found guilty of any crimes and in November kicked off a series of hearings into the scandal to give all parties, including the company, its auditors and its advisers, the opportunity to put forward their arguments. Hearings for individuals involved in the fraud have been held in private. This week's three-day hearing is the second involving the corporate entity but only Monday's sitting was open to the public.
Inspectors from the Jiangsu branch of CSRC told the hearing that the laminating film manufacturer had made fictitious export sales amounting to 4.6 billion yuan involving 284 transactions, 283 contracts and over 10,000 tons of waste film.
Kangde Xin first sent money to currency exchange companies it controlled, which then used illegal underground lenders to "send" the funds overseas. The lenders have thousands of onshore and offshore accounts, many in the names of individuals, an inspector told the hearing. They take money from the client and ask their overseas partners to transfer the equivalent amount of funds to an overseas account designated by the client. In Kangde Xin's case, they found that funds were spread across multiple accounts, many of which were personal accounts, the inspector said.
Systematic fraud
Most of the money circled back into an account of a Kangde Xin subsidiary, Kangde Xin Optoelectronics, and some went to an affiliate to repay borrowings to Xiamen International Bank Co. Ltd., the inspectors said.
Some employees involved in the scheme to inflate export sales had pointed out that 15 clients were fake, the inspector said. The company used PET materials to fake indium tin oxide films, 3D films and other kinds of laminating films for customs clearance purposes and shipped the products to Hong Kong in order to inflate sales and profit. The inspectors said they uncovered evidence including trade logs, business receipts and email records to back up the case that the company undertook a systematic fraud that involved more than 70 employees and four subsidiaries, covering financial lines, production, warehouses, sales and other departments.
Zhang Lixiong, a former deputy head of Kangde Xin's finance department; Zhong Yu, the company's actual controller; and Wang Yu, its finance director, have been named as the main executives responsible for the fraud and face a lifetime ban on serving as executives, directors and supervisors of listed companies, and on doing securities work. Caixin has learned that the public security authorities have placed the three under "criminal coercive measures," which can include residential surveillance, detention or arrest.
Kangde Xin's lawyer rebutted the inspectors' accusations, claiming they had not provided sufficient evidence to prove that sales had been inflated and that they had refused to recognize any of the company's export sales figures as legitimate.
The company's lawyer also pleaded for leniency from the CSRC which has the power to impose administrative penalties on the company including kicking it off the Shenzhen Stock Exchange. Kangde Xin's shares have been suspended since July 8, 2019, after the company received notification from the regulator that it faced possible administrative punishment. They also carry ST status, a tag given to firms facing regulatory issues or financial distress.
The lawyer warned that delisting would hurt the interests of hundreds of thousands of small investors, creditors and employees. Kangde Xin has about 135,000 minority shareholders, more than 2,100 employees, 18 bank creditors with combined exposure of more than 6 billion yuan, as well as over 70 bond investors who hold a total of 3.5 billion yuan of debt, the lawyer said.
The lawyer said there was provision under Article 171 of the new Securities Law to allow the company to pay compensation to investors who suffered losses as a result of false information disclosure. But if Kangde Xin is delisted and enters bankruptcy, existing shareholders will only be able to secure compensation through bankruptcy proceedings.
The law also has a provision that if the suspected illegal act is corrected within a specific time limit, investors are compensated for their losses, and the damage or adverse effects are eliminated, the CSRC can suspend its investigation.
Tang Ziyi contributed to this report.
Contact reporter Timmy Shen (hongmingshen@caixin.com) and editor Nerys Avery (nerysavery@caixin.com)
Download our app to receive breaking news alerts and read the news on the go.
Caixin Global has launched Caixin CEIC Mobile, the mobile-only version of its world-class macroeconomic data platform.
If you're using the Caixin app, please click here. If you haven't downloaded the app, please click here.
You've accessed an article available only to subscribers
VIEW OPTIONS
Share this article
Open WeChat and scan the QR code