Xiaomi Faces 'Complex' Global Environment Heading Into Its Second Decade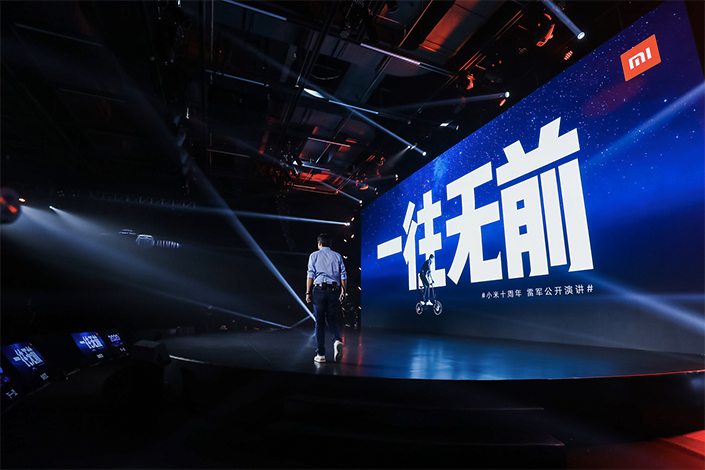 Smartphone maker Xiaomi Corp. is facing a "complex" global environment as it heads into its second decade, its CEO said, posed not only by the usual competition but also by a growing global backlash against Chinese technology due to security concerns.
Co-founder and CEO Lei Jun made the assessment in a Tuesday evening speech to mark the 10th anniversary of Xiaomi's founding. Since then the company has grown to become the world's fourth-largest smartphone brand, behind only global giants Apple Inc. and Samsung Electronics Co. Ltd. and hometown rival Huawei Communications Co. Ltd.
"Today we have talked a lot about the achievements of the past 10 years, and we are indeed very proud," Lei said toward the end of a speech mostly focused on recounting his company's first decade. "But we are also very aware that today we are facing an international environment that is both very complex and extremely competitive."
Lei's assessment comes as Xiaomi grows increasingly dependent on international sales after relying on China to fuel its early breakneck growth. The company now sells its phones in about 100 markets worldwide, and is one of the top five brands in about half of those.
Just 28% of its shipments went to its home market in the first half of this year, with the remaining 72% going to other countries and regions outside the Chinese mainland, according to data tracking firm IDC. That ratio marked a big change from just two years ago in 2018, when the company was still selling 43% of its smartphones in China.
Lei called 2020 an "extraordinary year" in which the world has faced "huge challenges." Most notably the global Covid-19 pandemic has taken a big bite out of smartphone sales, which were down 16% in the second quarter of this year, according to IDC.
"Global changes have profoundly affected each of our lives," Lei said. "Everyone is asking, 'In this kind of situation, what should I do?' Many people are anxious, and, in fact, I'm also anxious. But anxiety is useless!"
Pandemic aside, Chinese companies are also facing unprecedented challenges from countries ranging from the U.S., the U.K. and Australia in the West to developing nations like India, which are increasingly wary of potential security risks associated with high-tech products from China.
Such concerns are tied to a belief that Chinese companies are beholden to Beijing and may therefore give information they collect on people outside China to their home government if asked. The U.S. has been the most aggressive of those trying to reduce such perceived risks, shutting off Huawei from its U.S.-based suppliers that were key providers of smartphone chips and software to curb the company's global aspirations to become the world's top smartphone-maker.
Read more
Cover Story: Will TikTok Be the Next Huawei?
While Xiaomi has minimal presence in the U.S., it has come to rely strongly on India, which has also pushed back against China recently as an old territorial dispute heated up last month. Xiaomi is now India's best-selling smartphone brand and counts the country as its largest market. That dependence forced Xiaomi to keep its head down during the recent flare-up in cross-border tensions.
Xiaomi's sales tumbled nearly 50% in India in the second quarter during the pandemic, largely in line with the market's overall decline. But as the clash between China and India heated up, Xiaomi and other Chinese rivals like Oppo and Vivo Mobile Communications Co. Ltd. that now dominate the market have had to tread carefully. They are seeking to avoid a fate met by Chinese apps like TikTok and WeChat, which were banned from the market as tensions mounted.
While Chinese-brand phones have yet to meet a similar fate, some Indians have called for their boycott. As that happens, Xiaomi has been carefully trying to emphasize that most of its phones sold in the market are actually made in India.
"There are many things in this world we can't change, but what we can change is up to us," Lei said. "We are determined to change our mentality in order to face this complex world positively. I chose one of the easiest ways to change, by moving forward!"
Contact reporter Yang Ge (geyang@caixin.com)
Download our app to receive breaking news alerts and read the news on the go.
You've accessed an article available only to subscribers
VIEW OPTIONS
Share this article
Open WeChat and scan the QR code