China Locks Down City, Plans to Test 200,000 After Two Covid-19 Cases Found Along Myanmar Border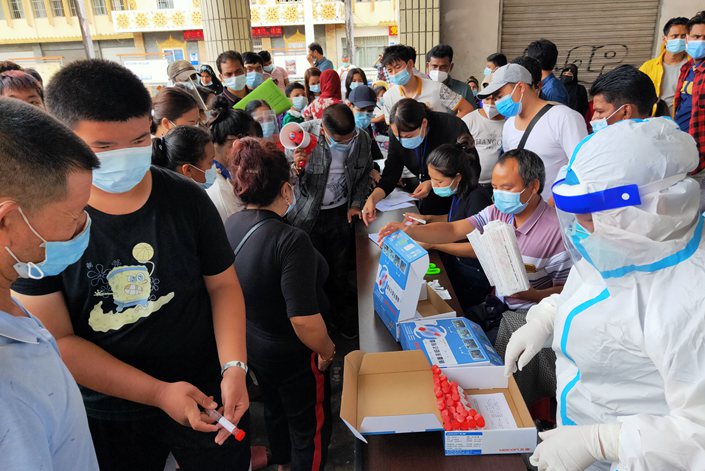 People receive nucleic acid tests on Tuesday at a community testing site in Ruili, Yunnan province. Photo: The Paper
A Chinese border city has gone into lockdown and is testing all 200,000 residents after two people who illegally entered from neighboring Myanmar were diagnosed with Covid-19.
The government of Ruili in the southwestern province of Yunnan began mass testing on Tuesday morning to "thoroughly investigate the coronavirus outbreak and ensure the health and safety of people of all nationalities in the city," according to an official statement (link in Chinese).
The authorities have ordered residents to isolate at home and have forbidden people from entering or leaving the city for a one-week period effective from 10 p.m. Monday, the statement added.
On Tuesday, Yunnan's Governor Ruan Chengfa ordered (link in Chinese) all areas along the province's roughly 2,000-kilometer border with Myanmar to impose "wartime" disease control measures in an effort to prevent and control further virus flare-ups.
A freewheeling trade hub near the Myanmese city of Muse, Ruili has restricted the flow of people across its normally porous border during the pandemic to prevent so-called imported infections from Myanmar.
But the closures have not been watertight. According to Ruili authorities (link in Chinese), the two new cases are both Myanmar citizens from the central Mandalay region who illegally entered the Chinese city on Sept. 3 as part of a group.
Their infections were announced (link in Chinese) in a Monday statement by authorities in the prefecture that administers Ruili.
Officials said one person, a 32-year-old woman, previously tested positive for the virus but was initially classified as asymptomatic. The other, a 16-year-old girl working as the woman's live-in housekeeper, tested positive on Sunday and is under observation at a hospital in the Chinese city. The condition of both patients is unknown.
China is reopening its economy after its initial coronavirus epidemic earlier this year. Although local infections have dwindled in recent months, authorities remain on guard against imported infections from abroad.
Ruili is not the first border outpost to take drastic action against imported cases. In April, the remote northeastern town of Suifenhe shut a boundary crossing after recording hundreds of infections among travelers entering from neighboring Russia.
Other secondary flare-ups, some related to viruses imported from abroad, have occurred in inland cities, including the national capital, Beijing, and the capital of the Xinjiang Uyghur autonomous region, Urumqi.
Contact reporter Matthew Walsh (matthewwalsh@caixin.com) and editor Joshua Dummer (joshuadummer@caixin.com)
Download our app to receive breaking news alerts and read the news on the go.
You've accessed an article available only to subscribers
VIEW OPTIONS
Share this article
Open WeChat and scan the QR code