Caixin ESG Biweekly: China's Action Plan for Green Development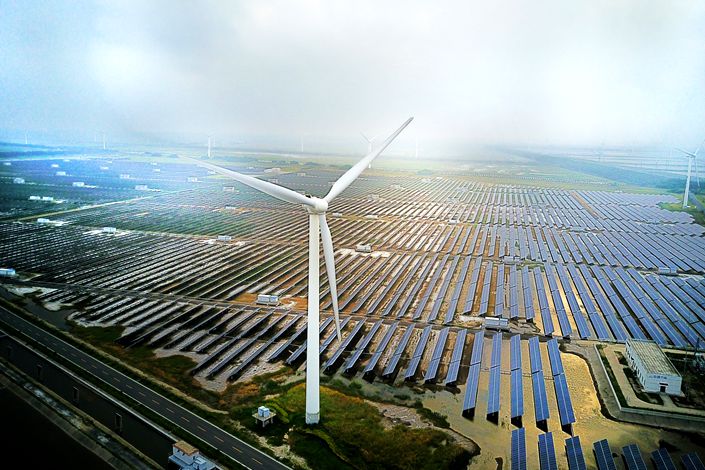 China's top annual political event was held in early March and its premier vowed to accelerate green development over the next five years. China's first local green finance regulation came into effect in Shenzhen. And State Grid Corp. of China released an action plan for achieving peak carbon dioxide emissions and carbon neutrality, the first of its kind by a centrally run state-owned enterprise.
CENTRAL POLICES
2021 Government Work Report
On March 5, Premier Li Keqiang delivered the 2021 Government Work Report (政府工作报告), which emphasizes green development during the 14th Five-Year Plan and sets a plan of action for green development this year. The State Council prepared the 14th Five-Year Plan for National Economic and Social Development and Long-Range Objectives Through 2035 (国民经济和社会发展第十四个五年规划和2035年远景目标纲要) to clarify the intended nationally determined contributions of China for addressing climate change by 2030. Development models for green transformation are to be accelerated; high-quality economic development and high-level environmental protection are to be synchronously promoted; and energy consumption and carbon dioxide emissions per unit of GDP are to be reduced by 13.5% and 18% respectively.
Li also stated that China will increase efforts to improve the environment. Measures will be strengthened for comprehensive air treatment and coordinated air pollution prevention and control measures, including limiting PM2.5 and ozone molecules. North China aims to realize a 70% clean heating supply. Solid and honest work will be done to reach peak carbon dioxide emissions and advance toward carbon neutrality, while an Action Plan for Peaking Carbon Dioxide Emissions Before 2030 will be formulated. Construction will be accelerated on the market for energy consumption rights and carbon emissions trade; the system will be improved for double control of total energy consumption and energy consumption per unit of GDP; special policies will be implemented to support finance for green and low-carbon development; and support tools will be established for carbon emissions reduction.
National Energy Administration
The General Affairs Office of the National Energy Administration (NEA) issued a document (关于2021年风电、光伏发电开发建设有关事项的通知征求意见稿) to solicit comments from the provinces and from certain investors regarding development and construction of wind and solar power generation projects in 2021. According to this document, in 2021 wind and photovoltaic power will contribute about 11% of total power generation. The document clarifies that — based on the remaining guaranteed scale of grid connection after implementation of the 2021 power storage project and the guaranteed scale of grid connection in 2022 — China will formulate an allocation competition plan, organize and conduct the allocation of grid connection through competition and add new projects for the guaranteed scale of grid connection in 2021 and 2022.
Ministry of Ecology and Environment
On March 2, the Ministry of Ecology and Environment (MEE) released the Brief Introduction of National Ecological Environment Quality 2020 (2020年全国生态环境质量简况), which covers air, freshwater, the ocean, natural ecology, soil, the acoustic environment, radiation and climate. Over 2020, China continuously improved the quality of its ecological environment, further reducing total emissions of major pollutants, energy consumption per unit of GDP and carbon dioxide emissions per unit of GDP. In addition, China has exceeded nine binding targets for the environment determined by the 13th Five-Year Plan.
Ministry of Ecology and Environment
On Feb 28, Huang Runqiu, minister of Ecology and Environment, paid an inspection visit to the carbon markets in Hubei province and Shanghai municipality. He indicated that as carbon market construction nationwide enters a crucial period, project timescales need to be compressed to make the carbon markets serviceable as soon as possible and thereby ensure the launch of online trading by late June 2021.
LOCAL POLICES
Shenzhen
On March 1, the Shenzhen Special Economic Zone Green Finance Regulations (深圳经济特区绿色金融条例) took effect. The regulations are not only China's first local rules for green finance, but they are also the second green finance regulations to go into effect in the world following those of the European Union. According to the regulations, financial institutions shall disclose information on the environmental impact of beneficiary enterprises, projects or assets invested in accordance with the provisions. Green finance beneficiary enterprises and projects, as well as the enterprises owning the assets, must submit environmental information materials to financial institutions as required. The Shenzhen branch of the People's Bank of China collaborated with the Financial Regulatory Bureau of Shenzhen Municipality and the Shenzhen Office of the China Banking and Insurance Regulatory Commission to issue guidelines to bolster Shenzhen's specialized green finance banking system.
Shanghai
On Feb. 23, 314 Shanghai enterprises — including Baoshan Iron & Steel Co., Ltd. and China Eastern Airlines Corp. Ltd. — were on Shanghai's List of Entities Included in the Carbon Emission Trading Quota (上海市纳入碳排放配额管理单位名单). The Shanghai Municipal Bureau of Ecology and Environment revealed that Shanghai's provided solution to carbon emission quotas takes into account actual situations, including the situation wherein rapid development among certain enterprises caused a sharp rise in carbon emissions. Considering enterprises' differing situations, the basic quotas for 2020 were determined by such methods as industry baseline, reduction per previous emissions intensity and reduction per previous net emissions, and the methods based on emission efficiency will be prioritized.
COMPANIES
State Grid
On March 1, State Grid Corp. of China, the world's largest public utility, released an action plan for achieving peak carbon dioxide emissions and carbon neutrality (国家电网公司碳达峰碳中和行动方案). It is the first action plan of its kind to be released by a central state-owned enterprise. The action plan proposes that State Grid takes peak carbon dioxide emissions as its foundation and carbon neutrality as its ultimate goal, that it accelerates the spread and diversification of the clean and low-carbon energy supply and that it likewise speeds up the advance of high-efficiency electrical energy with lower consumption. Considering both opportunities and challenges that come with the rapid development of new energy, State Grid will address the issue of unstable power supply that comes with a high proportion of renewable energy or electrical and electronic equipment, as well as the issue of summer and winter electricity consumption peaks, with supply-side structural adjustment and demand-side response, thereby promoting the use of efficient, clean and low-carbon energy. The proportion of non-fossil-fuel energy used for primary energy consumption is expected to reach approximately 20% in 2025 and 25% in 2030.
CSI & BOCI
On March 5, the CSI BOC International 300 ESG Index, jointly developed by China Securities Index Co. Ltd. (CSI) and BOC International (China) Co. Ltd. (BOCI), officially launched. The CSI BOC International 300 ESG Index is based on the CSI 300 Index, but it reassigns weight to equity samples according to ESG scores, limiting a single sample's deviation in weight from the corresponding securities in the CSI 300 Index to 3%. In this way, it divides attention equally among the metrics of the CSI 300 Index and the overall securities performance of listed enterprises that are making remarkable achievements in terms of environmental protection, social responsibility and corporate governance. The CSI BOC International 300 ESG Index is committed to exerting a positive influence on green development and sustainable investment applications and improving professional capacities for green investment, thereby promoting China's overall progress in ESG.
CSI
China Securities Index Co. Ltd. (CSI) has announced that it will launch the CSI 800 ESG Bond Index, CSI 800 ESG Credit Bond Index and CSI Convertible Bond Partial Equity Strategy Index on March 25. The CSI 800 ESG Bond Index (800 ESG Bond) uses normalized relative values with a base set at 100 points on June 30, 2017. The CSI 800 ESG Credit Bond Index (800 ESG Credit Bond) is also a normalized relative scale with a base set at 100 points on June 30, 2017. The CSI Convertible Bond Partial Equity Strategy Index (Convertible Bond Partial Equity Strategy) consists of normalized relative values with a base set at 100 points on Dec. 31, 2016.
INSIGHTS
Peak Carbon Dioxide Emissions and Carbon Neutrality: An Opportunity to Cultivate Green Finance Investors
The March 1 issue of Caixin Weekly featured the cover story Taming the Green Swan. The article argued that the development of green finance in China has relied on policy incentives rather than the active willingness of market entrants. However, now that clear targets have been put forth for peak carbon dioxide emissions and carbon neutrality, the opportunity to cultivate green-leaning investors is ripe. Up until the end of 2020, China's green loan balance was nearly 12 trillion yuan ($1.8 trillion), the highest in the world; China's green bond balance, meanwhile, was 813.2 billion yuan, ranking second in the world. Besides investments in low-carbon and low-emissions industries, the most direct investment transactions for realizing carbon neutrality are conducted in carbon emissions trading markets. As of Jan. 1, 2021, China's national carbon market has entered its first contract fulfillment cycle, making it the largest officially operational carbon market in the world. As the carbon market's trade volume increases, it will naturally generate demand for financial derivatives, attracting the participation of investors from enterprises outside emissions control and ultimately improving the market's financial attributes.
Stronger and More Dynamic ESG Investment in the 14th Five-Year Plan
On Feb. 26, Tu Guangshao, president of the Shanghai Finance Institute and former vice chairman of the China Securities Regulatory Commission, attended the ESG Investing Frontier "ESG Vision and Outlook in China's 14th Five-Year Plan." There he analyzed four ESG development trends for China during the 14th Five-Year Plan period. Tu sees the goals of ESG investment as highly consistent with China's new development concepts, new stage-based development requirements and world-inclusive goal to co-establish a community with a shared future for mankind. ESG investment is moreover consistent with the function of capital to promote industrial and economic development as well as with the basic and long-term interests of investors. Therefore, ESG investment will grow stronger and more dynamic during the 14th Five-Year Plan period.
Positive Correlation Between Carbon Risk and Financing Costs
Zhang Bohui, executive associate dean of the School of Management and Economics and president chair professor of the Chinese University of Hong Kong (Shenzhen), participated in a joint, in-depth study of carbon risk's impact on corporate financing costs, specifically by analyzing the Kyoto Protocol. Zhang's findings indicate that the Kyoto Protocol plays an effective role as external supervisor, significantly raising carbon risk for enterprises with high carbon and lowering risk for low-emissions enterprises. There is a positive correlation between carbon risk and financing cost. On this basis, the debt and equity costs of enterprises with high carbon emissions will be much higher than those with low carbon emissions. The research proves that wherever carbon emissions are an important part of overall economic activity, measures for carbon emissions reduction will have a greater impact on enterprises' development.
Promoting Green Finance Development With a Green Finance Law
This year during the Two Sessions, Zhu Surong, deputy to the NPC and president of the Shenyang Branch of the People's Bank of China, issued suggestions for formulation of the Green Finance Law to promote the development of green finance. More specifically, Zhu proposed improving the green finance policy framework and support policies, establishing unified standards and strengthening the mechanism of incentives and restrictions. Zhu said that according to past experiences, a complete institutional system for green finance contributes significantly to the development of green finance and realization of green, low-carbon and sustainable development goals. At present, China's policy system for green finance is incomplete. It not only lacks top-level design and unified standards; policy gaps also exist. Beyond these deficiencies, more needs to be done for green finance principles promotion and green finance policy implementation.
Upgrading Carbon Markets and Accelerating Top-level Legislation for Climate Change
During this year's "Two Sessions," Li Yonglin, a member of the National Committee of the CPPCC and vice president of Sinopec Group, issued a proposal urging the construction of a national carbon market system, the formulation of an emission quota mechanism, and improvement to how they are managed. In recent years, China has regarded the construction of a national carbon market as an important innovation and proactive measure to respond to climate change and promote a more ecological civilization. A unified national carbon market has become an important means to accomplish these goals. However, it is still in an initial stage of construction. Its continued development is currently challenged by an incomplete system for carbon emissions trading, unreasonable carbon emission quotas and an imperfect management levels.
Read more Caixin ESG Biweekly here.
Get our ESG Biweekly newsletter and more delivered to your inbox.
Download our app to receive breaking news alerts and read the news on the go.
You've accessed an article available only to subscribers
VIEW OPTIONS
Share this article
Open WeChat and scan the QR code
Caixin Insight, the research arm of Caixin Global, is a strategic advisory helping clients assess policy risk and macroeconomics in China.