Caixin Explains: How China's New Carbon Market Will Work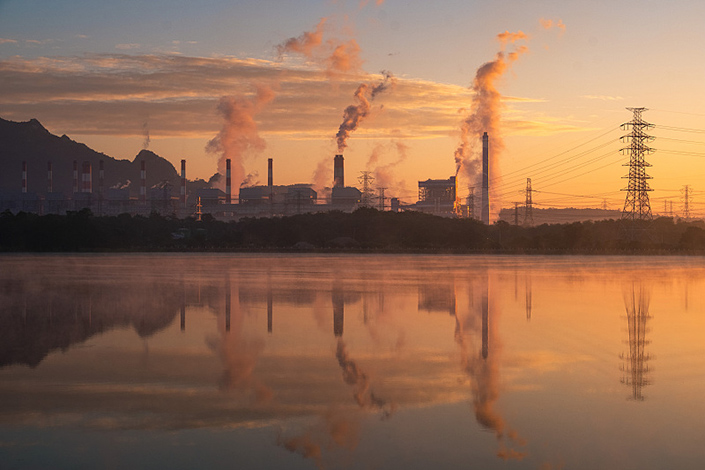 The launch of China's national ETS is expected to help achieve the goals President Xi Jinping set in September: bringing the country's carbon emissions to a peak by 2030 and reducing them to net zero by 2060. Photo: VCG
China is set to launch (link in Chinese) a national carbon trading market on Friday, as the world's largest greenhouse gas emitter considers an emissions trading scheme (ETS) a key part of its strategy to transition to a low-carbon economy.
China's national carbon market is expected to become the world's largest once it is up and running, outpacing Europe's, as total annual carbon emissions of just the first batch of companies involved amount to more than 4 billion tons (link in Chinese), according to official estimates.
The first batch involves more than 2,000 power generation companies, which account for more than 40% of China's energy-related carbon emissions, according to the International Energy Agency.
Here are five things to know about China's upcoming nationwide ETS.
What is an ETS?
The EU launched the EU ETS in 2005, which is the world's first international ETS. Later, countries including South Korea, New Zealand and Switzerland, as well as some regions in the U.S., followed suit. Today, an ETS is seen as a crucial step in reducing emissions of greenhouse gases responsible for global warming, as it can put pressure on companies to reduce their emissions.
Under an ETS, governments set quotas for the amount of greenhouse gases that a company can emit during a certain period. The companies that spew less greenhouse gases into the atmosphere than they are permitted to can sell remaining quotas via the system in the form of carbon credits, while buyers are those who see emissions exceed their allotments and want to avoid paying fines.
The launch of China's national ETS is expected to help achieve the goals President Xi Jinping set in September: bringing the country's carbon emissions to a peak by 2030 and reducing them to net zero by 2060.
Before the launch of the national ETS, China had already established regional ETSs in eight provinces and cities, including Beijing, Shanghai and Shenzhen. Seven of the regional ETSs started trading in 2013, while the one in the eastern province of Fujian kicked off three years later. These regions allow companies to buy carbon credits equivalent to as much as 5% to 10% of their original quotas or actual emissions. The average price of carbon credits traded on the regional ETSs stands at 50 yuan ($7.73) per ton, analysts at Guotai Junan Securities Co. Ltd. estimate, far lower than the 250 yuan equivalent per ton in the EU ETS in 2020.
China will no longer launch any new regional ETS after the national one, and the current regional ETSs will be gradually "included" (link in Chinese) in the national ETS, according to draft regulations released by the Ministry of Ecology and Environment in March.
Who will trade on the market?
Initially, China's national ETS will only cover the electricity generation sector. A batch of 2,225 electricity companies (link in Chinese) will participate in the trading.
In addition to electricity, the trading system will eventually cover seven other industries (link in Chinese), including petrochemical, chemical, construction materials, steel, nonferrous metal, papermaking and aviation. Companies that emit greenhouse gases equivalent to more than 26,000 tons of carbon dioxide a year will be included in the system.
It is expected that financial institutions will indirectly engage in the carbon market, as central bank Governor Yi Gang in April said that "the carbon market should be a financial market in nature and allow carbon financial derivatives trading."
How does the pricing mechanism work?
Multiple analysts expect the initial price of carbon credits traded on the national market to be set at around 50 yuan per ton. The average price is expected to rise to 52 yuan per ton in 2022, 71 yuan per ton in 2025, and 93 yuan per ton by 2030, according to a survey of 567 respondents conducted by the China Carbon Forum, a non-profit organization.
Carbon credits to be traded won't be allowed to rise or fall more than 10% in a daily session, which is similar to the limits on most of China's stock market, according to regulations released last month. The trading session will be open from 9:30 a.m. to 11:30 a.m. and from 1:00 p.m. to 3:00 p.m. from Monday to Friday. The maximum size of a single transaction will be less than 100,000 tons of carbon dioxide equivalent.
What's the verification mechanism?
The regional ETSs provide a hint of how the national system's verification mechanism will work. Like the EU ETS, China's regional ETSs adopt a so-called MRV procedure — monitoring, reporting and verification. Companies are required to monitor and report the amount of greenhouse gas emissions to local regulators, who will then dispatch technical groups (link in Chinese) to conduct on-site inspections. The regulators can also engage third-party agencies to verify the emissions reports.
How will the system help China achieve its carbon goals?
Such systems are one of the three major methods to reduce carbon emissions across the globe. ETSs are seen as a more sustainable way (link in Chinese) than the other two — granting subsidies to green businesses and imposing higher taxes on energy-intensive industries or companies.
An ETS helps companies with low-carbon emissions to raise money from the market by selling carbon credits, giving them incentives to further reduce emissions. In addition, its pricing mechanism enables regulators to have more practical expectations about the progress of energy-intensive companies' business transformation.
Denise Jia contributed to this report.
Read more
China Sets July Launch for Carbon Emissions Trading Scheme
Contact reporter Tang Ziyi (ziyitang@caixin.com)
Download our app to receive breaking news alerts and read the news on the go.
Get our weekly free Must-Read newsletter.
You've accessed an article available only to subscribers
VIEW OPTIONS
Share this article
Open WeChat and scan the QR code

Caixin China Biz Roundup: Auto Sector Price War Heats Up