Su Hua Steps Down as Kuaishou CEO in Core Leadership Reshuffle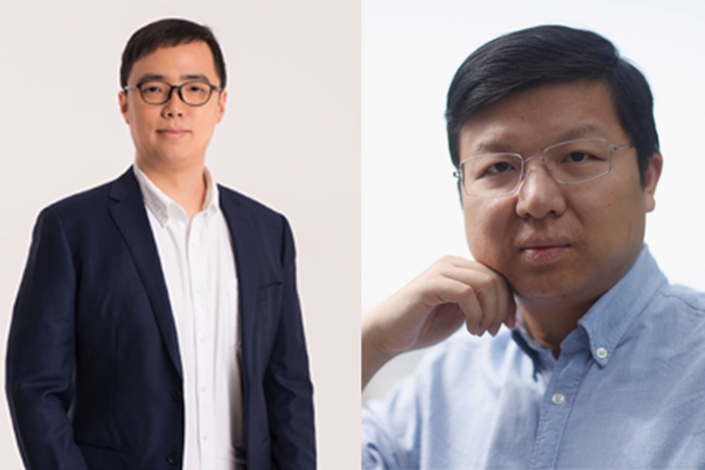 Kuaishou has named Chen Yixiao (left) CEO of the firm, but says he will report to Su Hua (right), who relinquished the role but remains chairman.
Kuaishou Technology Co. Ltd. has appointed cofounder Cheng Yixiao as CEO, announcing the firm's other founder, Su Hua, has left the role.
The firm said Cheng would still report to Su, who will remain chairman of the board. The core leadership reshuffle, announced Friday, comes as the Tik Tok rival continues to battle widening losses and shrinking market value.
Thirty-nine year old Su has been CEO of Kuaishou since 2013, with Cheng, 37, serving as chief product officer, but the pair have long had overlapping responsibilities. Su, who previously worked for Google China and Baidu, has focused on commercialization and internationalization, while Cheng, who previously worked at Facebook clone Renren, handled product and technology development.
Kuaishou's announcement said Su would remain an executive director and a member of the remuneration committee, but would devote more time to long-term strategy.
Su is just the latest Chinese tech leader to announce he would step down from daily operations to focus on his firm's long-term vision, as Beijing's crackdown on the internet sector continues to spook markets.
ByteDance founder Zhang Yiming announced a similar move in May, while Pinduoduo founder Colin Huang stepped down as CEO of Pinduoduo last year, before resigning as chairman in March.
In Kuaishou's case, the reshuffle comes amid a sweeping business restructure that began last month, which included establishing an all-in-one department to operate its app and manage product development, operations, user growth, gaming ecosystem and search function, in a bid to stem losses.
Tencent-backed Kuaishou reported an adjusted net loss of 4.8 billion yuan ($742.5 million) in the second quarter largely because of a spending spree to try and maintain user loyalty, following an adjusted net loss of 4.9 billion in the previous quarter.
Kuaishou was among the 34 companies ordered to self-rectify anti-competitive behaviors in April, was cited for illegal collection of users' data in May, and fined for spreading sexual content involving minors in July.
The company's market value has whipsawed after completing a $5.4 billion Hong Kong IPO in February. Its shares more than doubled in value and peaked in February before tumbling below the issue price of HK$115 in July and to a record low of HK$64.5 in August. Kuaishou's stock price has rebounded slightly since, but its market capitalization remains down almost 70% since the debut. On Friday, its stocks closed at a price of HK$103.5.
The voting rights of Su, who holds a 11.8% stake in the firm, and Cheng, who owns 9.4%, will also remain unchanged, according to Kuaishou.
Contact reporter Zhang Yukun (yukunzhang@caixin.com) and editor Flynn (@caixin.com)
Download our app to receive breaking news alerts and read the news on the go.
Get our weekly free Must-Read newsletter.
You've accessed an article available only to subscribers
VIEW OPTIONS
Share this article
Open WeChat and scan the QR code

China Stories: Verdict Reversal in High-Profile Murder Stands Out Amid Exoneration Trend