CX Daily: Yuan-Dollar Breakup, PBOC Warnings Signal Rocky Road for Currency in 2022
Yuan /
In Depth: Yuan-dollar breakup, PBOC warnings signal rocky road for currency in 2022
China's currency has broken its traditional relationship with the U.S. dollar over the past few months as a combination of surging exports and capital inflows have increased demand for the yuan, pushing its value higher even as the greenback itself strengthened.
This unusual currency decoupling, which has been evident since September, has added another element of uncertainty into the debate about where the yuan is headed in 2022 because the appreciation partly reflects the more hands-off approach the People's Bank of China (PBOC) has been taking toward managing the exchange rate.
In addition to more fundamental factors affecting the yuan's value – such as the trade balance, capital flows, and the trajectory of U.S. monetary policy and interest rates – the question of whether the central bank will continue to refrain from intervening in the market to prevent the yuan from strengthening will partly determine the currency's performance next year.
Chips /
Darkest days of car chip shortage have passed, industry group proclaims
A Chinese automotive industry group declared that the worst of the global car chip shortage is over, saying improved supply helped passenger car production grow 14% month-on-month in November, but noting the shortage will persist.
"The darkest days of automotive chip supply passed in the third quarter," the China Passenger Car Association (CPCA) wrote in its latest monthly report (link in Chinese) released Wednesday.
FINANCE & ECONOMY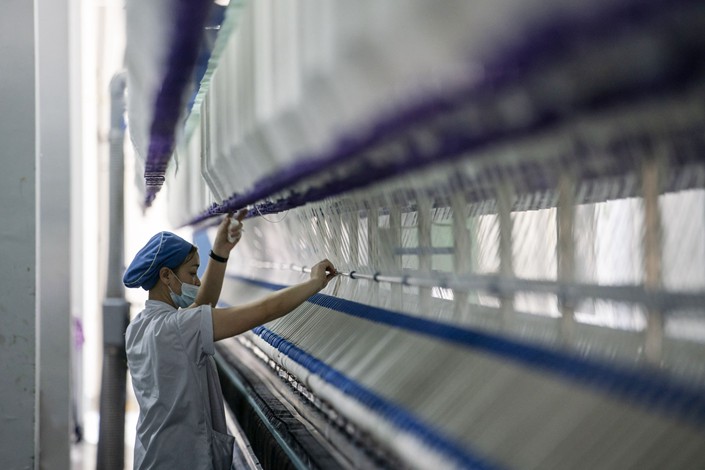 An employee at work in a yarn production line at a factory in Putian, Fujian on Feb. 8. Photo: Bloomberg 
Inflation /
China factory inflation comes down from 26-year high
China's factory inflation moderated in November from a 26-year high, with the slowdown providing more room for policymakers to support the economy.
The producer price index rose 12.9% from a year earlier, above economists' forecasts of a 12.1% gain, data from the National Bureau of Statistics (NBS) showed Thursday. The consumer price index increased 2.3%, the fastest pace since August 2020 but below the projected 2.5% gain.
The slowdown is a sign that the government's efforts to tame soaring commodity prices and deal with power shortages over the past few months are having an effect. If the price pressures continue to abate, it may provide more room for the central bank to add stimulus.
Corruption /
Director of company that prints China's money turns himself in
Chen Yaoming, a member of the Communist Party committee and director of China Banknote Printing and Minting Corp. (CBPMC), is being investigated on suspicion of "serious violation of (party) discipline and law," a common euphemism for graft, after turning himself in to authorities, an official statement (link in Chinese) shows.
Having joined the state-owned money printing company at the age of 20, Chen, 57, served across its departments and subsidiaries, according to China's top graft-buster in an announcement Wednesday. He became a deputy general manager of CBPMC in 2001, and director in January this year.
Quick hits /
Opinion: Is Hong Kong ready for Chinese tech stocks exiled from New York
Opinion: For PBOC's new green lending tool, transparency and verification are key
BUSINESS & TECH
Any officer who plans to solicit or accept a "restricted advantage" above the HK$3,000 cap has to seek special permission from the authorities.
Evergrande /
Hong Kong immigration officials probed over gifts from Evergrande director
Hong Kong authorities are investigating two senior immigration officials who allegedly received gift baskets worth more than HK$3,000 ($385) each from a director of debt-ridden property developer China Evergrande Group without government approval.
The pair have admitted receiving gifts (link in Chinese) from their "good friend" but have denied having any business links with the Evergrande director, according to a Wednesday statement from the Hong Kong Immigration Department (HKID), citing "relevant" but unnamed sources. It said the officials insisted that as the value of the gifts didn't exceed the cap stipulated in the relevant rules, they didn't seek permission from authorities.
Smartphones /
Oppo to unveil first self-developed chip
Oppo Co. Ltd. said it will launch its first self-developed chip next week, joining the likes of Apple, Samsung, Huawei and Google as the latest smartphone maker to take control of its own semiconductor design.
The Shenzhen-based company Wednesday teased the chip's debut on Twitter, saying it "developed a cutting-edge neural processing unit (NPU) called the MariSilicon X." The official announcement will come at the annual Oppo Inno Day event Dec. 14 and 15.
Salaries /
Flexible-screen maker Royole delays employee salaries
Chinese flexible-display maker Royole Corp. delayed paying salaries to employees for months after the money-losing company ditched its initial public offering (IPO) plan in Shanghai's Nasdaq-like STAR Market in February.
Several Royole employees told Caixin that they didn't receive October salaries. The company usually pays monthly wages on the 10th day of the following month, but many employees were told Oct. 10 that only part of their September payments could be made, and October salaries would be delayed until Nov. 30.
Foxconn /
Foxconn drives further into chipmaking with Stellantis tie-up
Foxconn will team up with automaker Stellantis NV to design purpose-built automotive semiconductors in the iPhone-assembler's latest foray into the automotive space.
The two companies signed a memorandum of understanding under which they aim to create four new families of chips that will meet more than 80% of Stellantis's semiconductor needs amid a global shortage of microchips, according to a joint statement published Tuesday.
Quick hits /
Sunac further cuts stake in Ke Holdings to raise funds
Fitch labels Evergrande, Kaisa as defaulters after missed payments
Chinese cancer biotech Avistone raises $200 million in funding round
GALLERY
Shenzhen Airport opens fancy new hall
Recommended newsletter for you /
China Green Bulletin Premium - Subscribe to join the Caixin green community and stay up to date with the most exclusive insights on ESG, energy and carbon. Sign up here.
Thanks for reading. If you haven't already, click here to subscribe.
Share this article
Open WeChat and scan the QR code