CX Daily: The Sudden Reversal of the Global Chip Shortage
Chips /
In Depth: The sudden reversal of the global chip shortage
Remember the global semiconductor shortage a few months ago? It's over.
Now quickly shrinking demand for consumer electronics is causing canceled orders and unsold stockpiles at makers of integrated circuits including Taiwan Semiconductor Manufacturing Co. (TSMC), Advanced Micro Devices Inc. (AMD) and Nvidia. It's a stark contrast with the disruptions that chip shortages caused for makers of autos, smartphones, computers and other goods relying on the advanced electronic devices.
"This round of business sentiment is reversing so fast that chip designers were struggling to find production capacity only last year, but now they find chips won't sell," said Xie Ruifeng, analyst at semiconductor industry market research institute ICwise.
Charts of the Day: U.S. chip restrictions cut deep
Hong Kong /
Hong Kong unveils new visa, property tax policies to stanch talent exodus
Hong Kong released a package of policies to attract talent, including offering visas to graduates of the world's top universities, as the financial hub struggles with a brain drain that has put its labor market under strain and threatened its economic recovery.
The city's workforce has shrunk by about 140,000 over the past two years amid Covid restrictions, Chief Executive John Lee said in his maiden policy address Wednesday. This trend is particularly evident among younger people.
Hong Kong to pour $3.82 billion into luring strategic industries
FINANCE & ECONOMY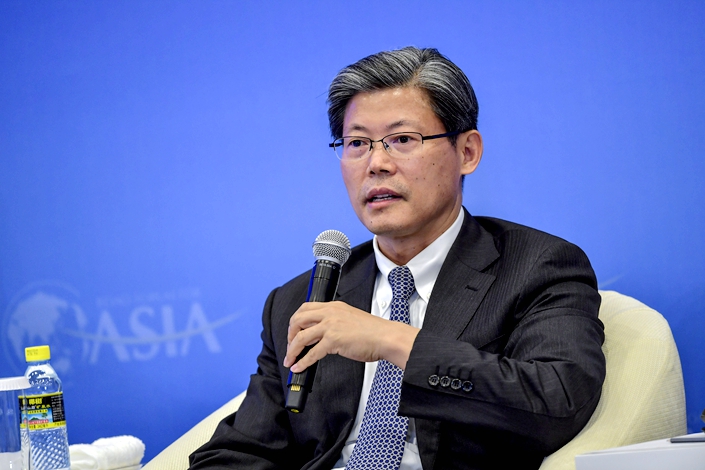 Xuan Changneng. Photo: VCG 
Central bank /
China's central bank gets new deputy governor
Xuan Changneng, a finance veteran who spent roughly a decade studying and working in the U.S., has been appointed a deputy governor of the People's Bank of China (PBOC), according to an update on the central bank's webpage for its management team.
He is one of six deputy governors who include Guo Shuqing, the PBOC's Communist Party secretary; Pan Gongsheng, also head of the forex regulator; and Zhang Qingsong, 57, who was appointed in September.
Xuan's appointment fills a vacancy created by the departure of Chen Yulu, who left to become president and deputy party chief of the prestigious Nankai University in Tianjin municipality.
HKEX /
HKEX proposes lower revenue threshold for cutting-edge tech IPOs
Hong Kong Exchanges & Clearing Ltd. is planning a system that will slash the revenue requirements for advanced tech and science companies to go public in the city in an effort to revive share sales while echoing China's drive for developing cutting-edge technology.
The bourse is planning to adjust its listing rules to accommodate companies in a wide range of sectors including next-generation information technology, advanced hardware and materials, new energy, and food and agriculture science. The HKEX is seeking public input until Dec. 18, according to a statement.
Quick hits /
Chinese banks hold benchmark lending rates as yuan slides
Kenya wants China to extend $5 billion debt repayment period
Yu Yongding: Can China stabilize its economy without increasing central government debt?
BUSINESS & TECH
The Shanghai Containerized Freight Index published by the Shanghai Shipping Exchange, the world's most-used benchmark for sea freight rates, fell by nearly 70% since the beginning of this year.
Shipping /
Alibaba-linked Transfar to pour $650 million into container fleet expansion
Alibaba Group-linked ocean freight operator Transfar Shipping Pte. Ltd. plans to buy five ships costing about $650 million in an acceleration of its fleet expansion even as the global shipping market weakens, several people familiar with the matter told Caixin.
The five container vessels would each have the capacity to convey 8,000 twenty-foot equivalent units (TEUs) between China and North America for the Singapore-based shipping company, the people said. The acquisitions will increase Transfar's outlays on fleet expansion to $810 million this year after it bought four other container ships a few months ago.
Property /
As real estate firms battle debt, business-starved state builders fill the vacuum
Chinese state construction giants are increasingly buying and developing land themselves as demand for third-party contractors from debt-laden property companies diminishes.
Four construction firms owned by China State Construction Engineering Corp. Ltd. bought 34.7 billion yuan ($4.8 billion) of land, mostly in Beijing and Shanghai, during the first three quarters of 2022, according to data compiled by property consultancy China Index Academy (CIA). Last year, only one of the largest state-owned construction contractor's subsidiaries bought land, valued at 9.6 billion yuan.
China's largest developer pushes into clean energy with Shanghai solar project
Long Read /
The rural hardship behind the mine murders that shocked China
GALLERY
China gives pandas to Qatar ahead of World Cup
Recommended newsletter for you /
Caixin Must-Read Newsletter brings you the best of our coverage and stories you can't miss. You can opt-in now and get hand-picked news coverage delivered to your inbox each week for free.
Thanks for reading. If you haven't already, click here to subscribe.
Share this article
Open WeChat and scan the QR code

Caixin-Sinica Business Brief: China Mourns Death of Former President Jiang Zemin