LeEco-Linked Faraday Future Clashes With Ex-Executives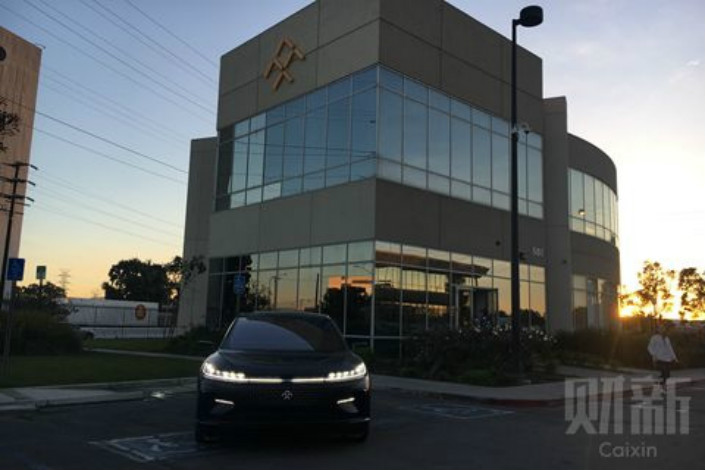 A Faraday Future FF91 is parked in front of Faraday Future's Los Angeles headquarters. Photo: An Limin/Caixin
Faraday Future, the electric vehicle startup backed by embattled tech entrepreneur Jia Yueting, is hitting more potholes on its drive into the electric-car market.
After firing two of its top executives, the California-based company filed a lawsuit in Central California District Court claiming that former CFO Stefan Krause and former CTO Ulrich Kranz stole its intellectual property for a competing company they launched called EVelozcity.
Faraday claimed in the lawsuit that Krause left the company in early November and set up EVelozcity around the same time. Faraday also claimed that Krause and Kranz took at least 20 former employees from the company to EVelozcity and encouraged them to take business secrets with them.
In a statement on its website, Faraday expressed "anger, frustration and betrayal" at the former executives for "stealing trade secrets and core technologies that (the) company has spent more than $1 billion to develop."
But in an email statement to Caixin, EVelozcity quoted Krause as saying that he departed from Faraday on Oct. 14 and retains the rights to take legal action against Faraday's "defamation." The company didn't disclose details about its establishment date, investors and products.
The lawsuit is the latest drama in Faraday's road to start mass production of its flagship electric car FF91 by the end of this year. Faraday unveiled the FF91 prototype in January 2017 at the Consumer Electronics Show. The company is facing rising questions over its capital condition and internal shakeup. Last year, Faraday scraped a plan to build a $1 billion factory in North Las Vegas.
Faraday said in its lawsuit that it received new investment in November and its controversial founder Jia still remains in control of the company.
Since October, Faraday has been under mounting pressure due to employee departures and questions arising about its financial condition and the commercial outlook for the FF91.
A Faraday's internal report circulated online last month indicated that the FF91 model, with a price tag of $120,000, will lose $9,445 for each vehicle sold. The report also revealed challenges to pulling off mass production because of Faraday's unsolved debt issues with suppliers.
Faraday said in the lawsuit that the report was made to assess the FF91 project in late 2016 by a former employee who left the company in November 2017. The report was leaked after the employee's departure.
Tussles between Faraday and Krause became public in early November when the company published a statement saying the former financial chief was fired because of "possible violation of law and lack of contribution to the company's goals." Faraday said in the statement that it was taking legal action as a result of Krause's "malfeasance and dereliction of duty."
Faraday announced the removal of Kranz in the same statement without elaborating the reason.
Krause joined Faraday as the chief financial officer in March 2017. Previously, Krause has worked in senior positions at private equity firm Warburg Pincus, Deutsche Bank and BMW Group, according to Faraday's website.
Faraday said in the lawsuit that Krause had challenged Jia for the control of the company, contending Faraday would be unable to secure new funding with Jia's control.
Jia, who funded Chinese tech conglomerate LeEco, faces a mounting debt crisis back home. LeEco was hit by financial woes in late 2016 and has since seen billions of yuan of assets frozen by authorities due to unpaid loans. Jia has stayed in the U.S. since mid-2017 to push forward mass production of Faraday. He stepped down from LeEco's listed arm Leshi Internet Information & Technology in July but remains its largest shareholder.
In late December, China's securities regulator asked Jia to return to the country to "fulfill his duties" to investors. Last month, Leshi demanded that Jia pay his debt obligations to the company of 7.53 billion yuan and said it would go after Jia's stake in other companies including Faraday Future.
Jia also owns stakes in another U.S. electric car startup, Lucid, and LeEco's smart-car unit LeSee.
Jia ventured into electric car development in 2014 with the aim of taking on Tesla, according to a person close to him. But in an internal email Jia sent to LeEco employees explaining the company's capital crisis, he said the massive investment into the auto business triggered the company's capital troubles.
Contact reporter Han Wei (weihan@caixin.com)
You've accessed an article available only to subscribers
VIEW OPTIONS
Share this article
Open WeChat and scan the QR code