The Best Reads of the Week From Caixin
Liu Fengzhou was a government-employee-turned-serial-entrepreneur, an art curator and devout Buddhist. But to a small circle of friends and associates, her most influential role was as the longtime mistress of disgraced political heavyweight Sun Zhengcai. She used her "special relationship" with Sun, the former party secretary of the southwestern municipality of Chongqing, as leverage to expand her business empire.
The smartphone industry in China stumbled in the fourth quarter last year — its third consecutive quarterly drop — and further consolidation or bankruptcies are likely, analysts said.
Beijing is likely to roll out unified regulations to tame the country's "shadow banking" sector before its annual legislative sessions, which are slated to open in early March, people familiar with the matter told Caixin.
DreamWorks Animation LLC has sold off its China joint venture stake to local partner CMC Capital Partners, marking the end of a relationship that began with big hopes but ended with relatively little major output.
As Ant Financial moves toward an initial public offering that could be one of the largest for a new wave of Chinese financial technology (fintech) firms, the offshoot of e-commerce giant Alibaba Group Holding Ltd. is taking hits at two of its most promising new business segments.
These are the five stories that I don't want you to miss from last week. Please share your comments on The Weekender section and on our other coverage at news@caixin.com.
And when you're done perusing these must-read stories, check out Caixin's weekly digital magazine.
Kind regards,
Doug Young
Managing Editor
The Mistress Who Ruled Chongqing
Liu Fengzhou used her 'special relationship' with disgraced politician Sun Zhengcai to build business empire, rig government tenders, Caixin reveals
Liu Fengzhou used her 'special relationship' with disgraced politician Sun Zhengcai to build business empire, rig government tenders, Caixin reveals
Smartphone Sales Had Anemic Year-End, Data Show
Fourth quarter of 2017 saw continued decline, due in part to weak customer enthusiasm
People use their mobile phones to film a performance in Zhengzhou, Henan province in September. Smartphone shipments in China declined 4.9% for the whole of 2017, according to market research firm IDC. Photo: VCG
China Likely to Take Aim at Shadow Bankers by March: Sources
New unified regulation for problematic sector could roll out before annual legislative sessions
A view of the People's Bank of China headquarters in Beijing. The draft rules released on Nov. 17, which may soon come into force, aim to set industry-wide requirements for leverage ratios, risk reserve funds and investment restrictions, in an effort to get banks' off-balance sheet assets back under a regulatory framework. Photo: VCG
DreamWorks Animation Bows Out of Chinese Joint Venture

Landmark tie-up falls apart as enthusiasm for Hollywood-China tie-ups starts to cool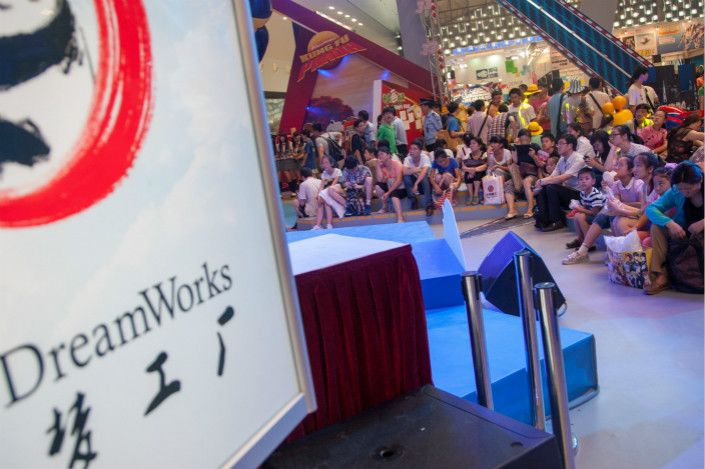 Young visitors to the Shanghai Pudong Expo in July 2013 sit near the Oriental Dreamworks Pavilion. The joint venture didn't produce many major films. Its biggest production, "Kung Fu Panda 3" was the weakest in the three movies from that franchise, despite earning more than $500 million at the global box office. Photo: VCG
Ant Financial Crawls Out From Heap of New Regulation
Business slows at three most promising new businesses at Alibaba affiliate
In March, the China Securities Regulatory Commission required all money market fund managers to set aside at least 0.5% of their net assets as provisions for bad debt, lowering returns for funds like Ant Financial's highly profitable Yu'e Bao. Photo: VCG
You've accessed an article available only to subscribers
VIEW OPTIONS
Share this article
Open WeChat and scan the QR code