Margin Calls Pile On Stock Woes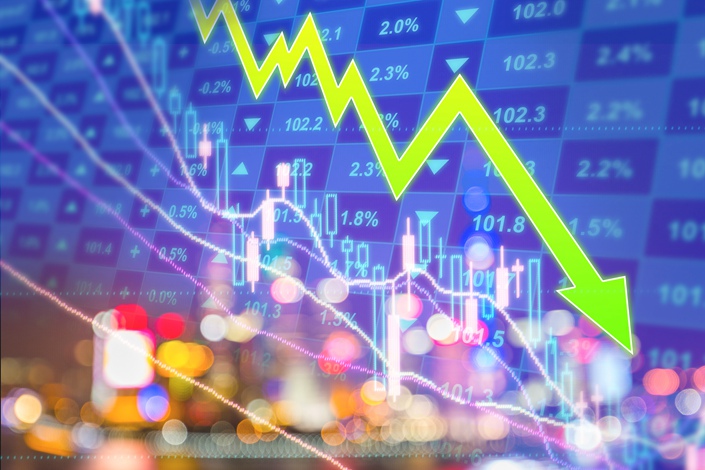 If stock pledged as collateral declines past a set point, it may be sold by the lender, putting pressure on prices. Photo: VCG
*After trade tensions hit mainland stocks, margin calls on pledged equity piled on pressure
*While the size of the business has shrunk since the introduction of new regulations, the market cap of pledged equity that is in danger of liquidation is up 103.6% from the beginning of the year
(Beijing) — Margin calls on pledged equity that has rapidly lost value in the last two days are adding pressure on stocks, after trade tensions with the U.S. pushed China's mainland benchmark stock index to its lowest point in nearly two years.
On Tuesday, more than 1,000 stocks, a third of the total, fell by the 10% daily limit on the Shanghai and Shenzhen bourses on Tuesday.
But while trade tensions might have kicked off the rout, rapid declines in the value of equity collateral is worsening it, analysts said. If the value of shares pledged as collateral declines past a certain point, lenders issue a margin call. This means either the borrower must deposit more cash or securities with the lender as additional collateral, or the lender will sell the pledged shares to settle the loan.
Either way, more pressure will be put on stock prices. Borrowers might have to sell their other, more liquid securities to put up additional collateral, potentially bringing down the prices of other stocks. And if they do not top up their collateral, then the forced liquidation of the pledged stock by the lender could lead the company's share price to tumble further.
Pledged equity is the biggest source of pressure on stock markets at present, according to a research report by China Merchants Securities Co. Ltd. About 4.68 trillion yuan ($722.8 billion) in A-shares has been pledged as collateral, according to the report. This is about 9.2% of the total market value of A-shares traded on the Shanghai and Shenzhen stock exchanges.
Shenzhen Dvision Co. Ltd., a video communications company listed in Shenzhen, announced late Tuesday that 40.19% of its stock, all pledged by its controlling shareholder, was in danger of being liquidated. Guilin Tourism Co. Ltd., a tour company also listed in Shenzhen that saw its share price drop by 9% Tuesday, announced that its second largest shareholder was close to having to top up its collateral. Inner Mongolia M-Grass Ecology And Environment Group Co. Ltd., which had to defend its finances earlier this month, announced that its controlling shareholder will pledge another 20 million shares of the company to Guosen Securities Co. Ltd. in order to replenish devalued collateral.
Insufficient liquidity in the market, combined with trade frictions between China and the U.S., has reduced the investors' risk appetite, according to Chen Guo, chief strategist at Essence Securities. Pledged equity is also putting significant pressure on the market, even though the total amount is limited. According to Chen's estimates, the market cap of pledged equity that is in danger of liquidation is 935.1 billion yuan, up 103.6% from the beginning of the year.
Concerns over equity pledges are nothing new. Pledging stock to borrow from brokerages was one of the most popular financing approaches used by major shareholders of Chinese listed companies. But the business has been contracting since the country's regulators recently tightened requirements on financial institutions' risk controls due to a spike in the number of margin calls, a senior executive with an outlet of a securities firm previously told Caixin.
In January, authorities published new rules governing pledged-stock loans, capping the amount of any stock on the A-share market that can be pledged at 50% of the company's outstanding equity.
Contact reporter Ke Baili (bailike@caixin.com)
You've accessed an article available only to subscribers
VIEW OPTIONS
Share this article
Open WeChat and scan the QR code