Ele.me to Spend More Than $440 Million to Seize Turf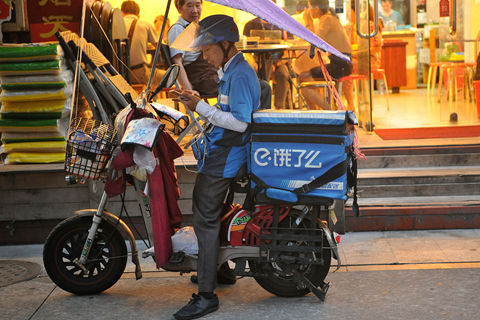 Ele.me's market share has been declining since April. Photo: VCG
China's hotly-contested multibillion-dollar online food delivery sector is getting even hotter.
Ele.me, China's second-largest online food delivery platform, plans to spend 3 billion yuan ($443 million) in coming months to expand its market share, Ele.me told Caixin Wednesday. Ele.me, owned by Alibaba Group Holding Ltd., is seeking to regain ground during a rocky merger with Baidu Waimai, sources told Caixin.
The marketing blitz will fuel a turf war between Ele.me and its No. 1 rival, Meituan Dianping, backed by Tencent Holdings. The move comes as both existing big players and newcomers in the food-delivery sector are locked in an increasingly costly subsidy war to attract consumers and merchants.
Ele.me will pour in subsidies and marketing funds over three months from July to September, aiming to lift its market share quickly to more than 50%, Chief Executive Wang Lei told Reuters Monday. Money is not an issue, Wang said.
Wang, who is also an Alibaba's vice president, said the parent company expects to continue investing billions of yuan in Ele.me's development.
Ele.me, founded in 2008, was originally backed by investors including Chinese tech giant Tencent Holdings and e-commerce giant JD.com. Last August, Ele.me merged with Baidu's food-delivery arm Baidu Waimai, becoming the No. 2 player behind Meituan.
In April, Alibaba bought out Ele.me from other investors in a deal that valued the nine-year-old startup at $9.5 billion.
But since the merger with Baidu Waimai, Ele.me has failed to expand the new company's market share, while rival Meituan has been able to gain about 10 percentage points of penetration without a significant marketing effort, a Baidu Waimai source told Caixin.
The integration of Ele.me and Baidu Waimai hasn't worked well because of differences in management style and business philosophy, the source said.
Ele.me confirmed with Caixin that its market share is "near the bottom, and rebounding." The company said it is still in the process of integrating with the Alibaba ecosystem.
After Alibaba took control of Ele.me in May, Ele.me expanded its business beyond transporting meals to include delivering groceries for Alibaba's Hema supermarkets, as well as package delivery for Alibaba's online shopping platform Tmall. In the future, Ele.me will also deliver prescription drugs for Alibaba's online health system.
Ele.me said its delivery orders for non-meal categories have more than doubled since May compared with the whole year of 2017.
But Ele.me's Wang told Reuters he still sees great growth potential in the food delivery sector. He said he expected the industry to maintain a growth rate between 60% and 70% throughout 2020.
"The food and beverage industry size in China is estimated to be worth about 4 trillion yuan," he said. "But the food delivery market barely reached 300 billion yuan last year. So there is much potential to grow."
This story has been updated to elaborate on Ele.me's view on the state of its business.
You've accessed an article available only to subscribers
VIEW OPTIONS
Share this article
Open WeChat and scan the QR code

06:47 PM

06:44 PM

06:39 PM

May 17 06:44 PM

May 17 05:41 PM

May 17 03:53 PM

May 14 07:23 PM

May 14 06:24 PM

May 14 06:01 PM

May 14 05:57 PM

May 13 06:45 PM

May 13 05:41 PM

May 13 05:07 PM

May 12 07:30 PM

May 12 07:27 PM
GALLERY