Controversy Swirls as Global Rating Firms Customized for China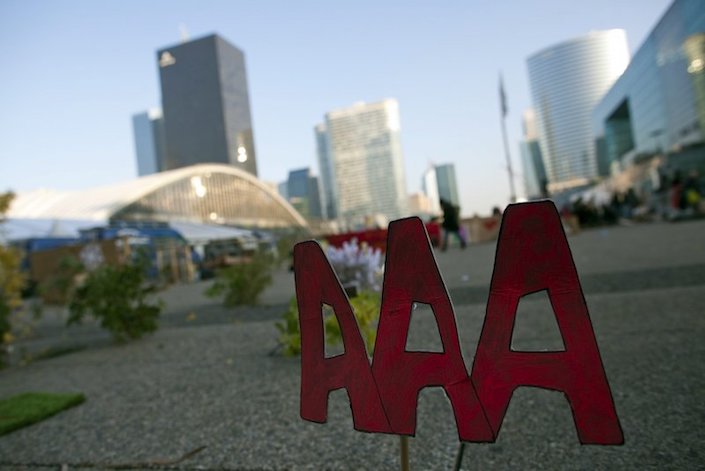 Chinese rating companies have long been criticized for issuing too-generous rankings. Photo: VCG
When Apple Inc. unveiled a special edition of its latest iPhone with dual SIM card capabilities, analysts saw it as the world's largest tech company tailoring products to win over Chinese customers.
But when it comes to customizing credit ratings, things become more complicated.
The rating companies Standard & Poor's and Fitch Ratings Inc. recently unveiled plans to adopt new rating methods and standards specially tailored for the Chinese market as part of efforts to tap the world's third-biggest bond market.
But the moves have stirred controversy over whether global rating companies should bend their standards for a specific market, especially where domestic rating services are plagued by unreliability.
"What China lacks most is credit ratings and analyses that are in line with international standards. If S&P and Fitch do so (tailoring ratings for China), foreign investors will still have no point of reference," a Hong Kong-based bond market professional said.
S&P, Fitch and Moody's Investors Services have all submitted applications to Chinese regulators to set up solo units in the country. The central bank announced policies last year to allow foreign rating companies for the first time to assess the quality of bonds on the China Interbank Bond Market, where 90% of onshore debt is traded.
According to application documents published on the companies' website, S&P and Fitch decided to launch rating systems customized for the Chinese market while Moody's said it will keep a single global rating system.
"There should be an independent rating system for China, given the development and scale its capital market has reached. Therefore, we believe that localized rating methodology fits the domestic market best," S&P said in its document.
"There is no defined mapping relationship between the ratings we assign (in China) and those S&P Global Ratings assigns based on its global rating system," S&P said. Fitch described a similar plan for China in its statement.
The plans sparked debate on whether the rating firms are making sacrifices on the trustworthiness of their assessments to gain access to the China market.
"Chinese regulators expected foreign players to introduce international standards and ideas into China's credit rating market," a domestic rating company executive said. "But if they don't bring their global system to China, what is the meaning (of the reform)?"
S&P declined to comment. Fitch said in an email to Caixin that it will ensure that its China "standards are consistent with international best practice."
Unreliable ratings
China has more than 10 licensed companies that provide credit ratings, which are supposed to provide an impartial risk assessment of bonds and other securities. However, many of the enterprises have long been criticized for issuing unreliable ratings. More than 90% of local bond issuers are rated at AA or above by domestic agencies, including some issuers that subsequently defaulted.
In mid-August, the Sixth Division of State-Owned Asset Management Co. Ltd., a unit of the quasi-military Xinjiang Production & Construction Corps, defaulted on a 500 million yuan ($72.8 million) bond that had received an AA rating from Shanghai Brilliance Credit Rating & Investors Service Co. Ltd. The rating company downgraded its rating of the XPCC subsidiary from AA to C after the default.
A research paper by the central bank last year found that foreign rating companies' average assessments of Chinese companies looking for fundraising abroad is at least six notches lower than ratings given by Chinese rating companies.
Industry experts attributed the widely inflated ratings to regulatory pressures. Under Chinese rules, AA, the third-highest ranking, is the minimum level required for a company to issue debt. The higher the rating, the more easily borrowers can issue bonds.
This prompts rating companies to compete for customers by promises of higher ratings, analysts said. A recent scandal involving one of the major rating firms exposed potential corruption between the rating agencies and the companies they rate.
In August, regulators slapped a one-year business ban on Dagong Global Credit Rating Co Ltd., one of China's five top credit-rating companies, after investigators found Dagong had been pressuring companies to buy expensive, ineffective software in return for better ratings.
The central bank and China Securities Regulatory Commission last week said they will beef up supervision of the credit-rating sector through measures that include unifying regulations, signaling a revamp of the industry.
Contact reporter Han Wei (weihan@caixin.com)
You've accessed an article available only to subscribers
VIEW OPTIONS
Share this article
Open WeChat and scan the QR code