Neoglory Misses Bond Payments, Fanning Further Default Fears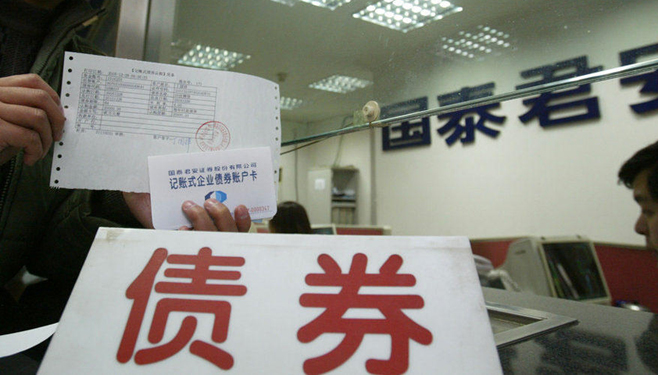 China has had a surge of corporate bond defaults this year. Photo: VCG
Private manufacturing-to-property conglomerate Neoglory Holdings Group Co. Ltd. became the latest defaulter in China's bond market, missing more than $400 million of payments on two bonds in one day.
Zhejiang-based Neoglory missed repayment on the full principal of a 1 billion yuan ($146 million) bond that matured Tuesday, the Shanghai Clearing House said in a statement. On the same day, Neoglory also failed to fulfill a repurchase agreement on an additional 1.74 billion yuan ($254 million) of bonds, the clearinghouse said.
In addition to the two Neoglory bonds, issuers of three other bonds missed payments on Tuesday — the first trading day after the long weekend for the Mid-Autumn Festival. The others were missed interest payments by Jilin Liyuan Precision Co., Shandong Jinmao Textile Chemical Group Co. and Henan Zhongpin Food Industry Co.
It was the largest number of defaults recorded on a single day in China. Some investors called Tuesday the "darkest day" for the bond market. But others said the worst "has yet to come" as private companies largely have not benefited from central government policies to ease credit conditions and encourage lending to the private sector.
There have already been a record number of defaults this year on China's $4 trillion corporate bond market as tighter credit and rising borrowing costs squeeze overextended companies with weak funding bases.
From January to early June, 13 Chinese companies defaulted on 20 corporate bonds with a combined face value of 14.2 billion yuan ($2.11 billion). That was more than half the value of bonds in default over the whole of 2017, according to a report by China Central Depository & Clearing Co. Ltd., a state-owned company that provides depository and clearing services for the domestic bond market.
New defaulter
Neoglory, owned by Chinese billionaire couple Zhou Xiaoguang and Yu Yunxin, is one of China's major private conglomerates with businesses ranging from jewelry to property and finance. Zhou holds 51% and Yu 49% of the company. In 2017, Zhou was listed as the 23rd richest woman entrepreneur in China with 17 billion yuan of personal assets.
Neoglory's credit rating was subsequently downgraded by United Credit Ratings Co. from AA+ to CC. The rating company warned of default risks for more Neoglory bonds because of a liquidity crunch at the company.
Market records showed that Neoglory has 12 outstanding bonds issued on China's exchanges and interbank market, with a total value exceeding 11 billion yuan.
Xu Jun, a Neoglory spokesman, told the official news portal people.com.cn Tuesday that the latest default reflected the company's liquidity pressures amid macro economic and policy uncertainties, and the worsening financing environment for private companies because of concerns about the recent wave of defaults.
Xu also attributed the default to the impacts of a recent credit rating scandal which dented Neoglory's financing attempts.
Last month, regulators slapped a one-year business ban on Dagong Global Credit Rating Co. Ltd., one of China's five top credit-rating companies, after investigators found Dagong had been pressuring companies to buy expensive, ineffective software in return for better ratings.
Neoglory is among the Dagong clients that paid for the pricy software, Caixin learned.
But a bond market expert said the Dagong scandal played little role in Neoglory's default. Instead, investors were wary of the company's bonds long before the scandal broke out, as reflected by the surging yield rates of its issues.
Liquidity squeeze
"The default (of Neoglory) was just a matter of time," said the bond market source.
Since late 2017, several financial institutions have issued risk alerts regarding Neoglory's bonds, Caixin learned. In July, China Securities Depository and Clearing Corp. revoked the eligibility of three Neoglory bonds for use as loan collateral, reflecting growing concerns over the company's repayment ability.
A brokerage source said investors' concerns about Neoglory mainly focus on the large amount of its outstanding bonds, most of which will mature within one year, and the company's highly leveraged financing practices.
In early July, Neoglory's Shenzhen-listed property arm Neoglory Prosperity Co. Ltd. announced a plan to acquire as much as 73.9% of Hong Kong-listed equipment manufacturer China High Speed Transmission Equipment Group, in a deal that would value China High Speed between 16.3 billion yuan and 18.4 billion yuan. However, Neoglory's first-half financial report showed that it had only 214 million yuan of cash on hand.
The Shenzhen Stock Exchange has demanded that Neoglory Prosperity explain the deal in detail, but Neoglory Prosperity hasn't yet replied to the bourse's inquiry.
A credit assessment report recently issued by United Credit warned that Neoglory faces mounting repayment pressures as a number of its bonds will mature in September.
Contact reporter Han Wei (weihan@caixin.com)
You've accessed an article available only to subscribers
VIEW OPTIONS
Share this article
Open WeChat and scan the QR code