Tencent Focuses on Cloud, WeChat With Major Overhaul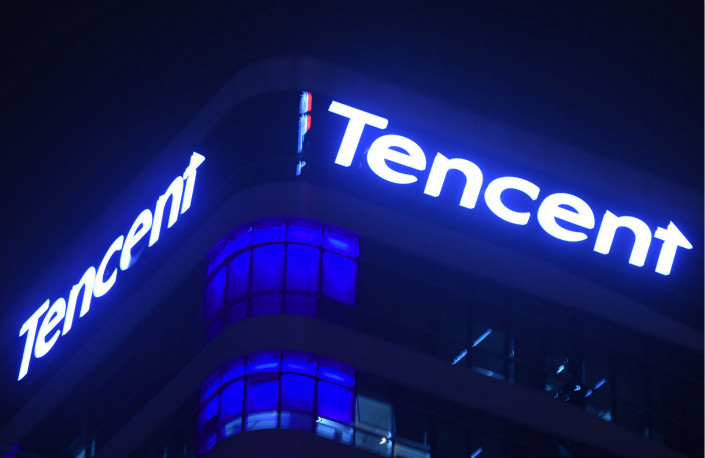 Tencent building in city of Hangzhou. Photo: VCG
Tech giant Tencent Holdings Ltd. announced its first major restructuring in six years as it looks to arrest the recent slide in its fortunes by building up offerings in cloud computing and big data analysis.
The overhaul comes as Tencent faces some of its strongest headwinds in years, as its core gaming and social networking businesses start to mature after years breakneck growth. That change has taken the wind out of the company's formerly turbocharged stock, which has fallen more than 30% from a peak in late January.
The tech giant will cut the number of its groups to six from seven, with its social networking, mobile internet and online media divisions to be merged into a single group, according to a statement released on Sunday, just before the start of China's weeklong Oct. 1 holiday.
Consolidation of the three major divisions into one comes as lines between their areas increasingly blur thanks to the dominance of WeChat, Tencent's messenger app, social networking, and payments system rolled into one, analysts said. A separate group will remain for WeChat, which Tencent says has over 1 billion active users.
Tencent highlighted its establishment of a new 'Cloud and Smart Industry Group', which will merge its offerings in cloud computing, online education, healthcare, transport and mapping among other areas into a unified whole to better harness the huge amount of data and analytics the company receives. Most of China's top tech companies have made big pushes into cloud computing services, which allow users to store information and use computing programs housed on remote servers operated by third parties.
"These changes now will be the starting point for the next 20 years of Tencent's operations," said Pony Ma, the company's Chairman and CEO. He called the overhaul a "major strategic upgrade" that will "bring consumers and industrial data users together" through "more open connections and new ecosystems."
The reorganization comes during a challenging year for the 19-year old company, which saw its first quarterly profit drop in 13 years in the second quarter after the government froze the approval of new games in March.
Gaming operations have long been Tencent's most profitable area of business. However, the industry is facing increased pressure from regulators concerned about gaming addiction among children. In August authorities also announced a cap on the number of new online games.
The consolidation of its groups suggests that Tencent is moving away from its famously decentralized structure. Analysts said this could have wider implications for the entire Chinese tech scene since Tencent backs around 28% of the country's unicorns, tech startups that gain valuations above $1 billion, according to intelligence platform CB Insights. The new structure may see the company less willing to gamble on these nascent companies, particularly players in the gaming industry.
Contact reporter Ke Dawei (daweike@caixin.com)
You've accessed an article available only to subscribers
VIEW OPTIONS
Share this article
Open WeChat and scan the QR code