Faraday Future Furloughs Most Employees Amid Capital Woes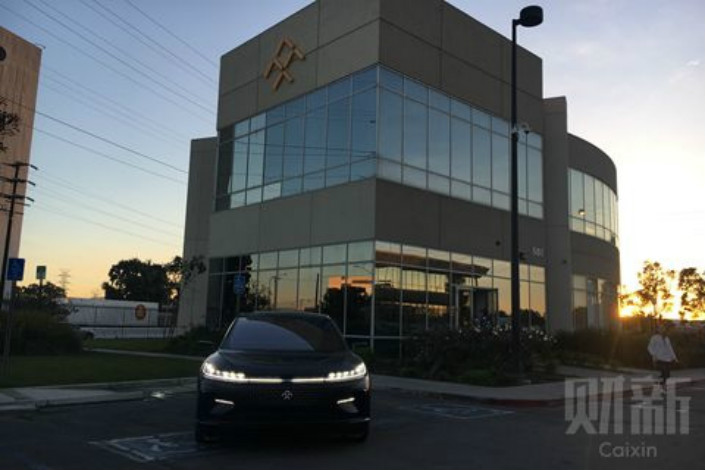 Faraday Future is pushing to start mass production of the FF91, its first electric car model, by the end of 2018. Photo: Caixin
In its current round of financial turmoil, electric-car maker Faraday Future has furloughed most of its workers and will retain fewer than 100 employees with minimum salaries.
The furlough will start Nov. 1 and is expected to last at least two months, a Faraday Future employee in the U.S. told Caixin.
The U.S.-based electric-car startup founded by debt-ridden Chinese entrepreneur Jia Yueting recently lost another senior executive and several key engineers.
Peter Savagian, a former chief engineer of General Motors' electric-car program, left his job as Faraday Future senior vice president, people closed to the matter told Caixin. Savagian joined Faraday Future in the summer of 2016.
On Oct. 21, Faraday Future announced a 20% cut in salary for all employees and said it might terminate of some of its 1,300 U.S. employees. The company has nearly 2,000 employees globally.
Chief Executive Officer Jia and other senior executives agreed to take $1 salaries until the funding shortfall is resolved, the company said in a statement published on its website.
Since the salary-reduction notice, the company has laid off about 200 workers, mostly new hires who joined the company less than six months ago, a person close to the matter disclosed.
The measures came after a falling-out between Faraday Future and its main investor, China's Evergrande Group.
Late last year, Evergrande Health Industry Group Ltd., the health-care unit of real estate giant Evergrande Group, agreed to invest $2 billion over three years and take a 45% stake in Smart King Ltd., which controls Faraday Future.
Evergrande Health said it agreed to invest $800 million in 2018 and would make additional installments of $600 million in 2019 and in 2020.
But the investment deal fell into dispute in August. Evergrande Health said Faraday Future manipulated it into paying $700 million ahead of schedule by forcing it to sign a supplemental agreement in July after Faraday Future squandered the initial $800 million.
For its part, Faraday accused Evergrande of deliberately delaying its promised investment and trying to "gain control and ownership" over Faraday's China business and all of the automaker's intellectual property.
A recent arbitration in Hong Kong allowed Faraday Future to seek as much as $500 million in new funding from investors in addition to the existing $2 billion deal with Evergrande as long as the new funding didn't lower Faraday's valuation.
Faraday Future announced last week "a decisive victory" in the arbitration and asserted that Evergrande can no longer prevent Faraday from seeking funding through other channels. But Evergrande said the decision was not the final word on the matter because the case still needs to go through final arbitration.
Without new funding in place, Faraday Future is unable to maintain its daily operations. An insider at Faraday Future said the company has no money.
Faraday Future has been strapped for cash amid the legal troubles of its founder and CEO. Jia has been blacklisted as a debt defaulter by Chinese regulators for failing to repay about 480 million yuan ($69.9 million) in debt owed by LeEco, the one-time star Chinese tech company that Jia founded.
Faraday Future has been pushing to start mass production of the FF91, its first electric car model, by the end of 2018 and deliver the first batch of cars in the first quarter of 2019.
The FF91 production timeline is also part of the terms of the investment deal with Evergrande, according to people close to the matter. If Faraday Future fails to meet certain "milestones," Jia has to turn control of Faraday Future over to Evergrande.
Even $500 million of new funding would probably be barely enough to cover arrears and daily operations, the Faraday Future employee in the U.S. told Caixin.
It's not clear whether the company can meet with its production goal by the end of this year. And it may take lengthy arbitration to resolve the dispute with Evergrande.
An arbitration expert said the result of emergency arbitration is not a rapid procedure, and it won't replace a formal arbitration. A similar international arbitration procedure could take six months to a year, the expert said.
With the fate of its U.S. operations unclear, Evergrande has basically obtained control of Faraday Future's operations in China, sources said.
In August, Evergrande requested that Faraday Future's employees in China switch their contracts to Evergrande Faraday Future Intelligent Vehicle (Guangdong) Co. Ltd., formerly Faraday Future's subsidiary Ruichi Intelligent Vehicle (Guangzhou) Co. Ltd.
Evergrande Faraday Future Intelligent Vehicle, which has about 500 employees, is building a factory in Guangzhou, people close to Evergrande said.
In April, Ruichi Intelligent Vehicle, with the help of Evergrande, won a bid for 98.8 acres of land in Guangzhou for 364.1 million yuan to build a car assembly plant.
The local investment promotion authority said the construction of the plant would not be affected by the shareholders' dispute and is expected to be completed in a year, according to Chinese media reports.
You've accessed an article available only to subscribers
VIEW OPTIONS
Share this article
Open WeChat and scan the QR code