China Tobacco Hopes to Hook Foreign Investors With Hong Kong IPO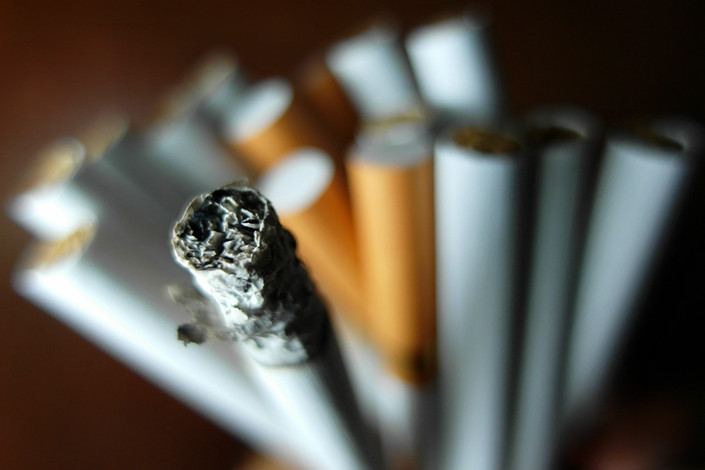 The listing will generate around $100 million for the unit, Reuters reported. Photo: VCG
*China National Tobacco Corp. is expected to raise $100 million through a Hong Kong IPO as pressure mounts on industry linked with widespread disease and death
*Industry insiders see move as a rare opening in the state's monopoly over the industry
The international unit of state-owned tobacco titan China National Tobacco Corp. (CNTC) is preparing to list on the Hong Kong Stock Exchange, offering outsiders a taste of China's closed market even as concerns mount over its devastating impact on public health.
CNTC dwarfs the world's major tobacco producers largely thanks to its 99.3% share of China's massive $185.8 billion market. Heavy regulations, restrictions on advertising and stagnant growth continue to keep new market entrants at bay.
China Tobacco International (HK) Co., the company's international arm to be listed, purchases tobacco from foreign producers and sells it to the parent with a 6% mark up. It also exports the company's cigarette brands wholesale to Thailand, Singapore and Hong Kong, where nine-tenths of Chinese brands sold are bought by mainland Chinese citizens, according to the company's draft prospectus.
The listing will generate around $100 million for the unit, Reuters reported. While the company accounts for a measly proportion of its parent's overall sales, industry insiders nevertheless see it as a rare opening in the state's monopoly over the industry.
While China has largely resisted the decline in the tobacco industry seen elsewhere, concerns will remain over China Tobacco International's health. The company has been winded by the ongoing trade war with the U.S., from which it derives around a third of its imported tobacco. It is expecting a "significant decline" in its import business over the next year, according to the draft prospectus.
Pressure is also mounting for the government to do more to reduce smoking in a country that accounts for more than 43% of the world's total cigarette consumption, according to the World Health Association. Around 1 million people are thought to die of smoking ever year in the country, which is home to 360 million smokers and where 740 million people suffer from second-hand smoke every day, according to the Chinese Association on Tobacco Control.
This creates expensive medical bills in a country that is already facing bigger health budgets as its population ages, despite the 1.08 trillion-yuan ($160 billion) CNTC brought in tax revenue in 2016 alone, according to the company's website. The country's top legislature, the National People's Congress has called for higher taxes on the industry and a number of cities have already banned smoking in many public places.
CNTC is thought to have been a strong lobbyist against increasing cigarette taxes, which have stayed the same in China since 2015 while other countries typically raise them once or twice a year, according to Ling Chengxing, the director of the State Tobacco Monopoly Administration. Yet the wind appears to be turning against the company, despite the China Tobacco International's planned listing.
Contact reporter David Kirton (davidkirton@caixin.com)

Register to read this article for free.
Register
Share this article
Open WeChat and scan the QR code

Jan 20 06:48 PM

Jan 20 06:44 PM

Jan 20 06:16 PM

Jan 20 03:41 PM

Jan 20 12:39 PM

Jan 20 12:22 PM

Jan 19 06:27 PM

Jan 19 04:53 PM

Jan 19 03:26 PM

Jan 19 01:51 PM

Jan 19 01:35 PM

Jan 19 01:17 PM

Jan 18 06:34 PM

Jan 18 06:08 PM

Jan 18 05:03 PM
GALLERY