Update: Hopes for Trade Peace Rise After Beijing Talks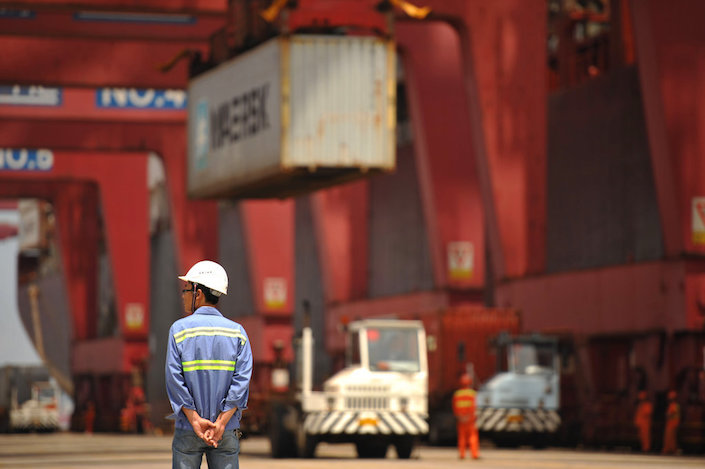 The U.S. has threatened to further increase tariffs on $200 billion of Chinese imports if no deal is struck by March. Photo: VCG
* "The two sides had comprehensive, in-depth and detailed discussions on trade and structural issues we both are concerned about," China's Ministry of Commerce said
* The talks also focused on China's pledge to purchase "a substantial amount" of American goods and services including agricultural, energy and manufactured products, the U.S. trade office said
(Beijing) — China said Thursday the three days of talks with the U.S. had "laid the foundation" for resolving the bilateral trade row between the world's two largest economies while Washington issued a more muted statement indicating specifics were still to be worked out.
"The two sides had comprehensive, in-depth and detailed discussions on trade and structural issues we both are concerned about," China's Ministry of Commerce said in a statement (link in Chinese) after the first face-to-face meeting between Chinese and U.S. negotiators since Presidents Donald Trump and Xi Jinping agreed on Dec. 1 to put new tariffs on hold until March 1. The talks ended on Wednesday.
The negotiations "enhanced mutual understanding and laid the foundation for resolving issues that each is concerned about," it said. "Both sides have agreed to continue to keep close contact."
Trade officials had scheduled two days for the midlevel talks in Beijing, but extended it to three after the meetings struck a positive tone. Trump expressed optimism on Tuesday. "Talks with China are going very well!" he tweeted.
However, the office of the U.S. Trade Representative sounded more neutral in a statement released Wednesday that suggested any agreement would depend on concrete actions to honor promises that have been made.
The Chinese and U.S. negotiators "discussed the need for any agreement to provide for complete implementation subject to ongoing verification and effective enforcement," as they exchanged opinions on "ways to achieve fairness, reciprocity, and balance in trade relations between our two countries," it said.
They also focused on China's pledge to buy "a substantial amount" of agricultural, energy, manufactured goods, and other products and services from the U.S., it said, without elaborating on any specific deals reached. Narrowing the enormous U.S. trade deficit with China has been one of the key reasons given for Trump's launch of the tariff war. But the imbalance has continued to widen as the trade dispute escalated with Chinese exporters rushing to deliver out of fears that more tariffs were looming.
The U.S. will decide on the next steps after the delegation reports back to Washington, the statement added.
Global markets rose on investors' rising hopes for progress toward ending the Sino-U.S. trade war.
China's benchmark Shanghai index was up 0.23% in morning trade on Thursday while the Shenzhen index gained 0.53%. The Hang Seng Index in Hong Kong also went up 0.37%.
Major U.S. equity benchmarks all climbed Wednesday. European stocks also closed higher with the pan-European STOXX 600 hovering around its highest level in three weeks.
What's next?
The Wall Street Journal reported Wednesday that while negotiators made progress toward an agreement in the latest talks, the thorniest issues will be left to higher-level talks.
More senior-level discussions could take place later. Foreign media have reported that Trump and Chinese Vice President Wang Qishan may meet at the World Economic Forum Jan. 22-25 in Davos, Switzerland.
China's Foreign Ministry confirmed Monday that Wang would deliver a speech at Davos but didn't confirm any plan for him to meet with Trump.
U.S. Secretary of Commerce Wilbur Ross told media earlier this week that the U.S. and China are likely to reach a good settlement over immediate trade issues. But Ross said agreement on structural trade issues and enforcement will be more difficult.
The U.S. has demanded structural changes in China with respect to forced technology transfer, intellectual property protection, nontariff barriers, cyber intrusions and cyber theft of trade secrets for commercial purposes, services, and agriculture.
Since December, China has made steps to address U.S. concerns, including resuming soybean purchases, temporarily cutting punitive tariffs on U.S.-made cars and drafting a law to ensure fair treatment of foreign investment and prevent forced technology transfers.
If no deal can be reached by March, the Trump administration said it would increase tariffs on $200 billion of Chinese imports to 25% from the current 10%.
The World Bank has warned of the damage of a full-blown trade war to both China and the U.S. The bank said in a recent report that if all proposed tariffs were implemented along with likely retaliatory actions, U.S.-China trade could be substantially affected and slow growth in both countries. Combined with the likely negative effects this would have on investor confidence, this scenario could lead to a reduction of global exports of as much as 3% and of global income by 1.7% in the medium term, the bank said.
The World Bank lowered its forecast for China's 2019 growth by 0.1 percentage point to 6.2% and cut its 2019 projection for the global economy by 0.1 percentage point to 2.9%.
Contact reporters Han Wei (weihan@caixin.com) and Fran Wang (fangwang@caixin.com)
You've accessed an article available only to subscribers
VIEW OPTIONS
Share this article
Open WeChat and scan the QR code