Auditors Flash Warning Light Over Local Governments' Hidden Debts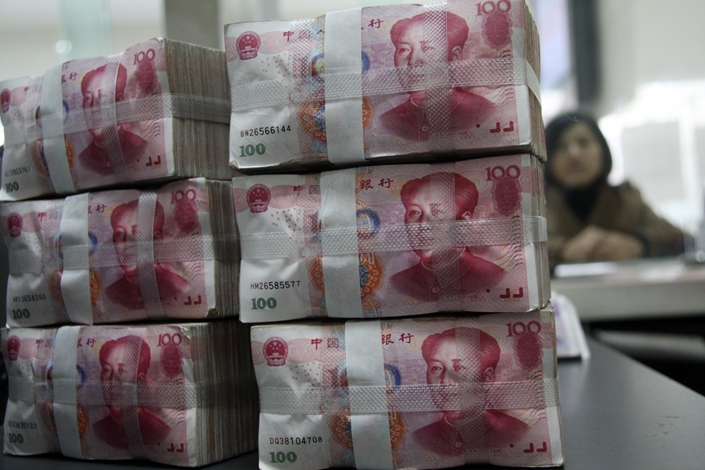 Several local government officials told Caixin that a large amount of hidden local government debt will be due within three years. Photo: IC Photo
*Auditors in the provinces of Zhejiang, Jiangsu, Shandong and Henan have raised concerns about lower-level government's off-balance-sheet debts in their 2018 reports
*Auditors in Zhejiang said some localities are taking on new debt to repay old obligations, while those in Jiangsu said some governments delayed planning how to resolve their off-balance-sheet debts because of scheduling issues
(Beijing) — Several provincial auditors have warned in their 2018 audit reports about the risks that hidden debt poses to local governments.
The auditors' offices of the Zhejiang, Jiangsu, Shandong and Henan provincial governments have raised concerns about a host of issues at lower-level governments regarding their off-balance-sheet debts. The problems include failing to reasonably arrange their debt repayment plans, miscalculating the size of such debts, and an insufficient ability to repay them .
Beijing has been pushing local governments in recent years to clean up the mountain of off-balance-sheet debt they have taken on, typically through companies they control known as local government financing vehicles (LGFVs), as it poses a significant threat to China's financial system.
Economists with investment bank Nomura International (Hong Kong) Ltd. estimated (link in Chinese) that Chinese local governments' outstanding hidden debts amounted to around 40 trillion yuan ($5.8 trillion) at the end of last year. This figure is approximately double their on-the-books liabilities, which totaled 20.5 trillion yuan at the end of June, according to data (link in Chinese) from the Ministry of Finance.
Local governments have had a hard time dealing with their off-the-books debt. The auditor's office of East China's Zhejiang province warned in a report Monday (link in Chinese) that some town and village governments, which do not have the ability to repay their obligations in full, had resorted to borrowing new debt to repay the old.
In the neighboring province of Jiangsu, the auditor's office said in a report last month (link in Chinese) that some lower-level governments had not properly planned how to resolve their off-balance-sheet debts because of scheduling issues. Others had not bothered to include interest payments in their debt repayment plans, the report said.
Auditors next door in Shandong province said in a report last month (link in Chinese) that in the first half of this year, 441, or 44.2% of all 997 of the province's LGFVs or state-owned enterprises that assume the function of LGFVs, reported zero revenue. In the same period, 699, or 70.1% of the total, reported net losses.
In Central China's Henan province, auditors reported last month (link in Chinese) that local governments sometimes miscalculate their off-balance-sheet debt simply because of a lack of understanding. The auditors found that 70 city and county-level governments had overstated their hidden debts, while 58 others had understated them.
In 2018, Beijing ordered local governments to resolve their existing hidden debt issues within five to 10 years and barred them from taking on new off-balance-sheet obligations.
Several local government officials told Caixin that a large amount of hidden local government debt will be due within three years. In one province in central China, for example, nearly half of its hidden debts will come due by the end of 2021, an official said.
Wu Hongyuran contributed to this report.
This story has been updated to clarify the auditors' descriptions of some of the problems they found with how local governments managed their debt obligations.
Contact reporter Guo Yingzhe (yingzheguo@caixin.com)
You've accessed an article available only to subscribers
VIEW OPTIONS
Share this article
Open WeChat and scan the QR code