Swiss Telecom CEO Explains Why He's Sticking With Huawei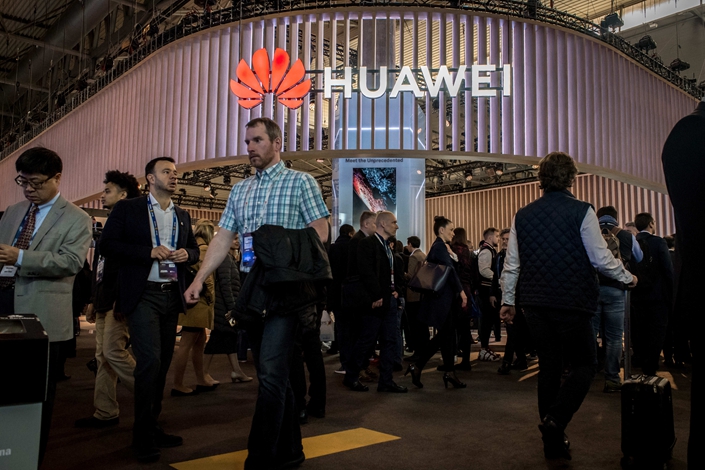 Huawei's booth at the Mobile World Congress in Barcelona on Feb. 25. Photo: IC Photo
Huawei Technologies Co. Ltd. still has fans in Europe, despite the U.S. government's campaign to get its allies to shun the Chinese telecom giant.
One such supporter is Olaf Swantee, CEO of one of Switzerland's largest telecoms, Sunrise Communications Group AG. "Some people ask: are (Huawei's products) cheaper, (I said) no. But do they have great price performance. (I said) yes," Swantee said in an interview with Caixin in Zurich earlier last month.
Swantee is known for his stalwart support for Huawei Technologies Co. Ltd., dating back to his time as CEO of U.K. mobile network operator EE Group Ltd. From 2011 to 2016, he played a leading role in EE's procurement of gear for the carrier's core network and bought a lot of Huawei equipment.
Swantee praised Huawei for its advanced technology, but also for its sound services. "Huawei executives are working with hundreds of operators, but they are interested in making sure that we have a defect-free network."
Huawei has been a leading supplier of equipment for Sunrise's fifth-generation (5G) mobile network. In March, it rolled out its 5G network in 150 cities and villages.
Sunrise beat its rivals — Swisscom AG and Salt Mobile SA — in rolling out 5G. Swisscom — which partners with Huawei's rival Ericsson — launched its 5G network about a month later. For its part, Salt, which works with Nokia, failed to achieve its goal of rolling out its 5G network in the third quarter of this year.
Still, Sunrise is facing fierce competition from Swisscom in the race to offer Switzerland's most extensive 5G network.
The key disadvantage of Sunrise's network now lies in rural areas, said a local Huawei employee, who spoke on the condition of anonymity. He said Huawei could help Sunrise bridge the gap with the deep-pocketed Swisscom, which has expanded its 5G network across the country.
The Huawei employee said the company could help Sunrise build up a strong rural presence by using its microwave wireless technology.
Base stations that employ the technology don't require the use of fiber optic cables between base stations, and will make deployment much easier, the employee said.
In May, the U.S. government placed Huawei on its so-called Entity List, barring it from purchasing U.S. technologies and services without special approval. Asked whether Huawei's inability to access U.S. suppliers would affect Sunrise, Swantee said Huawei's contingency plan has allowed it to produce most of its products in house. "Fundamentally on the network side, (for us) it's business as usual," he said.
Contact reporter Mo Yelin (yelinmo@caixin.com)
You've accessed an article available only to subscribers
VIEW OPTIONS
Share this article
Open WeChat and scan the QR code