Regulators Step In as Sichuan Trust Fails to Secure Shareholder Funding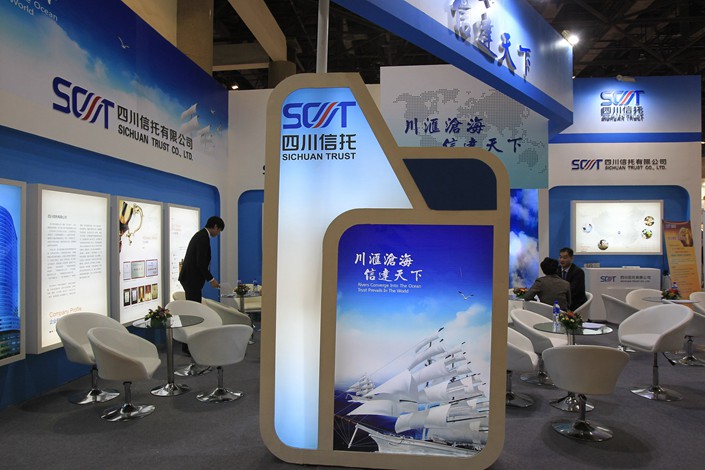 Sichuan Trust's net profit shrank nearly 30% in 2019
Financial regulators stepped in with enforcement actions against Sichuan Trust Co. Ltd. as the troubled trust company failed to obtain capital support from major shareholders to resolve a repayment crisis involving $3.6 billion of investments that has dragged on since May.
The Sichuan branch of the China Banking and Insurance Regulatory Commission (CBIRC) ordered Sichuan Trust to suspend repayments of some trust products, affecting both institutional and individual investors, Caixin learned from sources close to the matter.
The CBIRC branch in southwest China's Sichuan province confirmed last week that it took enforcement measures against Sichuan Trust as the company violated industry rules regarding connected-party transactions, risk management and internal controls, putting investors' interests at risk. It was the first time regulators formally addressed the violations of the mid-sized trust company since its credit crisis came to light in May.
Sichuan Trust is the latest target on regulators' radar as China moves to put the once free-wheeling $3.1 trillion trust industry under closer oversight. Another such company, Anxin Trust Co. Ltd., faces a government-led restructuring to deal with a 50 billion yuan ($7 billion) financial black hole. In May, regulators punished nearly one-third of China's 68 trust companies for violations including conducting illicit off-balance-sheet lending and illegal real estate investments, levying 22.5 million yuan ($3.2 million) in fines.
Sichuan Trust failed to repay principal and interest on a trust product in May, triggering a wave of protests by investors. At stake is the repayment of about 25 billion yuan ($3.6 billion) that investors put into Sichuan Trust's "trust of trust" investments, which buy into other trust products that have invested in a wide variety of assets, including bonds, stocks and loans to private companies, and local government financing vehicles. More than 8,000 individual investors have been affected.
"It is likely that regulators are studying proper plans (for repayment) while everyone is waiting for the audit results," said a person with knowledge of the matter.
Sichuan Trust's management pledged to raise funds to repay investors by issuing new shares to existing and new investors and by making asset sales. Chairman Mou Yue said in late May that the company was planning a share placement.
However, Sichuan Hongda Co. Ltd., the third-largest shareholder of Sichuan Trust, said Tuesday it decided to give up participation in the share sale because of its own capital stress. Hongda said it agreed with Sichuan Trust's plan to seek new strategic investors.
Hongda is a subsidiary of Sichuan Trust's largest shareholder Hongda Group, controlled by businessman Liu Canglong. Together, the two companies hold 54.2% of Sichuan Trust.
Hongda Group and the second-largest shareholder, Zhonghai Trust Co. Ltd., as well as smaller shareholder China Railway No. 8 Engineering Group Co. Ltd. previously said they wouldn't take part in Sichuan Trust's share placement.
According to Hongda's statement Tuesday, Sichuan Trust planned to raise 1.5 billion yuan to increase registered capital to 5 billion yuan. Upon completion of the share sale, Hongda's stake would be reduced to 15.5% from 22.2%. The placement plan has yet to be finalized and is still pending approval from shareholders and regulators, Hongda said.
Sichuan Trust last month warned investors that most of the company's outstanding 25.3 billion yuan of trust products face repayment risks. About 13 billion yuan of the company's products are set to mature this year, while 10.35 billion yuan will mature next year and 1.92 billion yuan more will mature in 2022.
The repayment of most of the products maturing by the end of 2020 may need to be extended, Liu Jingfeng, president of Sichuan Trust, told investors in June.
Sichuan Trust's problems go back at least to late 2019 when local regulators began "closely monitoring" the company, Caixin learned. Since then, the local banking watchdog has sporadically sent staff to work onsite.
In October and November 2019, a team of inspectors from the CBRC visited Sichuan Trust and provided rectification suggestions, the company said in its 2019 annual report, without elaborating. In May, the company denied rumors that its capital pool business was frozen and it would be taken over by regulators.
In 2019, Sichuan Trust's net profit shrank nearly 30% to 521.4 million yuan, according to the annual report.
Timmy Shen contributed to this story.
Contact reporter Han Wei (weihan@caixin.com) and editor Bob Simison (bobsimison@caixin.com)
Caixin Global has launched Caixin CEIC Mobile, the mobile-only version of its world-class macroeconomic data platform.
If you're using the Caixin app, please click here. If you haven't downloaded the app, please click here.
You've accessed an article available only to subscribers
VIEW OPTIONS
Share this article
Open WeChat and scan the QR code