Embattled Luckin Scrambles for Survival after Fraud Scandal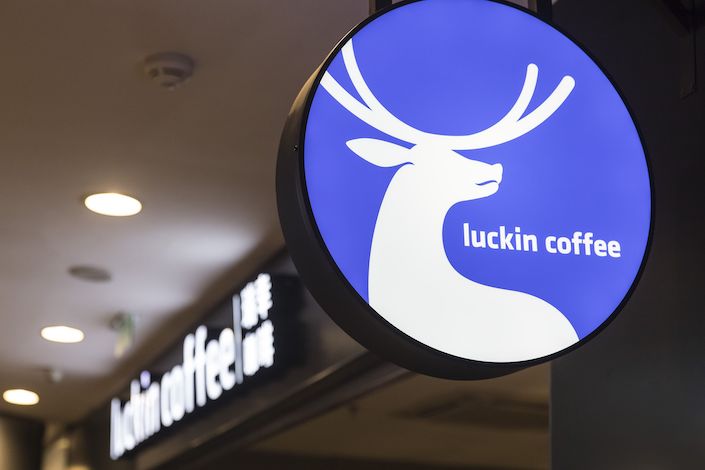 A sign for Luckin Coffee Inc. is displayed at one of the company's outlets in Shanghai
A recent court document offered a glimpse of the latest financial details of China's embattled coffee chain operator Luckin Coffee Inc., which is scrambling to pay hefty penalties and debts after shocking the market with a $300 million accounting fraud.
Luckin, which was delisted from the Nasdaq in June, closed 1,021 stores in China while opening 412 new ones from January to November this year. The company booked 2.67 billion yuan ($409 million) in revenue in the first three quarters, according to a document submitted by the company's liquidators to a court in the Cayman Islands, where the company is registered.
The store closures are part of Luckin's efforts to restructure its business to bounce back from a fraud scandal that has led to its U.S. stock delisting and massive lawsuits, the liquidators said in the report to the court.
Luckin is expected to report annual revenue between 3.8 billion yuan and 4.2 billion yuan this year and see its cash flow reaching break-even by the first half of 2023, according to the report.
Luckin entered a bankruptcy restructuring after a Cayman court in July appointed two joint provisional liquidators — Alexander Lawson of Alvarez & Marsal Cayman Islands, and Tiffany Wong Wing Sze of Alvarez & Marsal Asia — to oversee a corporate restructuring and negotiate with creditors to salvage its business, following a creditor's winding-up petition.
Luckin, a highflying startup once seen as China's challenger to Starbucks, has been embroiled in a financial fraud investigation after it disclosed in April that nearly half the revenue it posted for the last three quarters of 2019, more than 2.1 billion yuan ($311 million), was fake.
Read more
Luckin Explained: How Did Scandal-Plagued Coffee Highflyer Get Into Such Hot Water?
The Luckin scandal added to backlash from American regulators and politicians against U.S.-listed Chinese companies. In May, the Senate passed a bill that would prohibit the listing of companies that don't comply with US financial transparency requirements. The bill was signed by President Donald Trump this week after Congress approved it earlier this month.
According to the court document, Luckin achieved overall profitability for the first time in August 2020, nearly one year later than it previously claimed.
Luckin operated 3,898 stores across China by the end of November and is set to increase the number to more than 4,800 by 2023.
In addition to self-run shops, Luckin also had 894 franchise stores by the end of November. The company also launched 150 self-service coffee machines this year, but the business is still running losses, the document showed.
By the end of November, Luckin had unrestricted cash and equivalents of 5.18 billion yuan, including 4.95 billion yuan on the Chinese mainland, the document showed.
The liquidators said they have been in close contact with Luckin's management to sort out the company's current business situation and map out future plans. A restructuring plan is expected to be submitted by Jan. 15, the liquidators said.
Luckin is facing obligations to holders of its $460 million convertible bonds and to company shareholders. It has also slapped with heavy fines by Chinese and U.S. regulators.
China's State Administration for Market Regulation in September imposed 61 million yuan in total fines on 45 companies involved in Luckin's financial fraud, including Luckin Coffee (China) Co. Ltd. and Beijing Luckin Coffee Co. Ltd., two Chinese mainland entities owned by Luckin.
China's top securities regulator also fined Luckin founder Lu Zhengyao and two companies he controlled for violating information disclosure rules.
Read more
Caixin's coverage of Fraud at Luckin
Last week, Luckin agreed to pay $180 million to settle fraud charges from the U.S. Securities and Exchange Commission (SEC). Employees concealed the fraud by creating a fake operations database and tampering with bank records, and the company lied to investors about the firm's revenue, expenses and net losses, the SEC said.
Contact reporter Han Wei (weihan@caixin.com)
Download our app to receive breaking news alerts and read the news on the go.
You've accessed an article available only to subscribers
VIEW OPTIONS
Share this article
Open WeChat and scan the QR code