CX Daily: Why Relocating Mainlanders See Singapore as a Safe Haven for Their Businesses and Property
Chinese entrepreneurs, professionals and their families are flocking to Singapore in droves. Photo: VCG
Singapore /
In Depth: Why relocating mainlanders see Singapore as a safe haven for their businesses and property
When Chen Xi and her family searched for their first home in Singapore after relocating from Beijing, they realized their budget for the right kind of property would need to be a lot higher.
The impact of the pandemic meant new housing developments in Singapore were on hold, and with the reopening of the border, foreigners were arriving en masse to work and study, which meant demand far exceeded supply in the island state.
Not only have professionals like Chen, who works in finance, made the move. Chinese entrepreneurs who migrated to Singapore in recent years have made their names in the country.
Health code /
Caixin Explains: Who controls China's health code app
Since 2020, many regions across the country have set up health code systems that require residents to hand over their personal movement and travel information to determine whether they've been in areas where Covid is at risk of spreading.
The inexplicable code changes among people with money in the Henan banks caused an uproar over the appearance that authorities in the province were misusing a system for controlling Covid to help out the banks. Serious questions have been raised about who controls the local health code systems in China and who is responsible for acts that violate residents' rights and privacy.
FINANCE & ECONOMY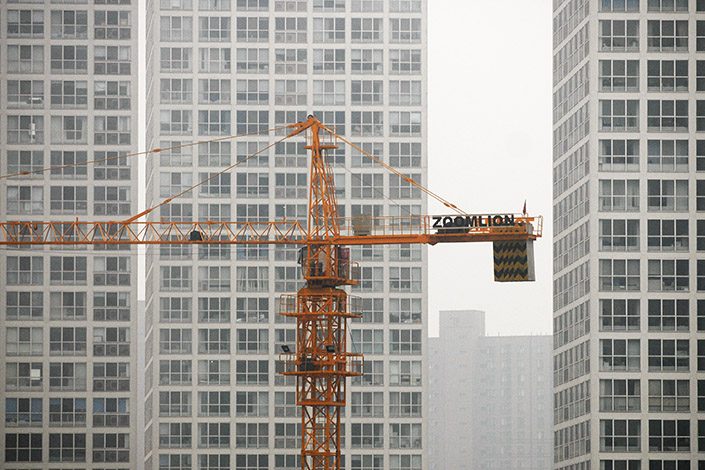 Mounting payment obligations are adding to pressure on developers that have been struggling with dwindling cash and slow sales.
Bonds /
Developers face mounting debt payments in coming months
Chinese property developers face imminent deadlines to repay multibillion-dollar debts, underscoring the urgency for many distressed companies to seek extensions amid limited access to new funding and a market slowdown.
Two hundred major developers in China will need to repay debts totaling 175.5 billion yuan ($26 billion) in June and July, about 61% of the total maturities in the second half of the year, according to data from property consultancy China Real Estate Information Corp. (CRIC).
Finance ministry says new custody rules won't apply to government bonds
Climate /
China's top climate envoy calls for more energy cooperation with U.S., Europe
China, the U.S. and Europe should enhance cooperation on green economic transformation to ensure energy security, mitigate climate change and promote economic recovery, said Beijing's top climate envoy.
The three parties share similar policies on energy transformation and have broad interests in cooperation, Xie Zhenhua told a forum on energy security held by the Ministry of Ecological Environment in Beijing Monday.
Corruption /
Ex-deputy of Anbang takeover task force falls under graft probe
An anti-corruption investigation into Fu Fei, a former department director of China Insurance Security Fund Co. Ltd. (CISF), could be related to his work during the state takeover of Anbang Insurance Group Co. Ltd., sources told Caixin.
China's top graft buster announced Thursday that Fu has been put under investigation for alleged "serious violations of (Communist Party) discipline and laws," which usually refers to corruption.
Trust /
Funde Sino Life takes control of National Trust
Shenzhen-based insurer Funde Sino Life Insurance Co. Ltd. became the largest shareholder of National Trust Ltd. by acquiring a 40.72% stake in the trust and investment business from two shareholders.
The Beijing Banking Regulatory Bureau approved the equity transfer from Shanghai Chuangxin Asset Management Co. Ltd. and Shanghai Hengfengyu Industry Development Co. Ltd. to their parent Funde, according to a statement by the China Banking and Insurance Regulatory Commission (CBIRC).
Quick hits /
China puts monetary easing on hold before Fed's rate increase
China brokerage warns traders as stock surges over 80% in days
BUSINESS & TECH
Workers repair power equipment in Taizhou, East China's Jiangsu province, June 6. Photo: VCG
Power /
Covid shocks cut China's power consumption for second month
China's electricity consumption continued to fall in May as pandemic restrictions hit industrial activity.
The country's electricity usage in May dropped 1.3% from the same period a year ago to 671.6 gigawatt-hours, the National Energy Administration (NEA) said Wednesday. In the same period of 2021, that figure jumped 12.5%.
Broken down by industrial sectors, power consumption in the secondary and tertiary sectors went down by 0.5% and 4.4% year-on-year respectively, while usage in the primary sector was up 6.3%, the NEA data showed. Residential consumption also declined by 2.4%.
Delisting /
HNA Innovation kicked off Shanghai Stock Exchange
A former unit of bankrupt HNA Group Co. Ltd. received a delisting notice from the Shanghai Stock Exchange as 2021 revenue fell below the minimum of 100 million yuan ($14.9 million) and the company reported four consecutive years of losses.
As required by the exchange, the company's shares will begin a delisting period June 16, and the final trading date is expected to be July 6. On April 29, the last trading day before a suspension, HNA Innovation's stock closed at 1.22 yuan per share, giving the enterprise a market value of 1.59 billion yuan.
Videos /
IQiyi denies Baidu is in talks to sell majority stake
Video streaming platform iQiyi Inc. disputed news reports that its parent Baidu Inc. is in talks to sell its entire stake in the Beijing-based company, calling them "not true" and "purely a rumor" in response to questions from Caixin. Baidu declined to comment.
Reuters reported Wednesday that search giant Baidu was in talks to sell its 53% stake in iQiyi in a deal that valued the Netflix-like platform at roughly $7 billion.
Quick hits /
Viva China close to controlling British shoemaker Clarks
Leading Chinese AI scientist Sun Jian dies suddenly at 45
Long Read /
China's trade growth recovers from Covid shock
GALLERY
China's new desert-skirting railway
Recommended newsletter for you /
Caixin Must-Read Newsletter brings you the best of our coverage and stories you can't miss. You can opt-in now and get hand-picked news coverage delivered to your inbox each week for free.
Thanks for reading. If you haven't already, click here to subscribe.
Share this article
Open WeChat and scan the QR code

China Stories: Illuminating the Silver Screen for the Visually Impaired