CX Daily: Will a Barrier to the Yangtze River Save Poyang Lake?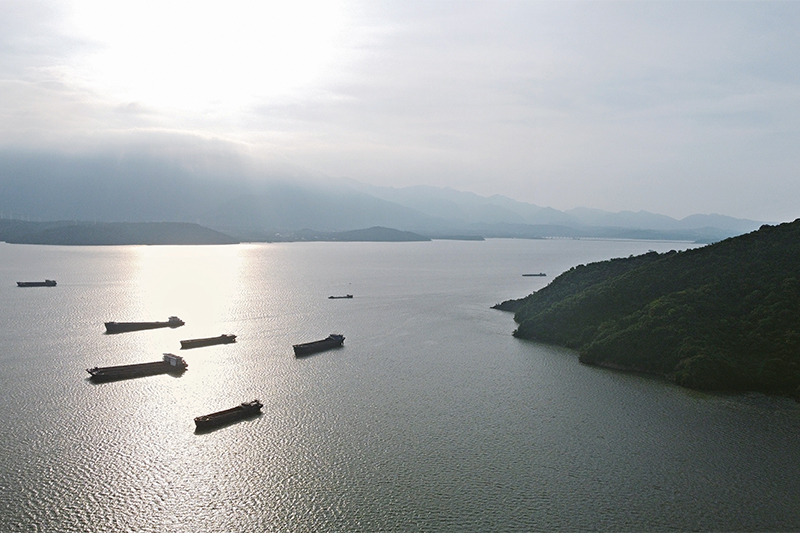 The site of planned sluice gates between Mount Pingfeng and Changling, Jiangxi province, on June 16, 2022. 
Poyang Lake /
Cover Story: Will a barrier to the Yangtze River save Poyang Lake?
Wu Hedao, a dark-skinned, 53-year-old fisherman, grew up on a small island in Poyang Lake, China's largest freshwater lake located in the southeastern part of the country. For the past two decades, he has heard talk about the government's plan to build an 18-meter (59-foot) dam to maintain the lake's water level during the dry season.
What Wu doesn't know is that the plan has been shelved for six years because of opposition from environmentalists. Now a revised project to build a sluice gate system is under discussion and open for public comments. It has renewed the debate over the impact on biodiversity.
Covid-19 /
Unimpressive results reported for China's first Covid pill candidate
Chinese drugmaker Genuine Biotech reported unimpressive trial results for its Azvudine Covid treatment, prompting a sell-off in related drug stocks.
The response reflected concerns that Azvudine's clinical trial results fell short of regulatory recommendations. While privately held Genuine Biotech said the drug improved clinical symptoms, Chinese regulators in a February guideline said Covid-19 treatments should reduce severe illness and death.
Blog: Optimizing China's vaccination strategy is the answer to beating omicron
Law /
China private investment fund regulations stuck in limbo for another year
Proposed rules that would fill a regulatory gap overseeing China's 20 trillion yuan ($3 trillion) private investment fund industry didn't make it onto the State Council's annual legislative work plan for the first time in nine years, keeping the sector mired in legislative limbo for another year.
The regulations are expected to effectively address issues in the sector and set up a regulatory framework at the level of the State Council, the country's cabinet. But they didn't appear on the legislative work plan issued Thursday.
FINANCE & ECONOMY
Wu Yibing, Singaporean state-owned investor Temasek International Pte. Ltd.'s president of China. Photo: Temasek
Investment /
Temasek focuses on China's micro-level growth trends, head of China says
A long-term investor in China assets, Temasek International Pte. Ltd. tends to look beyond GDP figures and find opportunities on the micro-level, Wu Yibing, the company's president of China, said in an interview with Caixin last week.
The Singaporean state-owned company mainly invests in four areas in China — digitalization, sustainability, life sciences and new consumption — representing at least half of China's GDP, according to Wu. Because Temasek's investments tend to be from the bottom up, macroeconomic trends aren't necessarily the most important factor to watch out for when seeking opportunities on a granular level.
Insurers /
Another Tomorrow Holding unit cleared for bankruptcy
E An Property & Casualty Insurance Co. Ltd., an insurer previously controlled by embattled private conglomerate Tomorrow Holding Co. Ltd., was cleared to start bankruptcy proceedings.
The move is part of regulators' years-long efforts to dismantle the troubled business empire of fallen tycoon Xiao Jianhua. The Chinese-Canadian billionaire Xiao was placed under Chinese graft investigation in January 2017. His Tomorrow Holding is one of the highest-profile targets swept up in China's crackdown on financial risks.
Loans /
China issues more rules for online lending to control risks
China's top banking regulator issued more rules governing online lending by commercial banks, including loans jointly issued with third-party internet platforms, as authorities ramp up efforts to control financial risks in the sector.
The additional rules further clarify the requirements for loan management and independent risk control expected of lenders, according to a Q&A published by the China Banking and Insurance Regulatory Commission (CBIRC) Friday.
Quick hits /
China traders pile into carry trades while easy money lasts
Editorial: Promoting the integration of migrant workers into cities
BUSINESS & TECH
HNA /
Exclusive: Hainan Airlines' operator seeks $3 billion emergency loan, sources say
Liaoning Fangda Group Industrial Co. Ltd. is seeking an emergency loan of 20 billion yuan ($3 billion) with the help of the Hainan provincial government to assist in operating HNA Group Co. Ltd.'s core airline operations, people familiar with the matter told Caixin.
The Beijing-based strategic investor Liaoning Fangda, which only assumed management of HNA's flagship carrier Hainan Airlines Holding Co. Ltd. in December as part of the conglomerate's restructuring, has repeatedly asked for financial aid from the Hainan provincial government, the sources said.
Electric cars /
Electric-car maker Sokon raises $1 billion in stock sale
Carmaker Chongqing Sokon Industry Group Co. Ltd., best known for its auto technology partnership with Huawei, raised billions of yuan to fund a pivot to electric vehicles (EVs).
The Shanghai-listed company raised 7.13 billion yuan ($1.05 billion) via a private placement involving 17 investors, it said in a Saturday exchange filing (link in Chinese). The 137 million shares on offer— equivalent to a 10% stake — were priced at 51.98 yuan each, representing a nearly 30% discount to the closing price on July 15.
Quick hits /
Didi fined 4.3 million yuan for breaking money laundering rules
Huawei's secretive chip unit recruits advanced engineers
GALLERY
Recommended newsletter for you /
Caixin Must-Read Newsletter brings you the best of our coverage and stories you can't miss. You can opt-in now and get hand-picked news coverage delivered to your inbox each week for free.
Thanks for reading. If you haven't already, click here to subscribe.
Share this article
Open WeChat and scan the QR code

China Stories: The Rural Hardship Behind the Mine Murders That Shocked China