CX Daily: China Debates Who Should Pay for Public Health Crises
On April 6, residents in Pudong New Area of Shanghai do nucleic acid tests. Photo: VCG
Insurance /
In Depth: China debates who should pay for public health crises
The Covid-19 pandemic exposed shortcomings in China's medical system and triggered a national debate about how public health emergencies should be funded and what role the medical insurance system should play.
Health experts told Caixin that changes need to be made to the allocation of fiscal resources so that more money is set aside to cope with events such as Covid-19, and clearer rules are required that define the role of the medical insurance system in times of emergency and what its funds pay for.
Party /
Caixin Explains: How China's Communist Party elects delegates to its National Congress
At the Communist Party's 20th National Congress, due to be held this fall, about 2,300 delegates from the party's 95 million strong membership will gather in Beijing and make official the country's political direction for the next five years.
Here are four essential things to know about the party's electoral system.
Chips /
U.S. expands ban on sales of chipmaking gear to China
A recent expansion of U.S. restrictions on China's access to chipmaking technology will have a broad impact on the Chinese semiconductor industry, analysts said.
American authorities broadened their ban on sales of chipmaking equipment to China, according to Tim Archer, the chief executive officer of Lam Research Corp., a California-based supplier of silicon wafer fabrication gear. After previously barring shipments of machinery to produce advanced technology nodes of 10 nanometers or less, the U.S. expanded the restrictions to apply to chips of up to 14 nanometers, Archer said.
FINANCE & ECONOMY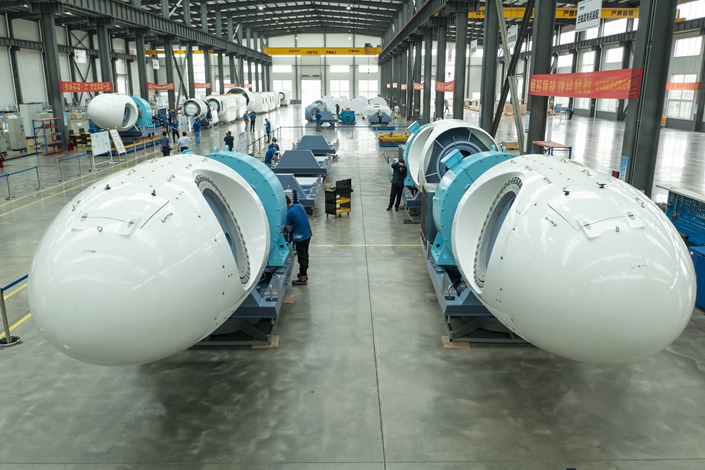 Workers assemble wind power turbines on June 15 in Rizhao, Shandong province. Photo: VCG 
Economy /
Caixin's New Economy Index rises on capital investment growth
The contribution of high value-added industries such as biotech to China's total economic inputs expanded in July due chiefly to a rise in capital investment, a Caixin index indicated Tuesday.
The Caixin BBD New Economy Index (NEI) came in at 31.4 last month, showing that new economy industries accounted for 31.4% of China's overall economic inputs. The reading was up from 30.1 in June, rising for the second consecutive month.
Alibaba /
Alibaba added to U.S. list of Chinese stocks facing expulsion
American regulators added e-commerce giant Alibaba Group Holding Ltd. to a growing list of Chinese stocks that will be kicked off U.S. stock exchanges if authorities can't inspect their books.
The U.S. Securities and Exchange Commission (SEC) made the move after the U.S. Public Company Accounting Oversight Board (PCAOB) couldn't fully review the company's audits for the fiscal year ended March 31, Alibaba said Monday.
Carbon /
Analysis: Systemic issues in China's fledgling carbon market put brakes on expansion
In the year since China launched its national carbon market, data fraud in agencies responsible for verifying emissions at power generation companies — the only type of firm now trading on the market — has emerged as a major issue, hampering efforts to increase efficiency in the market and giving authorities pause for thought before opening the market to other industries.
A string of cases, revealed earlier this year, has put the spotlight on verification issues that can undermine data quality, limiting China's efforts to cut greenhouse gas emissions and realize its ambitious climate goals.
Quick hits /
New China derivatives law may slash investor costs
Hong Kong economy contracts again as global headwinds mount
Pelosi's Taiwan trip raises angst in global financial markets
BUSINESS & TECH
CATL is no stranger to the use of litigation to defend its turf. Photo: VCG
Batteries /
Chinese battery giant CATL hits rival with another patent lawsuit
China's largest electric-vehicle (EV) battery-maker stepped up a patent lawsuit fight against a smaller rival as it fights to maintain its technological advantage amid rising competition in the sector.
Contemporary Amperex Technology Co. Ltd. (CATL) filed another lawsuit against China Aviation Lithium Battery Technology Co. Ltd. (CALB) for infringement on a patent and unfair competition, claiming 130 million yuan ($19.2 million), CATL confirmed to Caixin Monday.
Gaming /
China's game approval list again leaves out Tencent and NetEase
China's latest list of video games approved for smartphones, personal computers and consoles once again contained zero titles from two of the country's biggest game publishers — Tencent Holdings Ltd. and NetEase Inc.
The National Press and Publication Administration (NPPA) Monday published a new list of 69 approved titles from companies including CMGE Technology Group Ltd., Jiangsu Phoenix Digital Media Co. Ltd. and Chengdu Dragon Fruit Entertainment Technology Co. Ltd. The figure marks a slight uptick from July, when the NPPA allowed 67 titles to go on sale in China.
Quick hits /
Chinese online grocer Missfresh denies it is liquidating
Indonesia briefly blocks PayPal in move to police its internet
Tech Insider /
EV subsidies extended, Tsinghua Unigroup's ex-chief probed
Long Read /
As China reforms its financial system, pragmatism should prevail
GALLERY
China Post now delivering mochas as well as mail
Recommended newsletter for you /
Caixin Must-Read Newsletter brings you the best of our coverage and stories you can't miss. You can opt-in now and get hand-picked news coverage delivered to your inbox each week for free.
Thanks for reading. If you haven't already, click here to subscribe.
Share this article
Open WeChat and scan the QR code

Caixin China Biz Roundup: China Cuts Key Interest Rates as Economy Weakens