CX Daily: Graft Scandal Casts Long Shadow Over China's Chipmaking Ambitions
Chips /
Cover Story: Graft scandal casts long shadow over China's chipmaking ambitions
An anti-graft storm is sweeping China's semiconductor industry at the heart of the country's quest for self-sufficiency in technology.
Since mid-July, several senior executives connected to China's largest semiconductor industry investment fund and a high-profile chipmaker have been placed under investigation, sending shock waves through the industry.
Taiwan /
Chinese military extends live-fire drills around Taiwan
The Chinese People's Liberation Army (PLA) extended its military drills in the sea and airspace around Taiwan Monday, having originally planned three days of live-fire exercises in response to U.S. House Speaker Nancy Pelosi's visit to the island last week.
The PLA's Eastern Theater Command said the new drills will focus on anti-submarine and sea assault operations, without specifying the precise location or duration.
Covid-19 /
Tibet reports first Covid cases since January 2020
China's Tibet autonomous region Monday reported four positive Covid-19 cases, the first in the remote region in two and a half years.
The patients tested positive Sunday during routine nucleic acid testing in Burang county, which borders India and Nepal, local health authorities said in a statement (link in Chinese). All four people were travelers from other parts of Tibet, asymptomatic and aged between 47 and 61.
Island resort city Sanya locked down amid Covid outbreak, stranding more than 80,000 tourists
Hong Kong cuts hotel quarantine in latest measure to improve travel
FINANCE & ECONOMY
IPOs /
Chart of the Day: China's IPO queue gets longer as Covid curbs ease
The number of companies waiting in line to go public on the Chinese mainland's stock markets reached around 1,000 as the economy began to pick up steam after Covid restrictions in some of its largest cities were eased.
As of Thursday, a total of 294 companies were waiting to list on the main boards of the Shanghai Stock Exchange and the Shenzhen Stock Exchange, according to data published by the China Securities Regulatory Commission (CSRC).
Fintech /
Fintech giant Lufax's co-CEO Yong Suk Cho takes over as chairman
Yong Suk Cho, co-CEO at Lufax Holding Ltd., took over as chairman of the New York-traded fintech company, according to the firm's second-quarter earnings report
The new appointment at Lufax — which is backed by financial conglomerate Ping An Insurance (Group) Co. of China Ltd. — was approved earlier this month as Ji Guangheng resigned, Cho said on an Aug. 4 earnings call. Ji is a deputy general manager at Ping An.
Quick hits /
China's trade surplus hits record, but slowdown risks remain
BUSINESS & TECH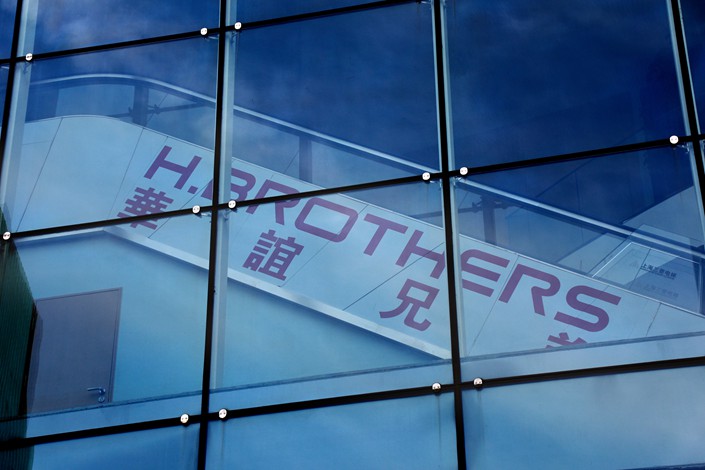 Huayi Brothers headquarters in Beijing on June 8. Photo: VCG 
Tencent /
Tencent dumps shares of Chinese film studio in latest sign of movie industry struggles
Tencent Holdings Ltd. slashed its stake in a Chinese film studio that is grappling with financial losses as the industry continues to struggle under the weight of sporadic Covid-19 outbreaks across the country.
The Shenzhen-based internet titan cut its holdings in Huayi Brothers Media Corp. to 5% from 8% through a series of transactions made between last Tuesday and Thursday, according to a filing Huayi submitted to the Shenzhen Stock Exchange Friday.
Flights /
China eases rules for international Covid flight suspensions
China shortened the length of suspensions for inbound airline flights that carry passengers infected with Covid-19, the latest sign the nation may be ready to ease virus-control measures for international travelers.
Authorities changed the so-called circuit-breaker mechanism for airline bans, cutting to one week the period that incoming flights will be suspended if they carry five Covid-positive passengers, or 4% of the total, according to a statement posted on website of Civil Aviation Administration of China. Flights that arrive with 8% of passengers infected will be halted for two weeks.
Housing /
Vacancy rates in Chinese cities signal risk of oversupply
A real estate market research institute warned of oversupply in China's housing market as vacancy rates climbed in major Chinese cities.
The average housing vacancy rate in China's 28 major cities reached 12%, higher than the average rate in the U.S., Canada, France, Australia and Britain, according to a report issued Friday by Beike Research Institute, the research arm of KE Holdings.
Quick hits /
Kuaishou sets up new management committee, a year after massive restructuring
Sanofi invests $306 million in China partnership for novel cancer drugs
Legacy giants lead internet of things ranking, industry group says
Long Read /
The truth behind Chinese exports and global value chains
GALLERY
Recommended newsletter for you /
Caixin Must-Read Newsletter brings you the best of our coverage and stories you can't miss. You can opt-in now and get hand-picked news coverage delivered to your inbox each week for free.
Thanks for reading. If you haven't already, click here to subscribe.
Share this article
Open WeChat and scan the QR code

China Stories: What Li Yining Taught China About Economic Reform