CX Daily: The Challenges Ahead for China's Digital Yuan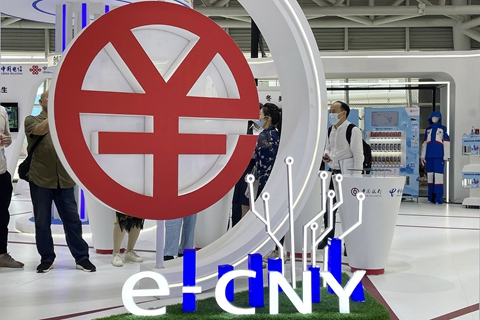 Photo: VCG
Digital yuan /
Cover Story: The challenges ahead for China's digital yuan
In three years of experiments, China's central bank has made significant progress in developing its central currency.
Total transactions since late 2019 reached 83 billion yuan ($12.3 billion) as of the end of May. Nearly 4.6 million merchants across China have come to accept the digital yuan, known as the e-CNY, as payment. People have used it for shopping, dining, personal finance and business uses such as paying taxes and wages.
Floods /
Flash floods in Southwest China kill seven as tourists ignore warning
Flash floods in Southwest China's Sichuan province killed seven people and injured eight others Saturday, as tourists were trapped when shallow rivers quickly turned into fast-flowing rapids, according to the official Xinhua News Agency.
Search and rescue work at Longcao valley was near completion as of Sunday afternoon, while one person was still hospitalized with minor injuries at a local hospital, according to the Pengzhou city publicity department.
Jobless /
China's youth unemployment rate rises to another record
China's urban youth unemployment rate reached 19.9% in July, the highest level since record keeping began in January 2018, according to National Bureau of Statistics (NBS) data released Monday.
It's the fourth consecutive month of record high unemployment among urbanites from 16 to 24 years old, with the rate increasing 0.6 of a percentage point from June.
FINANCE & ECONOMY
The headquarters of China Banking and Insurance Regulatory Commission. Photo: VCG
Bonds /
China to allow insurers to issue perpetual bonds to replenish capital
China will allow insurance companies to replenish capital by selling perpetual bonds startingnext month, providing a new tool for the under-pressure industry to comply with higher capital requirements amid a Covid-disrupted economy.
Many insurance companies, life insurers in particular, need to boost capital as new regulations that went into effect early this year raised the bar for what constitutes core capital — the capital that an insurer has to absorb losses, even in the event of liquidation. The tightened regulations, announced in December, have significantly reduced their core-capital levels.
Corruption /
More officials probed after rural banking scandal in Henan
An anti-graft storm continues rattling the banking sector in central China's Henan Province after a multibillion-dollar scam swindled thousands of depositors across the country.
Two more banking regulators in Henan have been placed under investigation, joining a growing list of fallen officials as investigators zero in on the province's rural banking system. Eight officials in Henan's banking regulatory system have now been brought under investigation since March.
Quick hits /
China shocks with rate cut as data shows 'alarming' slowdown
China's Stock Connect program adds trading days in holiday fix
Editorial: Promoting greater fiscal discipline in government
BUSINESS & TECH
U.S. companies are required to obtain government permission before exporting electronic design automation, or EDA, software designed for the development of chips. Photo: IC Photo
Chips /
U.S. restrictions on chip software exports could bite in the long term, analysts say
New U.S. restrictions on the export of semiconductor design software will have little immediate effect on Chinese chipmaking, analysts said, but could throttle the nation's research into the next generation of advanced semiconductors.
While they do not mention China by name, the new rules are seen as the latest in a string of measures by which Washington is trying to constrain the country's push to develop its semiconductor industry, which Beijing sees as a strategic priority.
Electric cars /
Wuling-GM venture speeds into Indonesia with new electric car
A General Motors Co. joint venture with Chinese state-owned SAIC Motor Corp. Ltd. launched its first electric vehicle in Indonesia, a major step into a market dominated by Japanese automakers.
SAIC-GM-Wuling Automobile Co. Ltd. is selling its new Wuling Air EV — a low-cost, two-door electric mini car with a smart voice control function — in two versions, retailing at 238 million rupiah ($16,200) and 295 million rupiah, the company said Friday.
Huawei /
Huawei reverses six-quarter sales slump as diversified businesses offset sanctions
Huawei Technologies Co. Ltd. booked its first quarter of year-on-year revenue growth in the three months ended in June after six quarters of declines dating to late 2020, as its business diversification helped to offset the impact of U.S. sanctions on its smartphone sales, according to the company's data released Friday.
The Chinese tech giant posted 170.6 billion yuan ($25.3 billion) of revenue in the second quarter, up 1.43% from a year ago, according to Caixin's calculation, an improvement over a steep 14% first-quarter year-on-year drop in revenue to 131 billion yuan.
Quick hits /
Battery giants, Hyundai concerned by U.S. moves on China supplies
Mercedes, CATL partner on $7.6 billion Hungary battery plant
Long Read /
What challenges await Singapore's new leadership
GALLERY
Yangtze brought low by summer drought
Recommended newsletter for you /
Caixin Must-Read Newsletter brings you the best of our coverage and stories you can't miss. You can opt-in now and get hand-picked news coverage delivered to your inbox each week for free.
Thanks for reading. If you haven't already, click here to subscribe.
Share this article
Open WeChat and scan the QR code

Caixin China Biz Roundup: China Warns Not to Bet Against the Yuan