CX Daily: China's Halting Steps to Dial Back 'Zero Covid'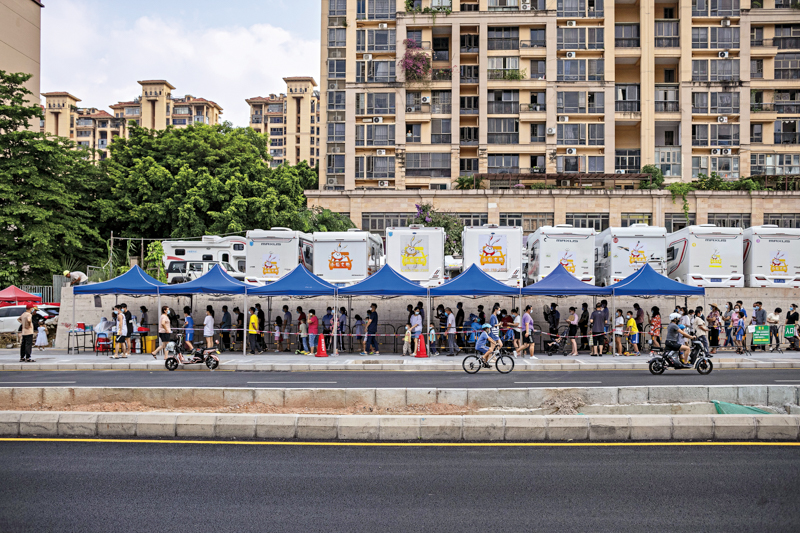 Residents line up to have nucleic acid tests in Shenzhen on Sept. 6, 2022.
Covid-19 /
Cover Story: China's halting steps to dial back 'zero Covid'
As most of the world has largely returned to pre-pandemic life, China is quietly easing its stringent "zero-Covid" policies even as several major cities experience a surge in infections.
In Shijiazhuang, the capital of northern China's Hebei province about 165 miles south of Beijing, Sun Xin said he could feel the change Nov. 12: Lockdowns of some communities were lifted, and residents didn't need to show nucleic acid test results to enter public places.
More changes came two days later, Sun said. Most testing kiosks across the city were closed. Residents no longer had to be tested every three days. But the policy was reversed again after one more day.
Chinese city reverses Covid control easing as case count surges
Flights /
Flights to China still lag demand despite easing of some Covid restrictions, sources say
Despite the easing of some inbound travel restrictions, flights to the Chinese mainland from various key global hubs still can't meet demand as the resumption of international flights hinges on Covid outbreaks and policies at the local level on the mainland, sources told Caixin.
The uncertainty may dash hopes for a quick rebound of inbound flights after China announced an end to its "circuit breaker" mechanism, which suspended airline services on a specific route if Covid-positive passengers on a flight exceeded a certain level after testing upon arrival.
FINANCE & ECONOMY
The Manulife Financial Centre in Hong Kong. Photo: Courtesy of Manulife 
Manulife /
Canada's Manulife approved to take full control of its China mutual fund venture
Canadian insurance giant Manulife Financial Corp. won approval to become the fourth foreign company to operate a wholly owned mutual fund business in China.
The Toronto-based financial firm, which controls 49% of Beijing-based mutual fund joint venture Manulife Teda Fund Management Co. Ltd., was cleared to acquire the remaining 51% stake from its Chinese partner, according to a notice issued Friday by the China Securities Regulation Commission.
Caixin Summit /
China should set GDP target of no less than 5% for 2023, top state economist says
China should set a GDP growth target of no less than 5% for 2023, Liu Shijin, a member of the Chinese People's Political Consultative Conference (CPPCC), the top advisory body on governance, said at the 13th Caixin Summit, emphasizing the need to reverse the economic downturn.
"China's economy has been growing at an average pace slower than its potential for the past three years," Liu, a deputy director of the economic committee of the of the national committee of the CPPCC, told a panel audience Friday in Beijing.
Former vice minister calls for global sustainability disclosure standards
Bonds /
New rules to streamline foreign investment in $20 trillion bond market
China issued new rules Friday to streamline foreign institutions' investments in China's $20 trillion bond market and make the market more appealing to them, according to the State Administration of Foreign Exchange (SAFE).
The regulations, jointly issued by SAFE and the People's Bank of China, provide detailed guidance on how foreign institutional investors should manage their cash accounts, settle foreign exchange and manage risks for investments in China's bond market. They take effect Jan. 1.
Quick hits /
Two former top men at Beijing Trust firm hit with graft probes
Former Huishang Bank chairman expelled from Communist Party
Editorial: China and U.S. can prevent a new Cold War
BUSINESS & TECH
Sentiment /
Chinese small businesses bearish on fourth quarter due to virus restrictions, survey shows
Chinese small business owners have weaker expectations for their fourth quarter performance due to sluggish demand and uncertainties around Covid-19 policies, according to a survey by Peking University and fintech giant Ant Group Co. Ltd.
A measure of business confidence among micro and small companies declined to 45.5% for the fourth quarter, the lowest since the first quarter of 2021, according to the survey published Thursday. The online poll queried 20,180 business-owners, with an average of 5.8 workers.
Self-driving /
Pony.ai turns to assisted driving as fully autonomous tech hits barriers
Pony.ai Inc. established a new department to develop assisted driving systems for makers of passenger vehicles as the Toyota-backed self-driving startup tries to expand its revenue streams beyond autonomous taxis and trucks.
The new unit secured a contract to install its assisted driving technology in a model scheduled for mass production in 2023, Pony.ai's Chief Operating Officer Wang Haojun said in a recent interview with Caixin. Wang declined to name the carmaker.
Quick hit /
JD.com reports higher quarterly sales defying China downturn
Long Read /
How China's ESG policy is progressing
GALLERY
Unique venues for the beautiful game
Recommended newsletter for you /
Caixin Must-Read Newsletter brings you the best of our coverage and stories you can't miss. You can opt-in now and get hand-picked news coverage delivered to your inbox each week for free.
Thanks for reading. If you haven't already, click here to subscribe.
Share this article
Open WeChat and scan the QR code

Caixin-Sinica Business Brief: China Mourns Death of Former President Jiang Zemin