CX Daily: Chinese Cities Continue Shift From 'Zero-Covid'
Covid-19 /
Chinese cities continue shift from 'zero-Covid'
Major cities across China including Beijing, Shanghai and Guangzhou further eased local Covid-19 restrictions on travel and quarantine after the country announced sweeping changes to its virus control regime.
Starting Thursday, people entering Shanghai or Nanjing no longer need to take a Covid test on arrival or be tested daily during the following three days, according to statements issued by local authorities. The strict measures discouraging travel had been widely implemented in China since September.
Shanghai also scrapped the requirement that travelers report their travel plans to relevant staff before and after entering the city as well as the need to take a test on the fifth day after arrival.
FINANCE & ECONOMY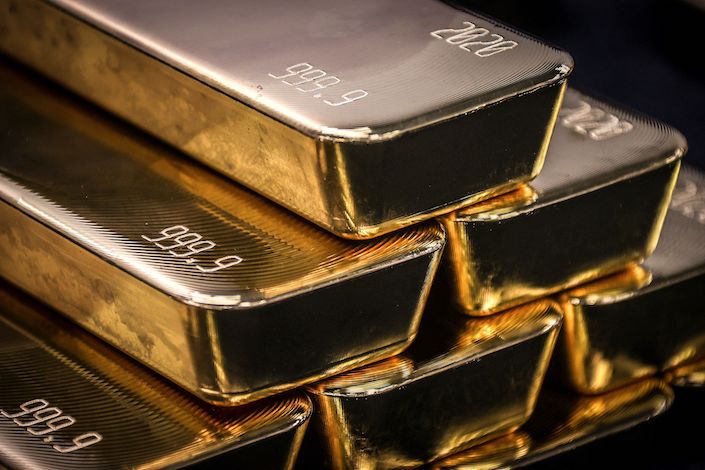 China's central bank has the seventh-biggest bullion hoard in the world.
Gold /
China reports first rise in gold reserves since 2019
China's central bank added 32 tons of gold worth around $1.8 billion to its reserves, the People's Bank of China said Wednesday, the first increase it has disclosed in more than three years.
The addition brought China's total gold reserve to 1,980 tons, the seventh-biggest central bank bullion hoard in the world, data from the State Administration of Foreign Exchange (SAFE) showed Wednesday.
Carbon /
China's local governments set out plans to meet 2030 peak carbon goal
Over a dozen provincial-level regions in China released detailed action plans on achieving peak carbon emissions by 2030, with the southwestern province of Guizhou and North China's Inner Mongolia autonomous region among the most recent to make announcements, public information compiled by Caixin showed.
Guizhou will aim to make nonfossil fuels account for about 20% of its total energy consumption by 2025 and 25% by 2030, according to its plan issued in November. The province also set a target of lowering its carbon dioxide emissions per unit of GDP — also known as "CO2 emissions intensity" — by more than 65% by 2030 as compared with 2005.
Quick hit /
China's Politburo shifts focus to boosting economic growth
BUSINESS & TECH
On Dec. 6, business representatives from Ningbo flew to the United Arab Emirates via Shanghai. Photo: Ningbo Municipal Bureau of Commerce
Trade /
Two provinces look to drum up business overseas as exports slump
The governments of two Chinese coastal provinces are helping local companies drum up business and strengthen economic ties overseas as China begins easing strict Covid controls that have largely hindered enterprises from forging connections abroad.
The overseas push shows how Chinese trade companies are trying to find their feet as exports have declined, shrinking in November by the highest rate since the early days of the pandemic in China.
Sentiment /
British businesses prepare for rising Covid infections as China scales back controls
British businesses are girding for new disruptions caused by an expected surge in coronavirus infections after an overhaul of China's "zero-Covid" policy, British Chamber of Commerce Chairman Julian MacCormac said Thursday at the launch of the group's fifth annual sentiment survey.
It comes a day after China announced a new 10-point plan to ease virus restrictions including lifting testing requirements for domestic travelers and allowing those who fall sick to quarantine at home in most circumstances rather than in centralized facilities.
Jack Ma /
Jack Ma resigns as president of General Association of Zhejiang Entrepreneurs
Alibaba Group Holding Ltd. co-founder Jack Ma resigned as president of the General Association of Zhejiang Entrepreneurs, a position he held since 2015.
The Chinese billionaire was the first president of the nonprofit organization formed by Zhejiang businesspeople in 2015. Nan Cunhui, chairman of electrical components manufacturer Chint Group Co. Ltd., was elected as the new president Wednesday, the association said.
Quick hits /
Red-hot lithium rally cools as China's BYD flags surplus
Tesla offers China buyers further subsidies to boost sales
Long Read /
How Jiang Zemin helped coin 'socialistic market economy'
GALLERY
Recommended newsletter for you /
Caixin Must-Read Newsletter brings you the best of our coverage and stories you can't miss. You can opt-in now and get hand-picked news coverage delivered to your inbox each week for free.
Thanks for reading. If you haven't already, click here to subscribe.
Share this article
Open WeChat and scan the QR code

Caixin China Biz Roundup: Mystery Deepens After Missing Teen's Body Found Behind School