In Depth: Beijing Sees More 'Blue Sky' Days
A national-level push that crossed regional and bureaucratic divides helped Beijing to meet its pollution reduction goal in 2017. Above: In December 2016, residents in Shijiazhuan, Heibei province, practice group dance on a heavily polluted day. Photo: Caixin
On the second work day of the year, the mood was unusually relaxed in the Beijing Environmental Protection Bureau's conference room.
The bureau had just announced that the average fine particulate matter (PM 2.5) concentration in the capital's air had been 58 micrograms per cubic meter in 2017— better than the target set by the national government earlier in the year. Beijing had, according to official standards, won the war against air pollution.
Just a year earlier, this had been considered an unwinnable war.
In 2013, Beijing's average PM 2.5 concentration was 90 micrograms per cubic meter. That year, China's State Council issued a document outlining 10 measures for preventing and controlling air pollution, focused on the country's northeastern Beijing-Tianjin-Hebei (Jing-Jin-Ji) region. The document listed targets to be achieved by the end of 2017, including a reduction of Beijing's PM 2.5 concentration to 60 micrograms per cubic meter.
But by the end of 2016, after three years of government anti-pollution efforts, the concentration in Beijing was still 73 — only an 18% percent reduction. In order to drop from 2016's fine particulate matter levels to meet the 60 microgram goal in 2017, the city would have to reduce the concentration in one year by as much as it had done in the past three years combined.
A screen shows blue sky at the smog-shrouded Tiananmen Square in central Beijing on Jan. 23, 2013. Photo: Visual China
An unprecedented national-level push that crossed regional and bureaucratic divides helped the city to not only reach its PM2.5 concentration goal in 2017, but also achieve significant drops in levels of other pollutants. In 2017, Beijing's sulfur dioxide level, for example, was 20% lower than in 2016, according to a report by the city's environmental protection bureau.
The World Health Organization's guideline for the acceptable level of PM 2.5 over the course of a year is an average of 10 micrograms per cubic meter of air. London, which before the 1960s had battled the infamous pea-soup smog for centuries, had an average concentration of between 10 and 18 micrograms across most of the city in 2013. The 2014 average in midtown Manhattan, New York City's most-polluted neighborhood, was 14.2 micrograms.
The city's "victory" has come at significant social and economic cost, with industrial firms in the Jing-Jin-Ji region asked to slash their production volumes and thousands left shivering in the harsh northern winter after a clean-energy heating plan went awry.
Toxic 'mild' pollution
The Chinese government's latest anti-pollution campaign has its roots in some strange discrepancies Beijing residents began noticing more than six years ago.
On the evening of Oct. 22, 2011, Pan Shiyi, chairman of real estate developer SOHO China, posted on his Weibo account a screenshot of real-time PM2.5 data from the U.S. embassy in eastern Beijing. The concentration was 439 micrograms per cubic meter: a "poisonous" level. "OMG! Toxic," Pan wrote in the post.
But, according to the city's environmental protection bureau, the air in Beijing that day was only "mildly polluted." Pan's screenshot was reposted more than 4,000 times, and he had over 10 million followers.
Then, a week later, popular children's author Zheng Yuanjie remarked, also on Weibo, that a photo he took of Beijing that afternoon looked like the inside of a huge gas tank, even though the official data from city authorities described only "minor pollution."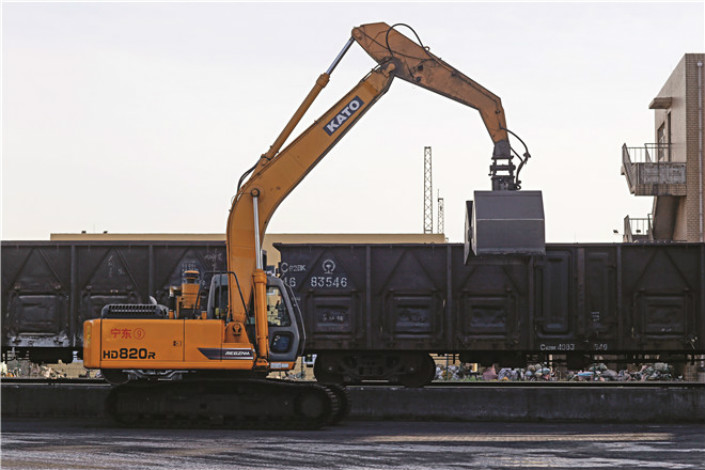 A excavator unloads coal from a train at a Tianjin port on April 11, 2017. The government has banned trucks from carrying coal to the port. Photo: Xia Weicong/Caixin
It was later revealed that China's authorities only measured larger particulate matter (PM10) when evaluating air pollution, but not nitrogen dioxide, sulfur dioxide, ozone, and PM 2.5 — pollutants that were measured by the U.S. embassy's monitoring equipment, as well as in most developed countries.
Amid growing public outcry over the discrepancies, the central government published new air quality standards in February 2012, which took into account World Health Organization recommendations, including the inclusion of PM 2.5 and other pollutants in its measurements.
The new standards were followed by increasingly specific and strict government documents declaring war against pollution. In August 2017, a number of government bodies, including the Ministry of Environmental Protection and the National Development and Reform Commission, issued the strictest national-level measures for the Jing-Jin-Ji region and surrounding areas to date, including a requirement to halt road construction, demolition, and excavation work before the winter heating season, as well as to heavily reduce steel and iron production capacity.
Rare coordination
Issuing national-level action plans was the easy part — once that was done, China faced the far greater challenge of coordinating between the many regional and central government bureaus that had jurisdiction over the Jing-Jin-Ji area.
"The country has been through so many five-year-plans over the years . . . but real results have only come in the past five years," Feng Yinchang, a professor of environmental science and engineering at Nankai University, told Caixin. "Why were we unable to achieve the results we wanted before that? From control of dust-scattering, to coal-burning, there's no issue that can't be dealt with by some department or another. But in the past, once pollution entered the picture, everyone placed all the burden on the environmental protection department."
But in 2017, a favorable confluence of interests put different bureaus and local governments firmly on the side of the drive for cleaner air.
In Tianjin, this meant a ban on accepting shipments of coal transported by diesel vehicles, despite initial reservations by certain government departments against such a measure.
Diesel-fueled trucks, which account for only 10% of China's motor vehicles had been found to contribute 70% of total pollution from vehicles, due to the coal dust they scattered, as well as the sub-standard diesel their tanks were filled with. Some diesel sold in Hebei province had over 250 times the legal sulfur limit, and around half of all the diesel tested in random checks in November 2016 didn't meet official standards, according to the Ministry for Environmental Protection.
In December 2016, the ministry asked Tianjin's port to stop accepting coal transported by diesel-fueled trucks by July the following year. Trucks originating in China's coal centers -- Inner Mongolia, Shanxi, and Shaanxi -- passed through Beijing's outer Yanqing county on their way to northeastern ports, scattering coal dust and emitting pollutants along the way.
But the ministry's request was not well received. "At the time, we were all flabbergasted," Tianjin Port Co. Ltd. staffer Wang Yin said. The state-owned company disagreed with the policy, which it said would destabilize the country's coal supply, as well as the market price of coal. Coal shipments had negligible impact on traffic and the environment, anyway, Tianjin Port said at the time. Additionally, Tianjin Port's three subsidiary coal transport companies would see their finances suffer under the policy.
The Ministry of Transport also initially opposed the plan, citing stability again as a reason, a person close to the ministry told Caixin. But other stakeholders, like the Beijing and Hebei province governments, as well as national railway operator China Railway, which would provide the main alternative coal shipment method to diesel-fueled trucks, all supported idea. Beijing's city government in particular hoped the ban would be a miracle cure for its pollution woes.
The turning point came in April 2017, when Tianjin's air cleanliness ranking for the previous month fell from 57th in the country in January to 65th. Then-mayor Wang Dongfeng told the city government at an April 11 meeting that Tianjin needed to double down on anti-pollution efforts. On the same day, Wang visited Tianjin's port to assess the situation. Hours later, the city's environmental protection bureau held an urgent meeting, where it finally decided to accept the ban on coal shipments by diesel-fueled trucks.
Tianjin's port began turning away these shipments at the end of April, while other Hebei ports, including Qinhuangdao, Caofeidian, and Huanghua, put the ban in place by mid-September.
The cost of blue skies
Beijing's fight for blue skies is not without losers.
In some of the Jing-Jin-Ji region's industrial hubs, businesses reeling from strict government restrictions are learning that one size doesn't fit all.
"I've been persecuted to death," Ding Liguo, the chairman of Delong Steel in Xingtai, Hebei province, told Caixin. "We fulfilled our environmental protection duties, but we're still required to limit production, it really doesn't make sense."
Ding's company was given an award because of its environmental leadership, and he says he has sent staff to study steel companies abroad, in order to raise his family company's environmental friendliness to above national standards. Yet, due to inflexible rules set by Xingtai's city government, Delong Steel must cut its production to one third during the 2017-2018 heating season, far lower than the province-wide cap of 50%.
Xingtai city did not actually ask for Delong to cut its production by more than 50%, company president Wu Yujie told Caixin. But Delong's three blast furnaces are at a size where, if they turn off just one, the company reduces their production volume by only 33.3% — not enough to satisfy city officials. As a result, Delong must turn two furnaces off, which leaves them at only one third their full production capacity.
"Our business has done a good job in environmental protection, so it should be exempt from production limits, or at least not face greater restrictions," Ding said. Adding to Ding's sense of being unfairly persecuted is the fact that Xingtai's only other local steel company has a similar total production capacity and inferior environmental practices, but because of their specific furnace configuration, Delong's competitor is allowed to maintain a higher production volume during the heating season.
Aside from the economic cost faced by companies like Delong, the improvements in the capital's air quality have also come at significant social cost.
Poorly planned attempts to switch households in the region from "dirty" coal-fired heating to natural gas heating have resulted in gas shortages during the peak winter heating season, affecting vulnerable groups like hospital patients and schoolchildren.
The Affiliated Hospital of Hebei University said its gas company had limited its supply, prompting the hospital to directly request help from the Baoding city government. Meanwhile, in Quyang County, Hebei, multiple rural schools did not get heating in time for the start of the official heating season, which began on Nov. 15.
Additionally, while Beijing's residents could breathe relatively easy last year, six cities in Hebei province recorded some of the country's worst pollution levels in 2017.
Experts are uncertain about the future of the region's air quality.
Direct shutdowns and executive orders can be quickly effective in reducing pollution in the short term, but the long term economic costs of letting resources idle could be high, Ma Jun, director of Tsinghua University's finance and development research center, told Caixin.
Over-reliance on administrative measures is not a sustainable path, Zhao Peihong, a researcher at the Hebei University of Economics, added.
In the next stage of the fight against air pollution, more consideration should be given to using market-oriented measures, Ma Jun said. If enough market-oriented incentives can be designed in order to meet air quality goals for the next five years, "there will no longer be a need for administrative measures," Ma said.
Contact reporter Teng Jing Xuan (jingxuanteng@caixin.com)
You've accessed an article available only to subscribers
VIEW OPTIONS
Share this article
Open WeChat and scan the QR code

China Stories: Illuminating the Silver Screen for the Visually Impaired