This Week's Movers and Shakers
From left: Sun Guofeng, Huang Yiping, and Jing Xiandong
| World of Finance
Sun Guofeng (孙国峰) started his job as the new head of the People's Bank of China's monetary policy department just as the government entered crisis mode. Sun, who replaced Li Bo (李波), made his first public appearance as director on Oct. 26, at a news conference where regulators tried to calm the markets amid a stock rout and a plummeting yuan. Both seem to have recovered somewhat after a Thursday phone call between Presidents Trump and Xi. Sun was a visiting professor at Princeton University, and has previously led the central bank's finance research institute.
Provincial networks: Former securities regulator stalwart Tong Daochi (童道驰) will join the Communist Party's Standing Committee in the tropical island province of Hainan, moving south from his current job as vice governor of Hubei province. This is the latest in a string of appointments of the alumni of financial regulators and institutions to positions of provincial power — including the vice mayors of Shanghai, Tianjin, and Chongqing, and the vice governors of Shandong, Zhejiang, Guangdong, Sichuan, and Yunnan provinces.
Giving the IMF a hand: Huang Yiping (黄益平), professor of economics at Peking University (and former chief economist at Caixin), will be a member of the International Monetary Fund's "Comprehensive Surveillance Review" — basically a periodic check of the body's effectiveness that will help guide its priorities until 2025.
Ant Financial Services Group CEO Jing Xiandong (井贤栋) will also be part of the review — his team will advise on the "macro-economic consequences and policy implications" of technological change. Ant Financial mobile payments platform Alipay and Tencent's WeChat Pay are the two greasers-in-chief of China's digital economy.
| Companies Roundup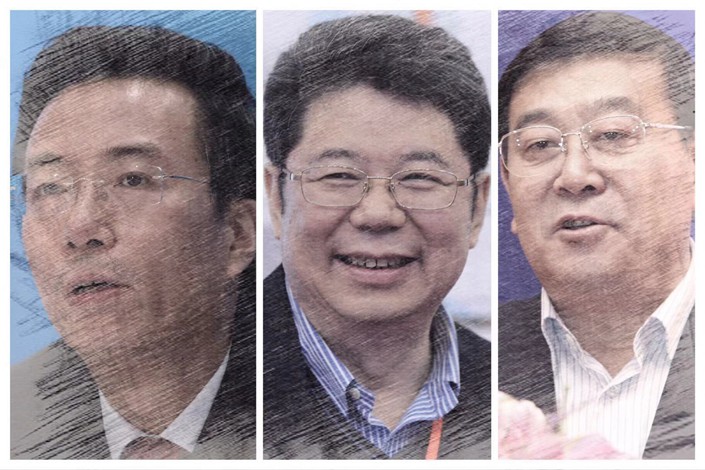 From left: Wang Dongjin, Ma Yongsheng, and Zhao Jianguo
Bundles of energy: China's biggest energy companies have new faces at the top:
· Wang Dongjin (汪东进) will be the new president of China National Offshore Oil Corp. (CNOOC) Group, the country's No. 3 oil giant, replacing Liu Jian (刘健). Wang first joined CNOOC in April as a board member and vice party secretary after spending 30 years within China National Petroleum Corp. (CNPC), the country's No. 2 oil giant and parent company of PetroChina Co. Ltd. If you're wondering what the country's (and the world's) No. 1 oil giant is, it's China Petrochemical Corp. (CPC), also known as Sinopec Group. Wang's got an Executive MBA from the University of Houston and a Ph.D. from the China University of Petroleum-Beijing.
In this alphabet soup of C's and P's, the main thing to remember is that these are all gargantuan organizations: Sinopec is the second-biggest company in the world by revenue. CNPC is just behind at No. 3. Together, China's top three oil giants have more employees than the People's Liberation Army has soldiers, and business is booming.
· Ma Yongsheng (马永生) will become Sinopec Group's chairman after Dai Houliang (戴厚良) steps down. Dai will remain chairman of the board. Ma, who has been at Sinopec since 1998, is a fellow of the China College of Engineering with an academic background in geology.
· Finally, China Huadian Corp. Party Secretary and Chairman Zhao Jianguo (赵建国) is retiring, multiple sources told Caixin. Huadian is one of China's "big five" power companies.
Up in smoke: Here's a deep dive on Xiong Shaohui (熊韶辉), the fuel trader whose company made nearly 20 billion yuan ($2.8 billion) vanish from its books. Expect cameos from a mysterious businessman sometimes known as Xie Yun (谢云), sometimes not, who also has connections to the oddly similar CEFC China Energy scandal.
| Corruption Casebook
Passing on the baton: Feng Lizhi (冯立志), former deputy head of the China Welfare Lottery Distribution and Management Center at the Ministry of Civil Affairs, is being investigated for alleged graft in lottery management. Feng's just the latest in a string of similar cases — last month, his former boss Wang Suying (王素英) was put under investigation for corruption, and two of Wang's predecessors have also been investigated and punished, one for corruption, the other for neglect.
China has two state-run lotteries, the China Welfare Lottery and the China Sports Lottery, with other forms of gambling banned on the Chinese mainland.
Contact reporter Ke Baili (bailike@caixin.com)
Read more about Caixin's Movers and Shakers.
If you think we're missing important moves, or if you've any other comments on this newsletter, please let us know.
You've accessed an article available only to subscribers
VIEW OPTIONS
Share this article
Open WeChat and scan the QR code

May 29 18:23

May 29 18:04

May 29 12:40

May 28 16:02

May 28 12:52

May 28 09:10

May 27 16:43

May 27 13:27

May 27 12:54

May 26 17:38

May 26 17:03

May 26 12:26

May 26 10:44

May 26 03:26

May 25 17:58
GALLERY