This Week's Movers and Shakers
(From left) Sun Guofeng, Wang Jingwu and Zhou Xuedong
The World of Finance
Merry-go-round at the central bank: the People's Bank of China (PBOC) is reshuffling its most important department heads. Here are the key moves:
Sun Guofeng (孙国峰) will likely become the new head of the Monetary Policy Department, replacing Harvard Law graduate and PBOC stalwart Li Bo (李波). Li's the man who's spent some of the last months denying that China is weaponizing yuan depreciation in the trade war with the U.S. Sun was a visiting professor at Princeton, and has previously led the PBOC's finance research institute.
Wang Jingwu (王景武) will likely be the next head of the Financial Stability Bureau (FSB), a core body responsible for staving off systemic risks. Slightly more of a mystery than Sun, Wang's previously worked at PBOC regional branches, and has been in the southern metropolis of Guangzhou since 2012.
Zhou Xuedong (周学东), the previous head of the FSB, will likely head the PBOC's general office. Every government ministry has a general office, which acts as the body's nerve center, paper shuffler and public relations office. While at the FSB, Zhou was instrumental in developing the new rules for China's 100 trillion yuan ($15 trillion) asset management industry.
Other moves:
(From left) Chen Wenhui and Zhang Qingsong
Chen Wenhui (陈文辉), a vice chairman at the China Banking and Insurance Regulatory Commission (CBIRC), is moving to the National Council for Social Security Fund as the new deputy head. He's the first to leave as the CBIRC slims down its leadership team.
Zhang Qingsong (张青松), previously vice president at Bank of China Ltd., will be the new party secretary and president of The Export-Import Bank of China. The banks are in the midst of a leadership swap: Zhang's predecessor Liu Liange (刘连舸) is now president at Bank of China.
Tangled Up in Bribery
A big show of greasy palms: More details have emerged from the case of disgraced former insurance watchdog Xiang Junbo (项俊波) and fugitive billionaire Guo Wengui (郭文贵). For those that want to get into the weeds, here's a chart showing the key relationships of the case, as we understand them so far. Check out Caixin's other coverage for a more in-depth look at how the two men are linked.
Note: The chart does not differentiate between different times — Xiang was not chairman of Agricultural Bank of China at the same time as he was heading the China Insurance Regulatory Commission, for instance.
New Guide for China's Foreign Investment
Zhou's latest new role: Former People's Bank of China Governor Zhou Xiaochuan (周小川) has replaced Zeng Peiyan on the advisory council of China's sovereign wealth fund, China Investment Corp. (CIC).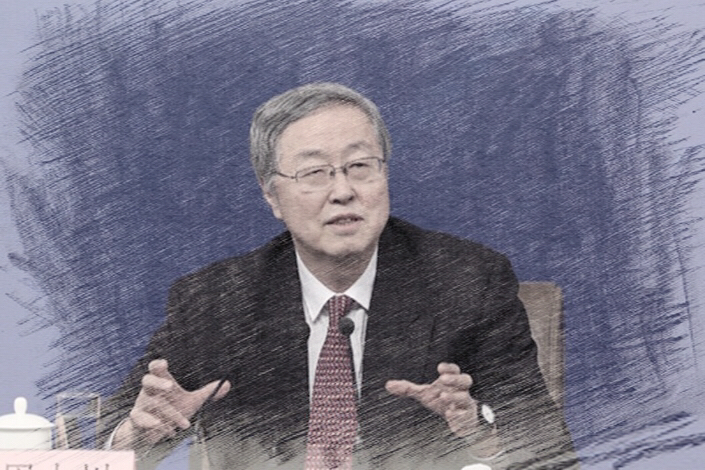 Zhou Xiaochuan. Photo: VCG
The good news: Zhou's going to be advising an organization which is doing pretty well already — it posted record returns last year. CIC held $941 billion in total assets at the end of the year.
The bad news: China's outbound investments are being met with increasing suspicion by foreign governments, especially the U.S. And fast-food titan Yum China Holdings Inc. just rejected a buyout offer from a consortium of investors that included CIC, according to reports. Zhou will have lots to ponder.
What we're still waiting for: The post of CIC chairman has been vacant since February 2017, when Ding Xuedong (丁学东) stepped down.
Mystery of the Vanishing Money Manager Ends in Arrest
Back in Beijing: Zhu Yidong (朱一栋), chairman of Shanghai Fuxing Group, has been brought back to China under arrest after fleeing the country owing 18 billion yuan to investors that bought his private equity products. He's being investigated for stock manipulation, among other crimes.
Zhu Yidong. Photo: VCG
The bigger picture: China's wealth management sector has ballooned in recent years — along with dodgy market practices and financial risks. This is a controversial case, with investors holding protests demanding the banks that provide custodian services to Fuxing Group protect their investments, prompting a heated debate over who's responsible for the missing money.
A rocky relationship:
"We're the partner of your dreams."— Fuxing Group's website.
"Wanting to be in a long-term relationship depends on compatibility and attraction."— From Zhu's last message on social media before he disappeared.
"(We) had some preventive measures, but never thought that he would run away." — An employee working at a company that cooperated with Zhu's Fuxing Group, speaking to Caixin.
More from Caixin on wealth management here.
Contact Reporter Ke Baili (bailike@caixin.com)
You've accessed an article available only to subscribers
VIEW OPTIONS
Share this article
Open WeChat and scan the QR code

05:03 PM

03:56 PM

03:11 PM

12:55 PM

Jan 15 05:56 PM

Jan 15 05:49 PM

Jan 15 05:06 PM

Jan 15 02:10 PM

Jan 15 01:25 PM

Jan 14 06:58 PM

Jan 14 06:54 PM

Jan 14 04:42 PM

Jan 14 02:13 PM

Jan 14 01:01 PM

Jan 14 12:51 PM
GALLERY