Photo Essay: 2018 Through the Lens of Caixin's Photographers (Part 1)
Editor's Note: As the year of 2018 comes to an end, we've picked 28 of our favorite photos that we took this year from every corner of the country. These photos capture unforgettable moments and offer a window into the lives and stories of others. We've covered the plight of regular families in rural areas and the success of celebrities. We've recorded laughter, loss, happiness, tedium, illness and death through the lens. The topics range from society, environment, health care, culture to education. We wanted to let you know the stories behind these pictures and what they mean to us.
Zhang Guifang, an 84-year-old who lives with her 64-year-old paralyzed son Huang Jinqiang in Tengshan village, Guangdong province, hoists her son out of bed every morning and drags him to where he sits and then drags him back before sunset. Her story reflects the plight of many parents of disabled people. According to the China Disabled Persons' Federation, 45% of the country's 85 million people living with disabilities were over 65 years old in 2006. Photo: Liang Yingfei/Caixin
Photographer's comment:
It took Zhang Guifang half an hour to drag her son the 3 to 4 meters from the bed to where he sits each day. During this ordeal, they panted, cursed and almost broke down from exhaustion. When the photo was taken, a sliver of sunlight shined into the room. Yet there is little light ahead for this family. "How can a tragedy be so absolute and so hopeless?" I thought.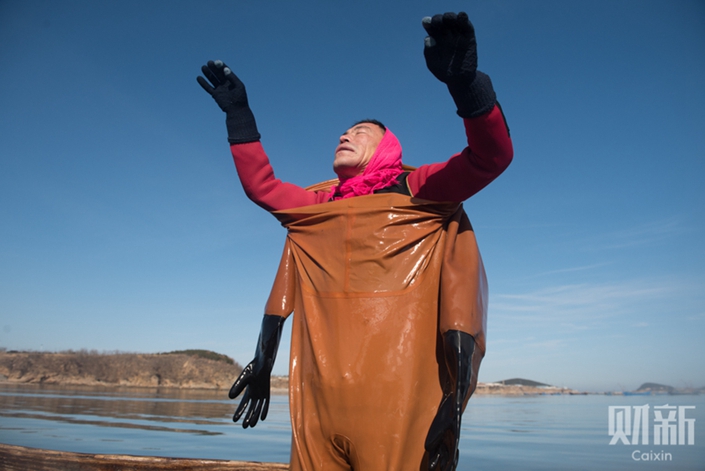 Ning Hai, a 44-year-old sea cucumber harvester, strips off his diving suit on Sunday after working in the freezing waters near in Dalian, Northeast China's Liaoning province. Harvesting sea cucumbers, an expensive delicacy, is a difficult and dangerous job, but wages have not kept pace with inflation in recent years. Most of Ning's colleagues are in their 40s now, and their livelihoods are threatened by the industry's increasing mechanization. Photo: Chen Liang/Caixin
Photographer's comment:
Behind the sea cucumber trade in China, there is a group of people who collect sea cucumbers, locally known as "haimengzi" which literally means "wild man in the sea." A sea cucumber harvester loads a 30-kilogram (66 pounds) weight belt hanging from the waist, carries an oxygen tank and then dives into the deep sea. The pressure increases quickly underwater, so a diver's lungs, blood vessels and bones come under strain, often leaving long-term effects. Wild sea cucumbers are rarely seen near the shore, just like younger harvesters. Young people are more interested in other industries, where the salaries rise faster.
A mountain polluted by a local mineral refinery is seen from above in Huayuan county, Hunan province, on Dec. 24, 2017. The pollution contains heavy metals and harmful chemicals, which can easily contaminate underground water. Photo: Liang Yingfei/Caixin
Photographer's comment:
I have always been confused about how to photograph environment stories. The scenes of dramatic conflicts I expect are not always visible — the reality is often dull. Sometimes they are hidden deep inside the ground like in sewer pipes. There is rarely a "perfect" disaster scene for you to photograph.
However, after I visited several mineral concentration plants in western Hunan, I did find the polluted water and chemicals that had scored the surface of the mountains, as if they were scars on skin. I was shocked at first, but quickly got used to the scenes just like the locals. Sadly, people are born to adapt to the environment, even though it's getting worse.
Snowy "dikeng," the cave-like underground living quarters in Central China's Henan province, are seen from above on Jan. 5, 2018. The history of dikeng goes back more than 4,000 years. The dwellings were first revealed to the wider world 85 years ago when they were spotted by a German pilot. Photo: Chen Liang/Caixin
Photographer's comment:
The squares seen in the photo are the yards of the dwellings. Since solid earth forms the walls and the ceiling of the dwelling, the locals don't need to use any wood to support them. Also, dikeng perfectly fits the environment and can keep the temperatures in the living area relevantly stable.
Ou Xiangbin's mother cries on the floor after dreaming of her son who fell to his death while climbing down a rope to leave the roof of a building he was working on in Zhengzhou, Central China's Henan province on Feb. 3. Ou and his coworkers were supposed to use a ladder, but it was removed by urban patrol officers who claimed that it was their duty to take away tools illegally placed in public space. Photo: Chen Weixi/Caixin
Photographer's comment:
When I visited the Ou family, I saw the 80-something mother lying on the bed like a dark shadow, crying in a weak voice. Ou's younger brother was sitting on the bed with a long face. His elder brother, who has poliomyelitis, was staring at the photo of him, leaving the crutches on the floor. No one wanted to talk to me. Suddenly, the old mother stumbled out of the bedroom and fell down, crying loudly. It was heartbreaking. I was shocked, but still pressed the shutter button to record the moment. "She dreamed of Ou Xiangbin again." After I dragged her to the bed, the elder brother said, "She is always like this these days, so we are used to it."
A child suffering from leukemia cries to his mother, while warm milk bags are tied to his arms to relieve the pain of injections, in Yanjiao, Hebei province. About 15,000 children are diagnosed with leukemia every year in China, according to data from the National Children's Medical Center. Photo: Chen Liang/Caixin
Photographer's comment:
Treatment of leukemia can take two to three years, so parents usually choose to rent apartments near the hospital with their sick children. Because they leave their hometowns, the children lose their friends. Instead, they become "friends" with illness and loneliness. However, the "school in hospital" changed the situation. In Lu Daopei hospital, Liu Qiuli, a former leukemia patient teaches literature, math, English and art to child patients. Xiaozhi, the child seen in the photo, had made some friends in the school, but even though he was willing to invite friends home, he couldn't control his temper sometimes. Liu said that child patients are more sensitive, have more self-respect, and are more eager to make friends, but don't know how to get along well with others.
Chen Dadong, the founder of Xiaobaige Kindergarten, stands on the ruins of two three-story school buildings that cost 6 million yuan ($870,000) to build. 580 students were left without a school to go to after the kindergarten was torn down in Huaiyang county, Henan province, in February. Dozens of institutions, mostly private kindergartens and primary schools, were demolished when local authorities decided to crack down on the unlicensed use of land by school operators, though the institutions had education licenses and had been allowed to operate for years. Photo: Chen Liang/Caixin
Photographer's comment:
The demolition caused 35.6 million yuan (around $5.16 million) in direct economic losses to the owners of the institutions. Compared to homeschools, the damaged kindergartens had longer history, a better reputation, better educational infrastructure and offered a higher quality of education. The owners are now in serious debt.
Three members of China's top political consultative body get interviewed during China's two annual political sessions on March 3 in Beijing. Since a "delegate passage" was reserved for the first time, reporters were given more opportunities to interview participants. Photo: Liang Yingfei/Caixin
Photographer's comment:
Although the "delegate passage" was established so the media could interview the meetings' participants, I still found it hard to differentiate the faces among the parade of people walking past. I finally gave up taking photos at the front, and made a detour to the back to reveal this "grand" scene.
Li Ka-shing, who was the 23rd richest person in the world with an estimated net worth of $37.7 billion in January, sits in front of a window in his 70th floor office in Hong Kong on March 12. The 90-year-old announced his retirement in May. Photo: Guo Xianzhong/Caixin
Photographer's comment:
Li's interview with Caixin was his last before his retirement on March 12. During the half-hour interview, he spoke with the enthusiasm of a man much younger than 90. After the interview, I led Li to pose for photos. He patiently cooperated with me, always smiling his signature smile. But I was not satisfied with the photos that I had taken. So I asked him to stand in front of a window against a backdrop of Hong Kong, the city where he fought for a living almost his entire life. He agreed and sat down near the window. I still think it was a pity that I only took two. After we finished, Li's secretary noticed my Rolleiflex camera and mentioned that Li also liked photography when he was young. It made me wonder what Hong Kong looked like in Li's photos.
Classmates Jia Yi and Ma Nan hold hands as they run to a dance rehearsal in Duancun town, Hebei province, on March 22. For them and other young ballet students in the town, the province's art college is an escape from rural life, and an alternative to the exam-driven route to success that was the only option for previous generations. Photo: Liang Yingfei/Caixin
Photographer's comment:
I did a pleasing interview that was uncommon in Duancun town. Girls are dancing and running in the countryside. The photo was taken one week before the Hebei Art School's entrance exam, which was very difficult for those rural children. Though most of them may fail the test, they can still wipe away tears and dance with music again. I can see a future full of possibilities for those children.
Students from No. 3 Middle School in Mizhi county pass through a narrow alley to leave school in Shaanxi province on May 2. Five days earlier, a man with a knife stabbed 19 students at the school, killing nine. Photo: Ding Gang/Caixin
Photographer's comment:
The photo was taken six days after the Mizhi stabbing. People were standing on both sides of the alley, looking at it as if they were looking at a stage before a performance. The people had sprinkled chicken blood on ground, which they believed would protect them against evil. Fresh cement was found covering the blood left on the side of a wall. After the school bell rang, more than 1,700 students walked in a line across the alley. Their nine dead classmates will never go back home with them.
70-year old Gong Wanxiu harvests a local plant on May 8 to earn money in Suizhou, Hubei province. Gong's family was evacuated from Hanjia Island in a neighboring city, along with more than 100 other households, as part of a government-sanctioned relocation program in early 2010 to make way for the construction of the South-North Water Diversion Project. Photo: Chen Liang/Caixin
Photographer's comment:
"Send the clean water to north, leave the bitter water to us," a migrant wrote in a poem. For the construction of the South-North Water Diversion Project, more than 300,000 people were asked to leave their homes near Danjiangkou Reservoir, one of the largest reservoirs in Asia. Some of the migrants had been asked to move three times because of construction projects since 1950s. Even though they were relocated, they felt homeless. Former fishermen found it hard to breed livestock; farmers can't get enough water for irrigation; the youth who lost their jobs had to run their own businesses, and the elderly had to dig for local plants to make a living.
Cheng Xingfeng, the mother of a Maoba Middle School student who has been missing since the 2008 Sichuan Earthquake, carries the 30th banner she has placed on the ruins of the school every May 12 since the quake 10 years earlier. The earthquake killed nearly 70,000 people in two minutes, injured 370,000 and left nearly 20,000 missing. Photo: Liang Yingfei/Caixin
Photographer's comment:
Cheng Xingfeng stood in front of the memorial banner, using it to "talk" with her son in the heaven. Though surrounded by several reporters taking photos or videos, she did not seem to be bothered. The parents who lost their children can be recognized easily among the crowd. A part of their energy has gone along with their children's passing, even after 10 years.
A family of three mourns their dead family members on May 12 in front of a building damaged during the 2008 Sichuan Earthquake. Photo: Liang Yingfei/Caixin
Photographer's comment:
Before an interview, the survivor of the 2008 Sichuan Earthquake that I wanted to talk to said: "Don't interview me. I was badly hurt by photographers." She became a famous survivor after she was rescued after spending two days trapped in a fallen building. Two years later, a photographer took her to the ruins to take photos of her, regardless of her post-traumatic stress disorder. I felt awkward and left. I felt like an invader, having witnessed the fallen buildings and the damaged streets.
Women weed a local grass-seed farm on June 3 at Horqin's Right Middle Banner in the Inner Mongolia autonomous region. In recent years, the local government has instituted a grazing ban in an attempt to reverse the deterioration cause by unregulated grazing. Many herdsmen have learned to farm and can earn nearly 100 yuan ($14.44) per day. Photo: Guo Xianzhong/Caixin
Photographer's comment:
I initially planned to visit a horse ranch to do an interview, but ended up stopping at this farm when I saw people working on the land. The women in the photo told me that they used to be herdsmen, but became farmers later after the grazing ban went into effect. Most of the local herdsmen quit their nomadic life and settled down. Their children are mostly studying and living in town, and are no longer interested in nomad's life.
Translated by Gao Baiyu (baiyugao@caixin.com)
Read more: 2018 Through the Lens of Caixin's Photographers (Part 2)
You've accessed an article available only to subscribers
VIEW OPTIONS
Share this article
Open WeChat and scan the QR code