32 Wind Power Projects Cut in Southern China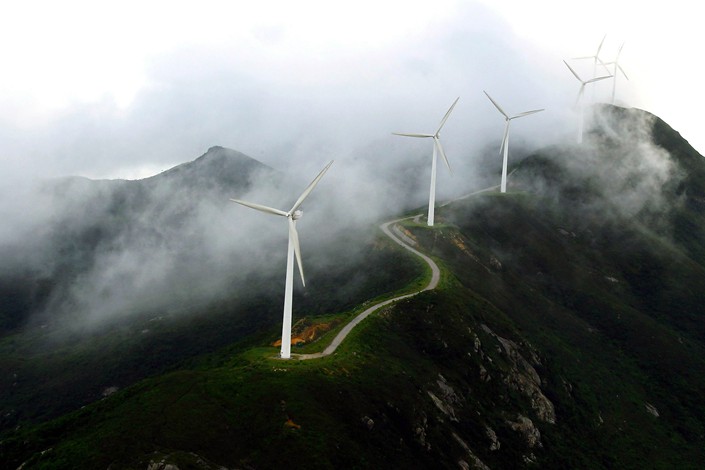 Wind turbines in Zhuhai, Guangdong province in 2010. Photo: VCG
South China's Guangdong province is abandoning plans to build 32 wind power projects with a total capacity of 1.62 gigawatts (GW) as the country shifts toward subsidy-free renewables that can compete with other forms of generation without state support.
The Energy Bureau of Guangdong announced this week that it was pulling the plug on the projects, following a request from the National Energy Administration (NEA) that older solar and wind projects where construction had not started in the two years after approval be scrapped or made to apply for an extension.
The projects to be scrapped are land-based, with plans remaining for the 12 GW of offshore power the province announced last year in a major escalation of its renewables ambitions. Aside from the 1.62 GW to be scrapped, another 11 planned projects totaling 437.5 megawatts of capacity will have to re-register and prove their cost efficacy.
China is home to around a third of the world's 600 GW of wind capacity, with the country adding 59 GW of new capacity last year alone, according to the World Wind Energy Association.
Yet much of the growth occurred in a haphazard manner and was fueled by subsidies the government is struggling to pay, with many solar and wind generators battling to stay afloat as they await a total 60 billion yuan ($8.9 billion) in subsidy back payments. The government unexpectedly pulled the plug on further subsidy support for new projects on May 31 last year, causing panic among renewables operators and component-makers.
Cutting older projects in Guangdong is part of an effort to reduce the subsidy burden, an expert on national power planning told Caixin. While wind projects in other parts of China are reaching price parity with electricity generated from coal, Guangdong appears unsuited to land-based development, with state planner the National Development and Reform Commission (NDRC) reckoning Guangdong wind power costs 30% more than that from coal. The province's offshore wind is thought to be more cost-competitive.
The NEA and NDRC continue to promote renewables, but with an emphasis on promoting subsidy-free projects that can compete with coal power on their own terms, according to a January notice.
It is also expected that the government will introduce greater market reforms that will allow electricity users to buy a larger share of their energy directly from renewables producers, encouraged by an anticipated renewable energy quota system. Experts also think that an improved system for interprovincial energy trading will be introduced in the near future, allowing renewables-poor provinces such as Guangdong to share the natural endowment of hydropower-rich Sichuan, for example.
Contact reporter David Kirton (davidkirton@caixin.com)
You've accessed an article available only to subscribers
VIEW OPTIONS
Share this article
Open WeChat and scan the QR code