In Depth: Risks Are Building Up in China's Internal Finance Companies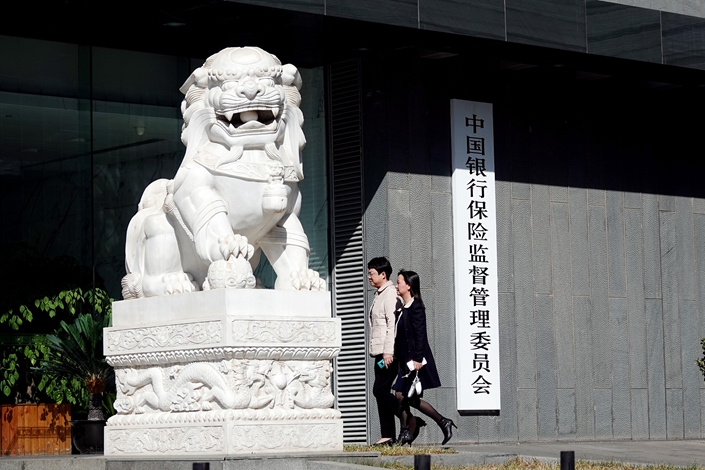 The Beijing headquarters of the China Banking and Insurance Regulatory Commission. Photo: VCG
At last year's World Financial Forum, Sun Hengchao, chairman and controlling shareholder of Baota Petrochemical Group Co. Ltd., lamented how hard it was for private companies to get financing in China.
If a company never borrows, its ability to increase its market share will be limited, but if it borrows too much, that can lead to other risks, Sun told Caixin in an interview at the annual event in Davos, Switzerland. He noted that this situation calls for management to make wise decisions and maintain a proper debt ratio as a company grows.
Before the year was out, Sun was under arrest, along with his son Sun Peihua, the chairman of Baota Petrochemical Group's finance arm, the latter company said in a statement on Nov. 19. At the time, it was unclear what the Suns were accused of, but several company sources said the charges were likely related to the company's debt problems. At the end of the year, the finance arm, Baota Petrochemical Group Finance Co. Ltd., had nearly 10 billion yuan ($1.45 billion) in overdue payments on financing bills, a source close to the regulators told Caixin.
The case of Baota Petrochemical Group was one of several reported defaults and missed debt payments over the last year that have raised the market's hackles about risks building up in an obscure and under-regulated corner of China's financial sector — the finance units of state-owned and private enterprises.
In China, these internal finance companies are the subsidiaries set up by conglomerates and other companies to help manage their funds and keep financial risks under control. In some ways, they operate much like the treasury departments of large Western companies — regularly borrowing and lending out money to peers through a variety of short-term debt instruments such acceptance bills and commercial paper. These financial tools help companies cover expenses like payroll as they come up without having to dip into reserves that might be locked up in longer-term investments. At the same time, companies with extra cash on hand can use these same debt instruments to lend out idle funds to other companies in need of short-term funding.
Gradually, however, China's growing number of finance companies have been scaling up their fundraising via other financial instruments such as bond issuances and large certificates of deposit. They also began using acceptance bills and commercial paper in leveraged financing, with added to the risk of such deals. Regulations have not kept up.
Issues in these two financial markets in particular caused enough of a concern that the Association of Finance Companies of China, an industry group, held a meeting in April to discuss finance companies' dealings in acceptance bills and commercial paper.
The build-up of risk within this segment of the finance industry has sparked concerns that the finance companies of other large conglomerates might also be in trouble. According to people within the banking sector, market participants are now paying close attention to big-name companies such as the former high-flying conglomerate HNA Group Co. Ltd., aluminum manufacturer China Zhongwang Holdings Ltd. and food giant Xiwang Group Co. Ltd. because the bills issued by their finance companies carry abnormally high interest rates — indicating a high risk of default.
This situation might be even more precarious considering that the survival of these finance companies may ultimately hinge on the health of their parent companies. "A finance company is built upon the strength and risk management capabilities of the entire enterprise group," said an executive of the finance arm of a state-owned enterprise (SOE) in South China's Guangdong province.
Government supported
Finance companies were much more of a rarity in China until about 15 years ago. Before 2005, they had been heavily regulated because of the potential for risky lending among them. From 2000 to 2004, Chinese regulators closed one finance company and restructured more than 10 others, while only allowing five new ones to be established.
It could take a long time to get government approval to set up a finance company, according to one executive at the finance company of an SOE based in Guangdong. "Back then, TCL spent eight years applying for a license to set up a finance company," the executive recalled, referring to Chinese electronics giant TCL Corp., which established its own finance company in 2006. "It's surprising that so many finance companies were established so quickly later on."
After maintaining tough regulations over finance companies during the first decade of this century, the government began to gradually relax restrictions in 2012, when regulators released guidelines that encouraged private enterprises to set up their own finance companies.
By the end of 2014, the number of finance companies in China nearly doubled to almost 200 from about 100 in 2010. In 2017, the authorities published additional guidelines, reaffirming the government's support for private enterprises having their own finance companies.
At the end of 2018, there were 253 internal finance companies in China, according to data (link in Chinese) from the China Banking and Insurance Regulatory Commission (CBIRC).
Risks exposed
Baota Petrochemical Group's problems began in May 2018, when signs began to appear that its finance arm had missed payments on one or more of its bills. Although the company, headquartered in China's northwestern Ningxia Hui autonomous region, tried to play down the missed payments as an operational error, the fuss caught the attention of regulators. It was later revealed that Sun, the company's chairman, was arrested on suspicion of fraud, along with seven senior executives.
Last year was not a good one for conglomerates and their finance units. Earlier that year, Ye Jianming, the controlling shareholder of the embattled conglomerate CEFC China Energy Co. Ltd., fell under investigation for unspecified reasons. CEFC subsequently defaulted on about 30 billion yuan of its bonds. As of the end of June, its finance unit had overdue loans of almost 9 billion yuan, a source close to regulators told Caixin. In November, the company was placed under mandatory supervision, forcing it to suspend some of its businesses, including entrusted loans, acceptances bills and interbank lending, sources said.
There were also a number of high-profile cases that involved the finance arms of local SOEs. Tewoo Group Co. Ltd., one of China's top commodity traders headquartered in the northern city of Tianjin, defaulted on one or more of its loans, amplifying the risks associated with bills issued by its finance company.
Earlier this month, it was reported that Chongqing-based Lifan Industry Group Co. Ltd., a large private company, had failed to pay one or more of its distributors on time. An executive with a finance company told Caixin that Lifan's finance arm had been missing payments on its bills as early as the end of last year.
Regulatory focus
Until recently, the finance companies of large enterprises were governed by the Measures for the Administration of Finance Companies of Enterprise Groups, which were regulations issued in 2006 by the predecessor of the CBIRC. The banking regulator at the time required finance companies to have a capital adequacy ratio of no less than 10%, and set out rules for how to account for losses that have been written off. In addition, it stipulated that finance companies must hold reserves according to rules set by the People's Bank of China, the country's central bank.
Traditionally, acceptance bills and commercial paper have been finance companies' primary businesses. These financial instruments are normally supported by actual trades. If not, they become a type of pure fundraising tool, known as "fundraising bills."
Some of these fundraising bills carry exceptionally high interest rates, so the more of them a company issues, the greater the risk it takes on. By last December, Baota Petrochemical Group's finance arm had 17.5 billion yuan worth of outstanding commercial paper and bills, some of which carried interest rates that ranged between 10% and 30%.
"There are some private business owners who have issued too many such bills," said an executive at an SOE's finance arm who declined to be named.
Realizing the potential risks, regulators have stepped up efforts to improve oversight. In November, the Shanghai Commercial Paper Exchange held a conference on bills and commercial paper for private finance companies. The conference tried to strike a positive note by acknowledging that bills had become an important way for private enterprises to raise capital and make payments. This was despite the fact that by then both Baota Petrochemical Group and Lifan Group had already defaulted.
Contact editor Michael J Bellart (michaelbellart@caixin.com)
You've accessed an article available only to subscribers
VIEW OPTIONS
Share this article
Open WeChat and scan the QR code

Caixin China Biz Roundup: Mystery Deepens After Missing Teen's Body Found Behind School