Japanese Companies Should Tap Into China's Opening-Up Policy: Zhou Xiaochuan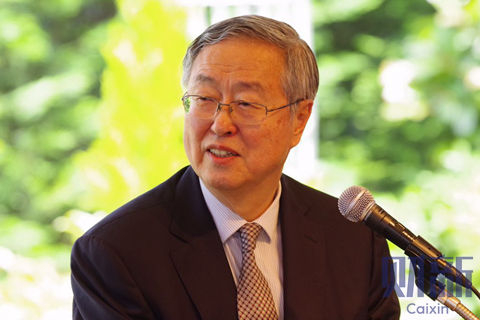 Zhou Xiaochuan. Photo: Caixin
(Tokyo) — Amid warming bilateral relations, Japanese companies should make better use of China's new opening-up measures, especially in the financial sector, Zhou Xiaochuan, a former governor of China's central bank, said Monday in Tokyo.
Earlier this month, the China Banking and Insurance Regulatory Commission took 12 new measures to further open up China's financial markets, including abolishing the limit on an individual foreign bank's ownership of a Chinese commercial bank and lowering the threshold for foreign institutions to gain licenses for setting up consumer finance units.
Japanese companies should take full advantage of these measures, Zhou said at a close-door roundtable, jointly held by the research institute of the Boao Forum for Asia, the Japanese think tank Asia Pacific Initiative and Caixin.
Companies from both countries have held higher expectations for further cooperation since the relationship between Asia's two largest economies improved last year, the 40th anniversary of the signing of China and Japan's peace and friendship treaty. Last May, Chinese Premier Li Keqiang visited Tokyo, and five months later Japanese Prime Minister Shinzo Abe visited Beijing, marking the first high-level official visits between the two countries in seven years.
During Abe's visit, Japan ended its official development assistance to China — which had lasted nearly four decades — making way for the two to cooperate in third-party markets. Meanwhile, multiple entities from each side signed more than $18 billion of agreements targeting such cooperation.
In Zhou's view, there are many opportunities and great potential for cooperation on projects or financing in third-party markets for China and Japan, which are both capital exporters.
While China and Japan both have high savings rates, many other countries are in urgent need of investment to encourage growth, making it practical for the two to jointly develop third-party markets, said Hu Xiaolian, chairwoman of the Export-Import Bank of China, one of the country's three policy banks, at the roundtable.
Discussing intensifying global trade frictions and the rise of protectionism, Zhou said China has chosen to further open itself to the outside world instead of "closing the door."
As the reform of the World Trade Organization (WTO) is not progressing smoothly, Zhou said he hopes the G-20 summit in Japan in June can effectively advance discussions on changes to the WTO.
Presently, the WTO's appellate body has only three members, while it is supposed to consist of seven under WTO rules. The body hears appeals against judgments in trade disputes brought by WTO members.
Zhou is a vice chairman of the Boao Forum for Asia, a government-backed nonprofit organization that holds an annual summit known as "Asia's Davos," a reference to the annual World Economic Forum held in Davos, Switzerland.
Contact reporter Lin Jinbing (jinbinglin@caixin.com)
You've accessed an article available only to subscribers
VIEW OPTIONS
Share this article
Open WeChat and scan the QR code