Ling Huawei: Regulating Financial Innovation Begins With Oversight of Big Data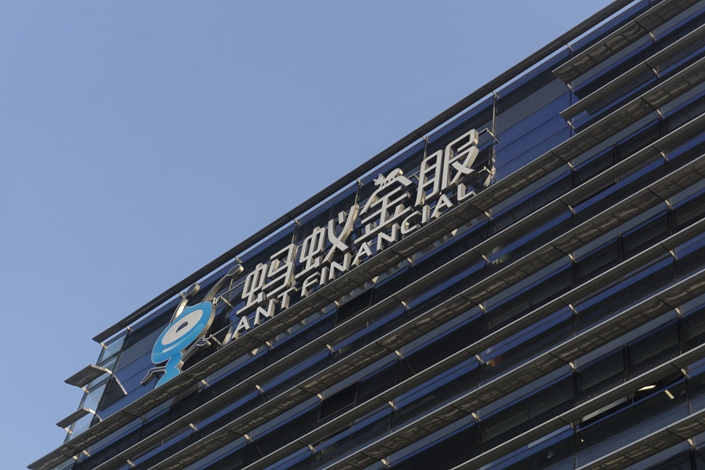 Ant Financial's headquarters in Hangzhou, Zhejiang province on March 10, 2018. Photo: VCG
Ant Financial Services Group has once again created a headache for China's financial regulators.
Regulators first grew concerned about the company, an affiliate of the e-commerce powerhouse Alibaba Group Holding Ltd., after its Alipay-run money market fund Yu'e Bao quickly grew its assets under management to more than 1 trillion yuan ($141.7 billion). The second time was when asset-backed securities (ABS) backed by loans issued by Ant Financial's microlenders became the darling of nonbank financial institutions. Regulators started inquiring after these securities quickly grew to account for around 90% of all ABS backed by consumer loans in China. Now, at issue is the joint lending that tech companies like Ant Financial are doing with banks, which has rapidly grown to 2 trillion yuan.
Joint lending is when banks provide funds for internet companies like Ant Financial and Tencent Holdings Ltd. to repackage — usually into high-interest consumer loans that they can market to their enormous user bases.
The lightning growth of these Ant Financial businesses indicates that it is a real business with real demand from customers. However, like most financial innovations, it poses a challenge to regulators. That's because a booming new financial business is so often accompanied by a surge in risk to the financial system. Compounding the problem is that China's regulators don't have many examples to guide them — either from the country's past or from abroad. Such innovations are in some ways beyond the regulators' understanding. Consequently, regulators have to be constantly learning while attempting to balance supporting innovation with guarding against risk.
To understand these financial innovations, we first need to understand what's behind them. For Ant Financial, it's the near-endless amounts of data that have been collected from Alibaba's e-commerce platforms and Alipay's financial services over the years. The data have helped the company create a new industry ecosystem based on financial services for individuals and small businesses that have historically been underserved by traditional financial institutions.
However, the devil is in the details.
The key issue is regulating the data. And it is a tricky one. Ant Financial's competitive advantage is its stores of data. Nowadays, how internet giants like Ant Financial collect, save, use, and transfer data — as well as the algorithms based on those data — are hidden inside a "black box" that only they control. How to best regulate the use of big data in financial activities remains an unanswered question in China. Between the U.S. and Europe, there is no universal standard for creating or implementing such regulations.
In general, everyone should agree that protecting personal privacy, property rights and human rights, and preventing the arbitrary selling of data and other abuses should be the priorities for data governance.
The development of technologies including blockchain has provided technical possibilities for building an effective governance framework for big data, which could feature physical decentralization, logical concentration, resource sharing and on-demand distribution.
Recently, authorities have been investigating some big data companies because of the serious consequences of abuse. There should finally be an end to the internet giants' arbitrary collection, use and abuse of user data. Companies like Ant Financial, Alibaba, and Tencent need to step up and join in the creation of a framework of data governance.
Ling Huawei is managing editor of Caixin Media and Caixin Weekly.
This article has been edited for length and clarity.
Translated by Guo Yingzhe (yingzheguo@caixin.com)
You've accessed an article available only to subscribers
VIEW OPTIONS
Share this article
Open WeChat and scan the QR code