China Battles Wave of Online Criminal Activity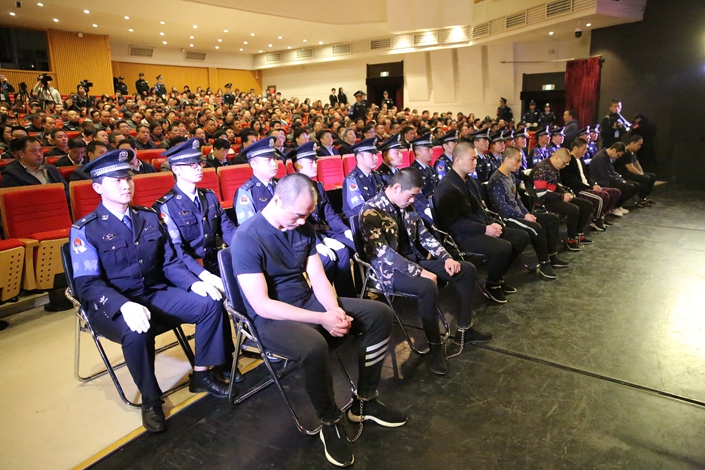 Defendants get sentenced in a predatory lending case in the northwestern city of Xi'an in March. Photo: VCG
In May, a man named Song took out a small online loan of 1,500 yuan ($214) through an app he had downloaded onto his phone. But within five months, his total borrowing had exploded to 350,000 yuan after the platform bombarded him with push notifications and adverts from 55 other connected loan apps luring him to use them to repay his original debt.
When Song failed to cough up what he owed, the platforms harassed him and his family, colleagues and friends through phone calls or threatening messages. When he finally reported the problem to his local public security bureau in Qitaihe in the northeastern province of Heilongjiang in May, it launched an investigation that resulted in the breakup of nine criminal gangs, the arrest of 73 suspects and the freezing of assets totaling 700 million yuan.
The case was revealed by the Ministry of Public Security (MPS) during a briefing last week to highlight criminal activity on the internet that's become so pervasive it prompted the authorities to start a special campaign in January called "Internet Cleanup 2019." Part of the offensive involves cracking down on entities that infringe on citizens' privacy through the acquisition of personal information and data. As of the end of October, the police have investigated almost 46,000 cases of internet crimes and arrested nearly 66,000 suspects for offenses including computer hacking, internet fraud, online gambling and cybersex, the MPS said.
One key focus of the campaign is a practice known as predatory lending, where unscrupulous money lenders use various means to deceive or coerce borrowers to take out loans they don't need or can't afford and that carry unfair or abusive terms. To find customers and control lending risks, the online lenders leverage data that's been collected illegally and pay for support services from companies that provide technology, data and payment solutions.
Setting traps
Police have cracked down on a group of data companies that had been providing technology or data services for loan sharks, the public security ministry said at a Thursday briefing (link in Chinese) in Beijing. The MPS didn't disclose any names, but a source close to the ministry indicated that those involved included Shanghai Xinyan AI Technology Co. Ltd., Shanghai Chengshu Information Technology Co. Ltd., Tongdun Technology Co. Ltd. and Hangzhou Mojie Data Technology Co. Ltd.
The police believe predatory lenders and loan sharks obtained the personal information of borrowers, including their locations, to help in the collection of unpaid debts. The lenders employed the services of technology and big data companies that automatically scour the internet to collect data, including personal information like names, phone numbers and email addresses. It is legal to use data scraping to trawl for publicly available information, but it's illegal to use the technology to obtain nonpublic, sensitive personal information without consent.
Unscrupulous and shadowy online lending platforms use the data for risk management to identify fraudulent borrowers, but they also use it to market their loans and collect debts by calling or texting the contacts they have acquired. They often set up "traps" that target young people who can't live on their income and lure them by offering unsecured loans, Wang Yingwei, head of the Office of Cyber Security of the Ministry of Public Security, said at the briefing.
The MPS highlighted the case of Tianke Anhua (Beijing) Technology Co. Ltd., which developed "Alpha Elephant," a system consisting of hundreds of apps that offered a "one-stop" shop for online lenders. The system was powered by data companies that provided risk control and debt collection support, as well as third-party payment companies for fund settlement.
"Alpha Elephant" obtained personal information through data scraping and sold it to loan sharks at 0.2 yuan to 1.8 yuan per inquiry to help lower lending risk and support debt collection, according to the police.
Read more
In Depth: China's Big Data Clampdown Leaves Online Lenders in a Bind
Big data companies engaged in data gathering, mining and analysis have mushroomed in China since 2013, coinciding with a boom in the internet finance industry that had a voracious appetite for information on consumers and customers.
Hangzhou-based Tongdun Technology, founded in 2012, was one of the early entrants and became a darling of the financial industry. It has secured more than $200 million in investment through several rounds of fundraising since 2013. Temasek Holdings Pte Ltd., the sovereign wealth fund of the Singapore government, invested in Tongdun in 2017, and IDG Capital, a U.S.-based investment firm, has also provided funding, records show.
Data privacy
In a statement on Friday after the MPS briefing, Tongdun acknowledged shortcomings in its management of clients and its failure to prevent companies using its products for illegal purposes.
The Cybersecurity Law, enacted in 2017, shook up the big data industry by setting strict requirements on how companies can collect and use personal information.
But amid growing evidence of violations of privacy and misuse of data, China's financial and law enforcement authorities have started to take a much tougher line against the industry. Beijing's local financial regulator is conducting a blanket probe of all big data companies operating in the region to find out whether they are illegally gathering personal information online. The China Banking and Insurance Regulatory Commission's Beijing branch issued a formal document last month specifying what financial institutions can and cannot do with big data, barring them from working with debt collectors that employ illegal collection methods.
Last month, police raided the Hangzhou office of Hong Kong-listed online credit card management platform 51 Credit Card Inc., as part of a wider clampdown on companies that illegally gather personal information online to facilitate debt collection.
Contact reporter Timmy Shen (hongmingshen@caixin.com, Twitter: @timmyhmshen)
Caixin Global has officially launched Caixin CEIC Mobile, a mobile-only version of a world-class platform for macroeconomic and microeconomic data.
From now on, all users can enjoy a one-month free trial on the Caixin App through December 2019. If you're using our App, click here. If you haven't downloaded the App, click here.
You've accessed an article available only to subscribers
VIEW OPTIONS
Share this article
Open WeChat and scan the QR code

Caixin-Sinica Business Brief: China Resumes Issuing Visas to Foreigners