CX Daily: China Relaxes 'Hukou' Restrictions on Some Small Cities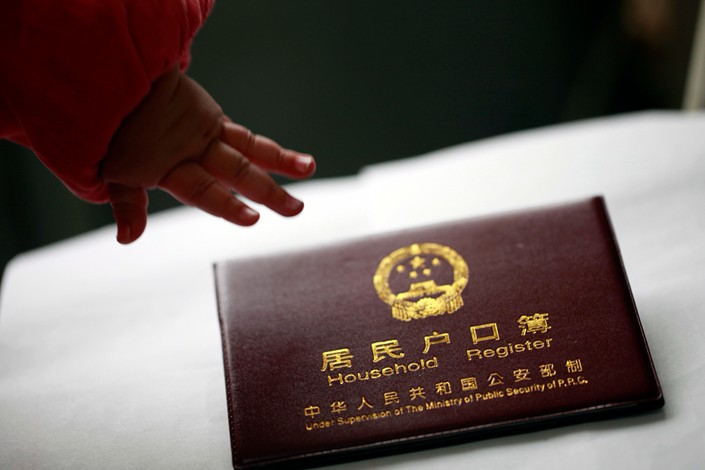 Policy /
China to remove residency restrictions in some smaller cities
China said it will scrap residency restrictions in some smaller cities in the first central government policy document that spells out clear steps on the long-debated reform of the household registration system.
According to policy guidelines issued Wednesday by the Central Committee of the Communist Party and the State Council, all restrictions on household registration will be removed in cities with an urban residential population of less than 3 million. Meanwhile, residency limits will be relaxed in larger cities with populations between 3 million and 5 million.
The policy is part of China's reform efforts to improve the social mobility of the labor force to support sustained economic growth, the guidelines said. The policy will also boost demand for homes in some cities and ease the country's housing inventory pressures, analysts said.
FINANCE & ECONOMICS
An official discusses taxation at a textiles factory in Nantong, Jiangsu province, on July 19.
Economy /
Tax and fee cuts push China's GDP growth but reduce government revenue
Tax and fee cuts have helped China's economy this year, likely contributing 0.8 of a percentage point to GDP growth, China's Finance Minister Liu Kun said Wednesday.
In January-to-October, the government cut taxes and fees by 1.97 trillion yuan ($281.5 billion), and reductions for the whole year are likely to surpass 2 trillion yuan, accounting for more than 2% of GDP, Liu said in a report delivered to lawmakers. However, he also warned that the cuts have put pressure on government revenue.
SOE /
China transfers $157 billion in SOE equity to social security fund
China's central government transferred around 1.1 trillion yuan ($157.1 billion) of shares in state-owned enterprises (SOEs) to the national social security fund this year as part of efforts to avoid a pension shortfall as the country ages.
The asset transfers come as China looks to push forward a 2017 policy that called for the transfer of 10% of state-held equity in large and midsize SOEs — either controlled by the central or local governments — to the fund. An official from the top SOE watchdog said SASAC-administered SOEs have now fulfilled their equity transfer responsibilities.
Trade /
China's imports of U.S. soy surge to most in almost two years
China's imports of U.S. soybeans rose to the highest in 20 months in November after more American cargos cleared customs ahead of the signing of a partial trade deal in January.
China's inbound shipments from the U.S. surged to 2.6 million tons, the most since March 2018 and up from about 1.1 million tons in October. China imported almost no U.S. soybeans in November last year, customs data show.
Bonds /
China vows to improve bond handling as defaults hit record
China's financial regulators are calling for more transparent and fairer handling of defaults to restore investor confidence in the world's second-largest bond market after repayment failures hit a record high this year.
Senior officials from the central bank, the securities regulatory body, the supreme court and other departments discussed court-mediated dispute resolution concerning bond defaults at a symposium in Beijing Tuesday, according to a statement posted on the website of People's Bank of China.
Quick hits /
East Asian powerhouses pledge to uphold free trade
Ping An-affiliated fintech firm OneConnect opens joint venture in Japan after U.S. IPO
BUSINESS & TECH
Workers sort packages of imported goods on Nov. 11 at JD.com's cross-border e-commerce warehouse in the northern city of Tianjin.
E-Commerce /
China adds 24 more cities to its cross-border e-commerce program
China has designated 24 more cities as cross-border e-commerce pilot zones in a latest effort to boost exports, bringing the total of such zones to 59.
The newly added cities include Hebei province capital Shijiazhuang, Fuzhou in Fujian province and Yantai in Shandong province, according to a statement released Tuesday by the State Council, the country's cabinet. Under the pilot program, companies typically enjoy benefits such as tax rebates and government support to set up e-commerce platforms and international logistics services.
IPO /
Mainland set for first IPO with dual-class shares
A homegrown cloud services provider won the go-ahead to list on China's new high-tech board. It would be the first company with a dual-class share structure to go public on the Chinese mainland if all goes according to plan.
Shanghai-based UCloud Technology Co. Ltd. was given the all-clear from the China Securities Regulatory Commission (CSRC) to list on the STAR Market, the country's new Nasdaq-style tech board, according to a CSRC statement dated Friday. UCloud and its leading underwriter will consult with the Shanghai Stock Exchange, which hosts the board, to determine when the IPO might take place.
Social credit /
The pros and cons of China's credit evaluation system
China's original intention in establishing a social credit system (including a corporate credit system) was to create a better business environment and improve the efficiency of supervision. If China wants its economy to achieve high-quality development, it must also establish such a supervision system, said Li Qingbin, an associate research fellow at Chinese Academy of Macroeconomic Research.
Meanwhile, many foreign companies operating in China see the looming corporate social credit system (SCS) as a huge challenge with life-or-death consequences, argued Jörg Wuttke, the president of the European Union Chamber of Commerce in China.
Please check out a point-counterpoint discussion on Caixin on China's corporate social credit system:
Opinion: China's Credit Evaluation System Will Be Good for Business
Opinion: Crossing the Market by Feeling the Scores
Autos /
Beijing closes out 2019 with new call to make car buying easier
China's cabinet again prodded local governments to relax restrictions on local car sales in the latest effort to revive a domestic auto market experiencing its worst-ever downturn alongside the nation's slowing economy.
The latest call to action by the State Council is aimed at coaxing major cities like Beijing and Shanghai to issue more license plates for cars each year, which is the method typically used to limit sales. Many of China's largest cities rolled out such restrictions over the past two decades to ease road congestion and limit pollution during the nation's explosive growth.
Quick hits /
Sinovation Ventures-owned firm receives investment to bring AI tech to market
Thanks for reading. If you haven't already, click here to subscribe.
Share this article
Open WeChat and scan the QR code

Apr 12 07:07 PM

Apr 12 04:40 PM

Apr 12 12:08 PM

Apr 09 05:51 PM

Apr 09 04:54 PM

Apr 09 02:08 PM

Apr 08 07:01 PM

Apr 08 07:00 PM

Apr 08 05:11 PM

Apr 08 01:30 PM

Apr 07 06:52 PM

Apr 07 02:03 PM

Apr 06 06:55 PM

Apr 06 05:03 PM

Apr 06 01:50 PM
GALLERY