CX Daily: Ant Group Picks 29 Strategic Investors for Shanghai IPO
Fintech /
Ant Group picks 29 strategic investors for Shanghai leg of record IPO
Fintech giant Ant Group Co. Ltd., which is set to make history with the world's largest ever IPO, chose 29 strategic investors, including four foreign companies and China's social security fund, for the Shanghai leg of a dual listing that's aiming to raise a whopping $34.5 billion.
The cohort, which also includes several state-owned enterprises and e-commerce behemoth Alibaba Group Holding Ltd., will get 80% of the 1.67 billion shares being sold on the high-tech STAR Market before any overallotment option, according to an Ant Group filing (link in Chinese) Monday with the Shanghai Stock Exchange. Under stock market regulations for the new board where Ant Group will be traded, the investors are barred from selling their shares for a minimum of 12 months. Other institutional investors, who are buying for their funds, were allotted 16% of the shares on offer, and the filing showed demand was overwhelming.
FINANCE & ECONOMICS
Inside Ant Group's headquarters in Hangzhou. Photo: Bloomberg
IPOs /
China brokers challenge Goldman with best IPO ranking in decades
Chinese brokerages are having a bumper year for equity deal-making, with Ant Group's multibillion-dollar initial public offering poised to boost their showing in the global ranking to the best in at least two decades.
China International Capital Corp. is leading the push thanks to a bevy of Chinese deals, an economy that's shrugging off the pandemic and a liberalization of local capital markets. CICC is set this year to vault over U.S. stalwarts Goldman Sachs Group Inc. and Morgan Stanley once Ant completes what's set to be a record $34.5 billion IPO in Hong Kong and Shanghai, according to data compiled by Bloomberg.
As a group, Chinese securities companies will take up nearly half of the top 50 underwriting spots as they're enlisted by local companies seeking to capitalize on the nation's recovery from the coronavirus pandemic. A flaring up of tensions between the world's two superpowers that's increased scrutiny of Chinese names in the U.S. has also prompted a wave of additional listings in Hong Kong.
Stocks /
Exclusive: Shenzhen bourse plans to merge main board with upstart that supplanted it
It seems a country only needs so many Nasdaq-style stock boards.
China's securities regulator plans to merge the Shenzhen Stock Exchange's SME board with its main board, sources with knowledge of the matter told Caixin.
If it goes through, the merger is likely to encourage companies to start listing again on the main board, which hosts about one-fifth of Shenzhen-listed companies and hasn't had an IPO in two decades.
Banking /
Bank of China to boost debt team by 40% amid offshore deal surge
Bank of China Ltd. plans to expand its headcount in the offshore bond business by 40% as it fights with global banks for a greater slice of a market that's experienced a surge in Chinese borrowers.
The lender is seeking to add 20 more staff members to its offshore bond team over the next five years, Hu Kun, general manager of the investment banking and asset management department, said in an interview. The bank aims to win more dollar bond deals by Chinese technology giants and also sees rising interest in euro notes by mainland borrowers, he said.
The team currently has about 50 staffers across offices in Hong Kong, Singapore and London, covering deals in Asia, Europe, the Middle East and Africa, he said.
Covid-19 /
Hong Kong residents no longer need to quarantine on return from mainland
Hong Kong residents living on the Chinese mainland will not have to quarantine on returning to the city starting in November, Chief Executive Carrie Lam said Tuesday, according to a government notice (link in Chinese).
Lam said before a weekly meeting of the Executive Council that Hong Kongers entering the semiautonomous territory from the mainland would not be required to self-isolate, but that the number of returnees would be subject to a quota as only two border crossings would be open. Last month, Lam said the Hong Kong government was mulling ways to let its residents living on the mainland return to the city without having to undergo mandatory 14-day quarantines.
Quick hits /
China sketches out rules for green finance
Opinion: Trade offers China and U.S. a chance to buoy sinking relations
China's Gaorong Capital raises $1.5 billion for new dollar and yuan funds
BUSINESS & TECH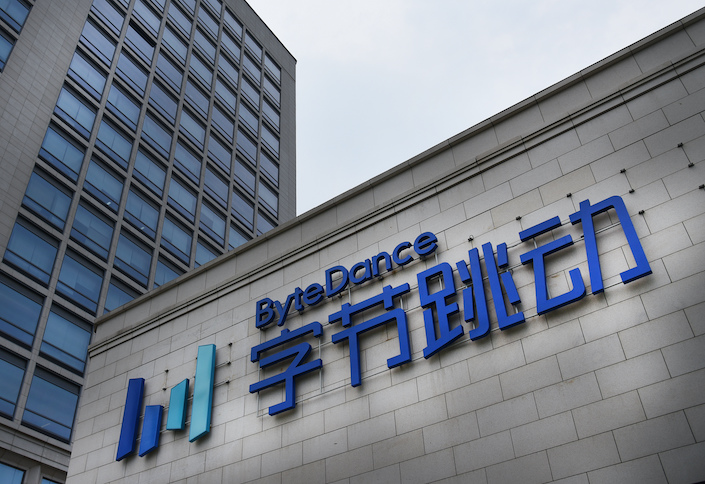 Chinese people watch an average of nearly two hours of short videos daily on cell phones.
Short-video /
Two Chinese short-video giants consider Hong Kong IPOs
Two of China's most popular short video apps are planning initial public offerings to raise billions of dollars in Hong Kong, according to people familiar with the matters.
ByteDance Ltd., parent of TikTok and its Chinese version Douyin, is considering listing its Douyin unit in Hong Kong in the first half of 2021, people close to the Beijing-based company told Caixin Monday. The offering size was not disclosed.
Tencent-backed Kuaishou is also preparing to file for an IPO with the Hong Kong Stock Exchange by the end of this year, according to people close the company. Douyin and Kuaishou together dominate China's short-video market.
Drugs /
In Depth: In generic drug reform, China walks tightrope between innovation and affordability
Whose side are you on, the companies who supply cheap generic drugs to patients or their peers that spend huge sums creating new medicines?
In its pursuit of an innovative pharmaceutical sector that still provides affordable drugs, it seems China is trying to have it both ways.
Proposed changes to China's drug approval system in the form of amendments to the patent law and a separate document that proposes a dispute resolution mechanism would encourage generic drug manufacturers to legally challenge the patents on name-brand medications — with a year of exclusive sales as the reward for success — while at the same time trying to give drugmakers enough space to defend their intellectual property.
Metro /
Thanks to China, Pakistan's first metro hits the tracks
Pakistan's first metro line started running Sunday in the major city of Lahore following years of political controversy and environmental outcry against a project funded, built and operated by Chinese companies.
The Orange Line, with more than two dozen stations along 25.58 kilometers (15.8 miles) of the eastern city in Punjab province, is the first metro line in a country with little public transport that also perennially suffers from traffic congestion.
Completion of the Orange Line will shore up the China-Pakistan relationship as the two countries celebrate the 70th anniversary of diplomatic relations next year, said Long Dingbin, China's consul general in Lahore.
Sanctions /
China to sanction Boeing, Lockheed, Raytheon over Taiwan arms sales
China will impose unspecified sanctions on Boeing Co.'s defense unit, Lockheed Martin Corp. and Raytheon Technologies Corp. after the U.S. State Department approved $1.8 billion of arms sales to Taiwan.
The sanctions will be imposed "in order to uphold national interests," Chinese Foreign Ministry spokesman Zhao Lijian told reporters Monday in Beijing.
The State Department cleared the sale of new weapons to Taiwan last week and submitted the package to Congress for final review. Those deals along with an earlier one involving Lockheed F-16 fighters are taking place amid rising tension between the superpowers ahead of the American election next week.
Quick hits /
China's coal province looks to offload smaller projects
150-Year-Old Peking duck brand bleeds cash as food scene leaves it behind
Tencent bets big on Chinese e-sport firm, leading $100 million funding round
Thanks for reading. If you haven't already, click here to subscribe.

Register to read this article for free.
Register
Share this article
Open WeChat and scan the QR code