Aug 05, 2021 09:31 AM
CHINA
CX Daily: Chip Speculators Targeted By Probe On Cost Of Scarce Auto Part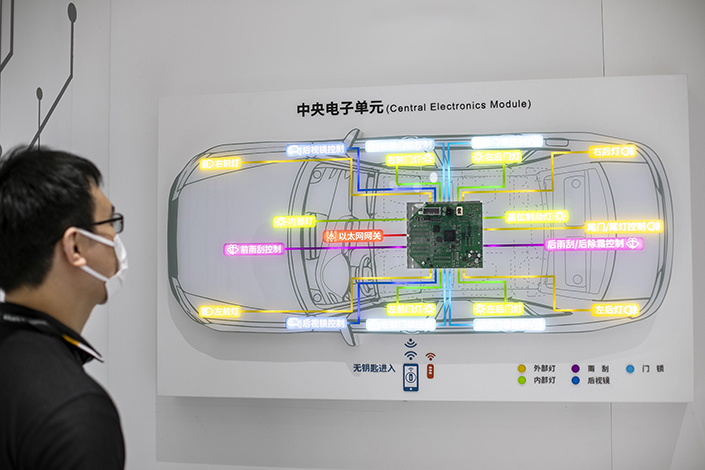 A visitor checks out a car chip at the Shanghai auto show on April 19. Photo: VCG
Chips /
Chip speculators targeted by probe on cost of scarce auto part
China vowed to penalize anyone found hoarding, profiteering, driving up or fixing the price of microchips, a vital component in auto manufacturing, according to a statement issued Tuesday by the national market regulator.
"Prominent issues such as speculation and high prices in the automotive chip market" triggered the investigation, the State Administration for Market Regulation (SAMR) posted on its website.
The probe, prompted by inside tips and market monitoring, comes in response to concerns that distributors have gained from a pandemic-induced global semiconductor shortage which has squeezed production across a wide range of sectors.
Chinese auto-chip stocks fall after official probe into pricing
FINANCE & ECONOMY
The profit of Chinese fintech giant Ant Group drop 37.5% in the first quarter. Photo: VCG
Fintech /
Ant Group profits plunge
Chinese fintech giant Ant Group Co. Ltd.'s first-quarter profit droped 37.5% from the previous quarter, according to Caixin calculations, as it was required to comply with new rules on once-lucrative microlending and restructure its business.
The Jack Ma-backed conglomerate contributed 4.5 billion yuan ($696 million) to e-commerce giant Alibaba Group Holding Ltd.'s profit in the second quarter, according to a Tuesday filing with the Hong Kong bourse. Based on Alibaba's one-third stake in Ant Group and its accounting methods, that means Ant Group raked in $2.1 billion in profit in the first quarter of this year, up 48% year-on-year.
Ant Group doesn't release financial reports on a regular basis, so Alibaba's filings are one of the few ways observers can get a glimpse of its performance.
Alibaba sales miss estimates in sign spending has yet to pay off
PMI /
China's services growth gains pace, Caixin PMI shows
China's services sector expanded at a faster pace in July, boosted by the accelerating recovery in business activity and new orders as some domestic Covid-19 flare-ups came under control, a Caixin-sponsored survey showed Wednesday.
The Caixin China General Services Business Activity Index, which gives an independent snapshot of operating conditions in the sector, surged to 54.9 in July from a 14-month low of 50.3 the previous month. Readings higher than 50 signal expansion.
Overall, the Caixin China General Composite PMI, which covers both the manufacturing and services sectors, rose to 53.1 in July from 50.6 the month before, according to the survey carried out between July 12 and 22.
Charles Li /
Charles Li's next act: Investing in small businesses
Charles Li, the former chief executive of Hong Kong Exchanges and Clearing Ltd., launched an investment platform to connect global capital with small businesses on the Chinese mainland, Li said Tuesday.
The platform, Micro Connect, will focus on the domestic demand sector in China, according to Zhang Gaobo, CEO of private equity firm Oriental Patron Financial Group Ltd. and Li's partner in the project. The vast majority of investments will be related to the service and retail sector, Li said at a press conference.
Covid-19 /
Wuhan to test 12 million people after virus resurfaces
Central China's Wuhan will start testing its entire population of 12 million while tightening restrictions after Covid-19 cases reemerged in the city for the first time in more than a year.
Wuhan in Hubei province reported seven Covid-19 infections over the past two days, the first local transmissions recorded in the city since June 2020. City authorities locked down some communities linked to cases of infection and ordered the closing of schools and summer camps.
China tightens Covid-19 control measures at airports as cases rise
Quick hits /
Hong Kong fines UBS $1.5 million for compliance failures
Crypto exchange gets Singapore's nod for digital token services
China exporting more sophisticated products despite trade war, study say
BUSINESS & TECH
Su Bingtian talks with his coach Randy Huntington in Shenyang, Northeast China's Liaoning province, on Aug. 1, 2019. Photo: IC Photo
Olympics /
Foreign coaches give China's Olympians a leg up in sports once dominated by the West
From rowing and fencing to track and field, Chinese athletes have stood tall in traditionally Western-dominated events at the 2020 Tokyo Olympics, breaking records and propelling the nation to sit atop the overall medal tally so far.
While China has long dominated sports such as diving, gymnastics and table tennis, breakthroughs in many of these new sports share a similar trait that competitors now acknowledge played a significant role in their success: foreign coaches.
Just some of the standout achievements included the Chinese men's double sculls rowing team, who on July 28 won the bronze medal, the first time the nation had made it to the podium in that event. Meanwhile, sprinter Su Bingtian set an Asian record of 9.83 seconds in the 100-meter semifinal and although he didn't win a medal, he became the first Chinese athlete in history to run in a final.
Videos /
Kuaishou pulls plug on video app Zynn after fleeting U.S. success tanks amid controversy
One of China's top technology firms is killing off a short-video app that briefly made it big in the United States last year before becoming embroiled in a series of bitter controversies.
Kuaishou Technology, whose eponymous app is a major rival to ByteDance Inc.'s Chinese version of TikTok, said Wednesday that it will stop services for another of its offerings, Zynn.
The platform shot to the summit of download charts in the United States soon after it launched in May 2020, partly thanks to its system of paying users who signed up or referred friends.
Self driving /
Self-driving truck startup Inceptio raises $270 million
Chinese autonomous-driving truck developer Inceptio Technology raised $270 million in a series B equity funding round led by JD Logistics, Meituan and PAG.
The three-year-old startup expects to launch its first model by year-end. In 2020 the company raised $220 million in two rounds of financing.
Hot Topics /
U.S. Covid case count, jabs for Chinese kids, online entertainment crackdown
GALLERY
Panda mom dotes on twin cubs
Thanks for reading. If you haven't already, click here to subscribe.
Share this article
Open WeChat and scan the QR code

Caixin China Biz Roundup: Chinese Ambassador Warns U.S. Against Meddling in Taiwan