CX Daily: Four Things to Know About China's Henan Rural Bank Scandal
Henan's financial regulators have announced a plan to placate depositors caught in a local banking scandal following protests on Sunday.
Rural banks /
Four things to know about China's Henan rural bank scandal
A financial scandal in central China that's triggered protests outside a regional office of the country's central bank turned the spotlight once again on the risks lurking in the vast rural banking sector, where regulation failed to prevent corruption and abuse of power by major shareholders.
Customers of six small lenders, all linked to a shadowy investment firm in Henan province, have been denied access to tens of billions of yuan of their savings since April, when the banks froze their deposits without explanation, sources with knowledge of the matter told Caixin.
Here are four things you need to know about the Henan rural banking blowup.
Caixin Summer Summit /
Indonesia to leverage nickel reserves for green transition, says commerce chief
Indonesia plans to leverage its abundant nickel reserves to attract investment in local supply chains as it hopes to become a leading country in the global transition to green energy, said the chief of its chamber of commerce and industry.
The resource-rich Southeast Asian nation is especially focused on nickel's application in ternary lithium batteries, the key power source for electric vehicles. EVs are a nascent sector in Indonesia but one that is in the limelight after President Joko Widodo attended the launch of the first locally made electric car in March.
Covid-19 /
Shanghai records new wave of Covid cases as BA.5 subvariant spreads
Shanghai is battling a new Covid-19 outbreak as the financial hub records more than 430 cases in all 16 districts over the past 10 days, including infections from the more transmissible omicron BA.5 subvariant.
The rise in cases has renewed fears of a return to harsh Covid restrictions just after the city's 25 million residents emerged from a grueling two-month lockdown. Local authorities have already ramped up mass testing in 10 districts and other measures, such as tightening Covid rules for inbound travelers, to prevent a larger outbreak.
FINANCE & ECONOMY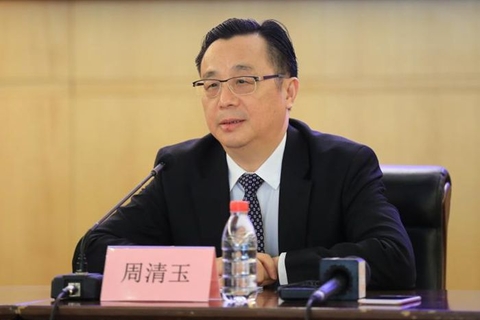 Zhou Qingyu
Banking /
Exclusive: China Development Bank removes vice president
China Development Bank, the country's largest policy lender, dismissed Zhou Qingyu as a vice president Tuesday, two months before his expected retirement.
The bank published Zhou's removal on its website without providing an explanation. The state lender has been under the spotlight amid a long-running anti-corruption campaign that brought down at least nine senior executives as of late last year.
WMPs /
Shenzhen banks open 12,560 cross-border accounts in pilot program
Shenzhen's 24 banks have opened 12,560 accounts under a pilot program that allows cross-border investment in wealth management products (WMPs) in the Guangdong-Hong Kong-Macao Greater Bay Area (GBA), China's banking regulator said.
Account holders wired 404 million yuan ($60 million) of cross-border funds and made 237 million yuan of transactions, Zhang Lixing, chief of the Shenzhen Bureau of the China Banking and Insurance Regulatory Commission (CBIRC), said Tuesday at a press conference.
Temasek /
China is no longer Temasek's top investment destination
China as an investment destination slipped to second place in Singaporean state-owned investor Temasek Holdings Pte. Ltd.'s portfolio for the financial year ended March 31, the firm's latest annual report showed Tuesday.
Temasek's portfolio exposure in China stood at 22%, down from 27% in the previous financial year. This marked the second straight annual drop. Meanwhile, Singaporean assets moved to the top spot with 27% of the company's total exposure.
Quick hits /
Morningstar cuts hundreds of Shenzhen jobs in China shift
BUSINESS & TECH
In the first half this year, airline passenger traffic declined 52% and cargo tonnage fell 18% from a year earlier.
Flights /
China cranks up international flights as Covid limits ease
China plans to allow airlines to gradually increase international flights after health authorities eased quarantine requirement for overseas travelers last month, the Civil Aviation Administration of China (CAAC) said Tuesday.
Regular international passenger flights will be resumed in a steady and orderly manner in accordance with the state of the pandemic, the optimization of recent prevention and control measures, and the improvement of local governments' ability to provide support to international flights, the CAAC said at a press conference.
Moutai /
Moutai Group relinquishes control of unit, removing hurdle to IPO
The parent of luxury liquor-maker Kweichow Moutai agreed to hand over most of its stake in a wholly owned liquor-making subsidiary to a local government agency in a move that could help the company comply with rules that stymied a prior attempt to list it.
The deal will allow China Kweichow Moutai Winery Group Co. Ltd. (Moutai Group) to revive a plan to spin off the subsidiary, just as the government of its debt-ridden home province of Guizhou seeks to double the value of the local liquor industry by 2025.
IPO /
Tianqi Lithium slides below IPO price in Hong Kong debut
Shares of Tianqi Lithium Corp. were 3.5% lower than their IPO price as of noon Wednesday on their first trading day in Hong Kong after the company raised HK$13 billion ($1.67 billion) in the city's largest share sale so far this year.
The Chinese lithium mining giant priced its 164 million new H-shares at HK$82 each. The stock fell as much as 11% lower, but the decline narrowed over the morning.
Quick hits /
BYD sinks amid speculation Warren Buffett may cash out
Spicy hotpot chain Haidilao weighs HK listing of overseas unit
Long Read /
China SOE reform will turn companies into investors
GALLERY
Recommended newsletter for you /
Caixin Must-Read Newsletter brings you the best of our coverage and stories you can't miss. You can opt-in now and get hand-picked news coverage delivered to your inbox each week for free.
Thanks for reading. If you haven't already, click here to subscribe.
Share this article
Open WeChat and scan the QR code

Caixin China Biz Roundup: New 'Langya' Virus Detected in China